STEM students primed to unite on STEM T-shirt Tuesday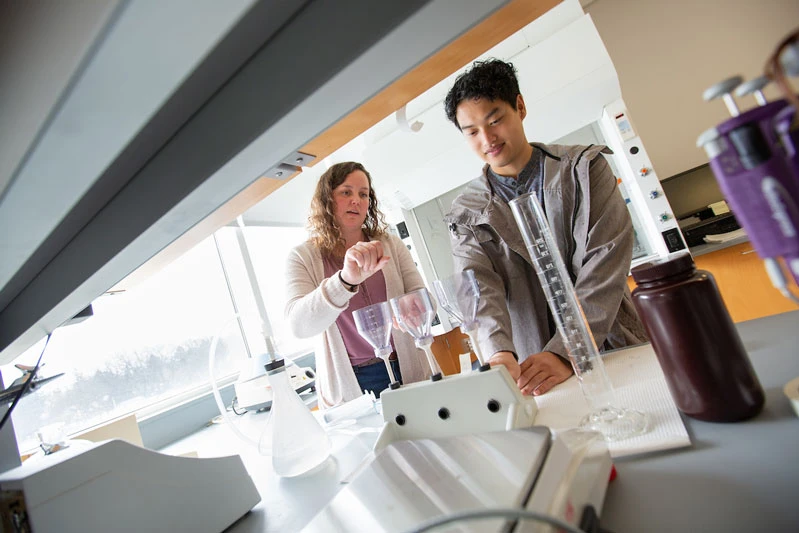 What is STEM T-shirt Tuesday?
It's a day – Tuesday, Nov. 1 – for science students and faculty, along with staff and administrators, to wear a STEM-themed shirt for a day. It'll be a special shirt, too, one they created to show love for their chosen field of study.
"We just want to raise visibility of STEM on campus," said Emilia Driscoll, a senior Molecular Genetics major, with a Chemistry minor, from Corning. "Not many people know that science is a big thing that you can do here."
Students from Houghton Hall and the Science Center can come together to design t-shirts based on their major or academic interests, explained Ms. Driscoll, Biology Club president, "so we can wear them on the same day and promote the visibility of STEM on campus."
Department of Biology Assistant Professor Nick Quintyne introduced the STEM t-shirt concept to his students early in the fall semester. Students in a lab he ran as an assistant professor at Wilkes Honors College of Florida Atlantic University came up with the idea of everyone wearing STEM-related t-shirts they received at a recent conference.
"I said this was great, and we made it a Tuesday event, and we'd do it on-and-off over the next few years," Dr. Quintyne explained. "It was informal and pretty low-key, nothing like what we're doing here in terms of scale!"
"Dr. Quintyne said it had been done at a previous school and it was well-received there, so we wanted to try our own version of it here," Driscoll added.
"We're very excited for the visibility and bringing awareness to some of the programs that we offer," said Paige Eversole, a senior majoring in Molecular Genetics and Medical Technology from Corinth, N.Y. "I'm also a [Admissions] tour guide, and when I give tours I get a lot of questions. They didn't know about the STEM majors that we have to offer."
STEM T-shirt Tuesday will be dissected into two parts.
Shirt-Making Day will be in the Houghton Hall Reading Room on Wednesday, Oct. 26, from 1 to 8 p.m. After receiving a free t-shirt, students can use a Cricut Maker vinyl cutting machine to make their own design to mount on their shirt.
"Not many people know that science is a big thing that you can do here." - senior Emilia Driscoll
"Students can customize it, make their own design related to their major (science) interests," Driscoll added. "For example, Molecular Genetics majors could make a chromosome or DNA, whereas an Environmental Sciences major could do trees or flowers or a Geology major could do different types of rocks."
The only requirement is to list the major on the t-shirt, said Ms. Eversole, president of Beta Beta Beta, the Biology honor society, so their department is known. Organizers plan to make several STEM designs available to students as well as provide fabric markers so students can draw their own design on a shirt as well, she added.
A grant from the Phyllis and Lawrence Patrie Endowment for the Sciences Endowment through the Fredonia College Foundation is generously funding the purchase of several hundred t-shirts, fabric markers and vinyl.
Students were able several week ago to register through a Google program and indicate a shirt size, but walk-ins will also be welcomed at the shirt-making day, Eversole noted.
Everyone will be encouraged to wear their prized, custom-designed STEM shirt on Tuesday, Nov. 1.
So far, the Provost and the President are onboard to design their own t-shirts, Driscoll and Eversole reported. Student clubs within the physical sciences are also behind the project and contributing their own ideas, Driscoll said. They include: Beta Beta Beta, Biology Club, Chemistry Club, Math Club, Computer Science Club, Geology Club, Friends for Honduras Children and Fredonia for Global Health, along with STEM faculty. Non-science majors may also participate.
All STEM disciplines are to be represented, Driscoll said.
The goal is to promote a sense of community amongst the students, letting them see how they are part of something bigger than just their classes or their department, Quintyne said. "It is our hope that this will not only help the students in this regard, but also help us with student retention by promoting the sense of belonging."
So what design is Driscoll contemplating?
"Maybe DNA, but I haven't given it a ton of thought; maybe it will be a surprise," she said.