Student crafts summer internship with topflight New York City track club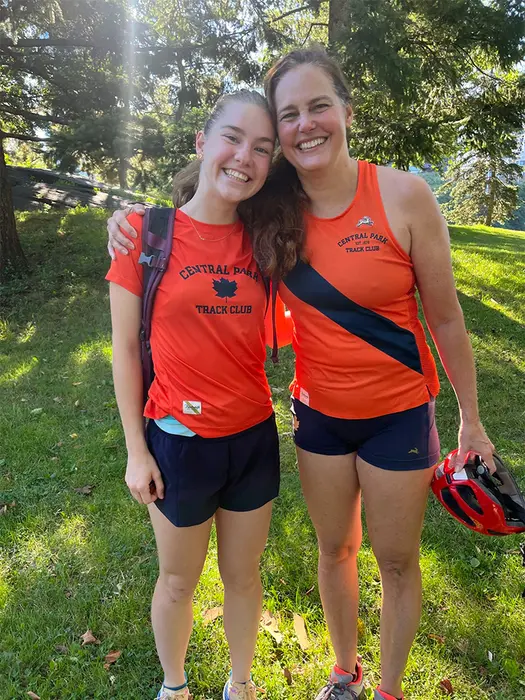 An internship is required for a minor in Athletic Coaching, but you're a SUNY Fredonia student and you live downstate, far from campus. A real dilemma, right? 
Not at all.
Arden Brown saw an opportunity to develop a New York City-based internship in athletic coaching with a prominent running club that trains over 600 runners of all abilities – including Olympic-caliber athletes – and Fredonia's Career Development Office.
Before she scores points for Fredonia State cross country this fall, the Fiorello H. LaGuardia High School of Music & the Performing Arts graduate scored valuable career points through a summer internship with the Central Park Track Club. Members of Team Brown were Devon Martin, executive director and the club's head coach, and Jennifer Wilkins, internship coordinator in the Career Development Office.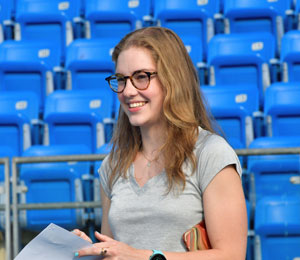 "The internship wasn't something that we had already posted and was available, so she created her own," said Ms. Wilkins. "She reached out to the coach, had a conversation and convinced the coach to create an internship for her," and in the process, created an affiliation between SUNY Fredonia and the track club where none had existed. Student internships were also new ground for the club. High school athletic programs are common destinations of Athletic Coaching internships.
Ms. Brown, a senior Musical Theatre major and a participant in the Honors program, is hardly a novice when it comes to running; she lettered all four years in high school cross country and track. Brown also had a "very strong" debut in outdoor track last spring, according to Head Coach Tom Wilson, and her 5:29 in the 1500m topped her best high school time by nearly a half-minute. "I believe she will be a huge asset to the women's cross country team rebuilding," Coach Wilson said.
It's not at all unusual for students to create their own internships at SUNY Fredonia, according to Wilkins. That route often leads to one out of every three internships.
I went into the sport management pre-internship class and talked about interviewing, how to develop networking contacts which could lead them to future internships and opportunities, and Arden took it and ran with it, and it turned out really well." – Internship Coordinator Jennifer Wilkins
"Devon asked me what I was looking for, and I told her that I had an interest in coaching track and cross country, as well as interest in becoming a personal trainer," Brown said.
She spoke with Martin during spring break and near the end of the semester and also met with Wilkins several times. "We just discussed things I could do to help out the club and would be most beneficial for me to experience for my future goals."
"It was definitely a collaboration," Brown noted.
A major responsibility of Brown at evening practices was timing the athletes, calling out their splits as they ran intervals, so they would know their times and know where they should be at a given time. "I was sort of her right-hand woman, assisting whatever she needed help with," Brown said.
Brown helped set short-term and long-term goals for the entire team and individual athletes; scheduled and coordinated weekly workouts and lift schedules, and organized teams for championship events. Brown also worked remotely, recruiting athletes, often tracking down their Instagram handles and inviting them to join the club.
"I feel like I've gained great confidence in my ability to coach and also have gained more intimate knowledge behind coaching, such as examples of workouts and what would be the best benefit for individual athletes as well as the team as a whole, how to organize and conduct a practice, and always to come prepared," Brown said.
She admired how Martin pushes athletes and also cares very deeply for them. "I left summer very inspired, both as a runner with my own athletic goals as well as an aspiring coach," she added.
The unique internship can help Brown gain valuable real-world experience and material to add to her resume, said School of Business Associate Professor Sun Ick Min, who coordinates Sport Management internships. "From verbal communication to problem-solving and even empathy, a variety of transferrable or soft skills can quickly be developed through her internship program."