SUNY Fredonia adjunct faculty receive Chancellor's Awards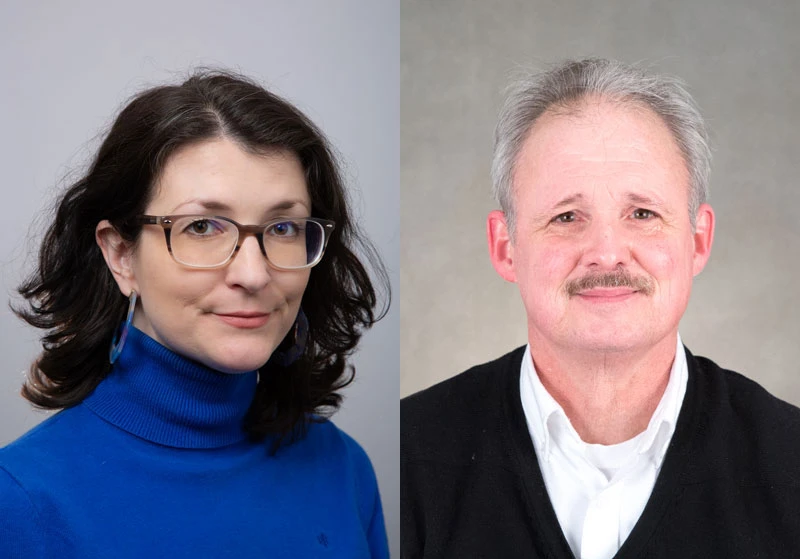 Two SUNY Fredonia faculty members have been selected as recipients of the 2023 SUNY Chancellor's Award for Excellence in Adjunct Teaching, a system-wide honor that recognizes consistently superior teaching at the undergraduate, graduate and professional levels for the 2022-2023 academic year.
Rebecca Cuthbert, an adjunct lecturer in the Department of English, and John Stone, an adjunct lecturer in Economics in the School of Business, are recipients of the honor that recognizes nominees who perform superbly in educational environments and maintain instructional policies that adapt readily to student needs, interests and problems. Mastery of teaching techniques must also be demonstrated and substantiated.
The Chancellor's Award for Excellence in Adjunct Teaching Committee at SUNY Fredonia that evaluated nominees for this honor found Ms. Cuthbert and Mr. Stone not only met but exceeded SUNY criteria for this award. They have 20 years of combined service at SUNY Fredonia.
According to the six-member committee, Cuthbert's resumé – beginning with what it called a brilliantly composed cover letter, to her innovative teaching materials, to the high praise given in her letters of support from faculty and students – establishes Cuthbert as one of the university's most gifted and respected instructors. She impressed committee members with her wit, precision and engagement and how her experience as a journalist helped to shape the way she teaches creative writing.
In her teaching philosophy, Cuthbert approaches creative writing as an inclusive rather than an exclusive field. "The world of writing isn't invitation only, it's general admission," Cuthbert said. "In class, we work through the writing process – reading to prewriting to drafting to redrafting to workshopping to revising to editing to proofreading – and all along the way, they can see their creations coming to life, like gorgeous little Frankenstein's monsters."
Cuthbert's credentials emphasize her creativity, connection to students and their needs, rigorously applied standards and inclusion of both proven and cutting-edge pedagogy in creative writing instruction. Cuthbert has taught more than 60 sections of writing courses across 17 semesters.
In her letter of support, Department of English Chair Kim Marie Cole emphasized the dedication to individualized attention to student success that characterizes Cuthbert's teaching. Another department colleague, Assistant Professor Michael Sheehan – the primary force behind the new Writing major ¬ praised Cuthbert's thoughtful integration of the department's Visiting Writers guest series and the ways in which her teaching constantly works with departmental programming.
Cuthbert is an accomplished author of articles, advertorials, reviews, press releases, features, stories, essays and poems published in local, regional, national and international publications. She joined SUNY Fredonia as a creative writing lecturer in 2012. Cuthbert also has diverse experience in editing, marketing and public relations and has served as a book reviewer, author event coordinator and social media editor, contributing writer and acquisitions editor.
Her debut poetry collection, a chapbook called "In Memory of Exoskeletons," was published in March by Alien Buddha Press. Her next collection, "Self-Made Monsters," will include both poetry and short fiction and is due out in the fall of 2024.
Cuthbert has an M.F.A. in Writing from West Virginia University, a B.A. in English from the University of West Georgia and is currently a candidate for a B.S. in Communication: Public Relations at SUNY Fredonia.
It was with "tremendous enthusiasm" that the chancellor's committee recommended Stone, of the Department of Economics, for an adjunct teaching award, citing his outstanding support of the intellectual growth of individual students and uses of relevant contemporary data from his discipline and of different teaching techniques.
A former chair of the Economics department described Stone as "a highly-valued colleague," based on a review of his teaching evaluations, numerous discussions with students about his teaching and the impact he's had on their lives.
Stone's commitment to his students and quality enthusiastic teaching bring out the best in students and inspires them, the committee found. More new Economics majors report they were inspired as students in Stone's Principles of Economics classes to become Economics majors compared to any other professor.
Students have described Stone as "one of the most compassionate professors ever," "passionate about teaching" and "very enthusiastic about economics." The quality of his teaching is the final piece of the puzzle that creates Stone's teaching excellence, according to the committee.
Another example of Stone's commitment to teaching was his willingness to step outside of his comfort zone and develop a new instructional modality for his Macro- and Microeconomics courses. Extended Learning discovered that some students were taking these courses online at other schools, resulting in a loss of tuition revenue, so Stone rose to the occasion and completed the Build Your Online Course process that enabled him to teach both courses for SUNY Fredonia students as well as to visiting students each summer.
Stone's teaching philosophy is centered on three key principles: create an environment where students enjoy class and want to be in attendance; prepare students for life in the business world; and focus student attention on learning.
Stone has an MBA in Management and Finance, a B.S. in Management and an A.A., Letters, Arts and Sciences, all from Penn State Behrend in Erie, Pa. He is also a graduate of the College For Financial Planning (CFP Professional Education Program) and is currently enrolled in the American College of Financial Services, pursuing the CHFC (Chartered Financial Consultant) and CLU (Chartered Life Underwriter) designations.
Stone has enrolled in numerous professional and industry education courses offered by Mellon Bank, American Institute of Banking and Morgan Stanley.
Since 2014, Stone has served as an adjunct lecturer in Economics at SUNY Fredonia as well as an adjunct lecturer in Business Administration at Gannon University in Erie. He previously held adjunct teaching positions at Penn State Behrend, University of Pittsburgh at Titusville; Mercyhurst College in Erie; and the Erie Business Center.
In addition to his multiple teaching positions, Stone is a financial advisor with Trustmont Financial Group and previously served in that capacity at Waddell and Reed, AXA Advisors LLC, Linsco-Private Ledger (LPL) and Morgan Stanley. Prior to becoming a financial advisor, Stone was an assistant vice president at Mellon Bank and its predecessor bank (Union Bank) for approximately 19 years.