SUNY Fredonia choirs to travel to England, perform and tour historic sites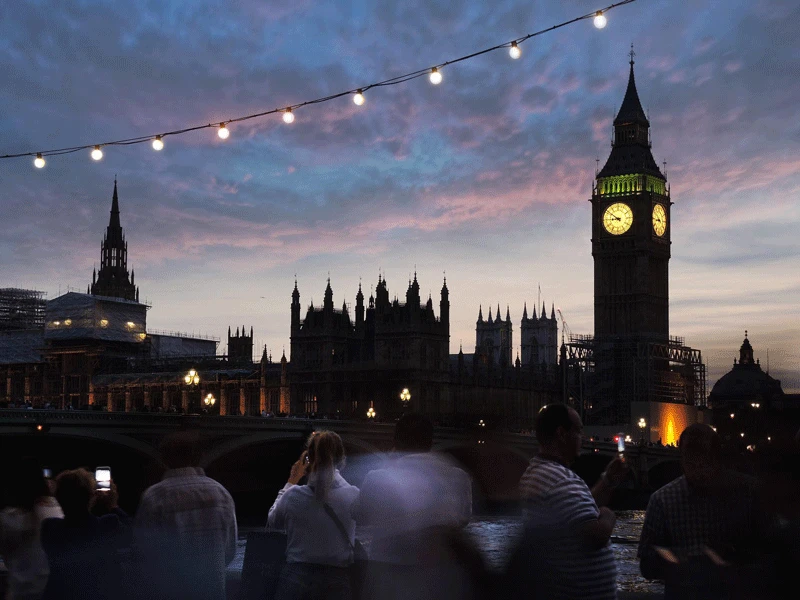 An "unparalleled experience" awaits students in three singing ensembles at SUNY Fredonia who will embark on a week-long tour of London in July 2023 that will give them once-in-a-lifetime opportunities to sing in historic venues.
Visits to many of London's most revered tourist attractions, such as Windsor Castle, Westminster Abbey and Big Ben, are also on the itinerary of the students, who will be joined by School of Music faculty and alumni.
"We presented this tour to them last semester as a possibility, and they were thrilled," School of Music Associate Professor Vernon Huff recalled of the students' reaction to the London excursion arranged by the school's Choral department.
Two decades have passed since a Fredonia singing ensemble has went on such an ambitious tour, according to Dr. Huff, who is also Director of Choral Activities, and worked with Assistant Professor Adam Luebke to develop the tour.
"Adam and I decided it is time for a Fredonia choir to tour. We really hadn't done anything like this in about 20 years, so we wanted to give our students an opportunity to go somewhere out of the country and sing in some pretty significant cathedrals in England," Huff explained. "England was our first choice for this tour, and going forward we want to do this every other summer for the foreseeable future."
Aside from the Fredonia Chamber Choir singing at the American Choral Directors Association Eastern Division Conference in Boston in February, choral ensemble tours have been limited to one or two days, and travel was especially limited during the COVID-19 pandemic, Huff noted.
The London tour was open to some 240 students who sing in the Chamber Choir, College Choir and Camerata.
Huff and Dr. Luebke worked with KIConcerts, a leading provider of international and domestic concert performance tours for choirs, bands and orchestra, to design a tour that was cost-effective for students and allowed them to sing in world-class venues. It will be a "hub-and-spoke tour," Huff added. The choir will be based in London and undertake one-day trips to concert and tourist destinations.
The choir will sing strictly American music, such as folk songs, spirituals and hymns, at three concerts and one recital. Huff also hopes to arrange one or more choir exchanges. "That's where they sing for us, and we sing for them, and then we go out to dinner together," Huff said.
Directors of Fredonia's three singing ensembles – Lecturer Brent Weber, Camerata; Luebke, College Choir; and Huff, Chamber Choir – will share conducting duties at all performances.
Huff has visited England many times, going on tours as an undergraduate student at Furman University and singing in some of the same venues where the Fredonia choir will perform.
"Rosch and Diers recital halls are great," Huff said, "but singing in Bath Abbey – that's an unparalleled experience." Cathedrals in Canterbury, London and Oxford are also under consideration as concert locations.
Other tourist destinations include Piccadilly Circus, Trafalgar Square, St. Paul's Cathedral and the Houses of Parliament. Viewing the changing of the guard at Buckingham Palace is possible, if the schedules of the tour and the ceremony align.
The choir will visit the grounds of Windsor Castle, which is still very much a working castle and one of the favored homes of Queen Elizabeth II, and tour Oxford University and Christ Church College, which were location settings in Harry Potter movies.
Stonehenge, a collection of massive blocks of rocks that is believed to have stood for some 10,000 years, will be toured, as will the Roman city of Bath, site of a temple built by the Romans that boasts exceptional Georgian architecture, and the Roman Baths.
Concluding the tour will be a visit to the Tower of London, where the magnificent Crown Jewel Collection can be seen, a ride on the London Eye, a revolving observation or Ferris wheel that towers some 440 feet, and a sail on the River Thames
Support for this tour is being provided by the Bob and Betty Young Endowment established through the Fredonia College Foundation.
The tour was also opened to School of Music faculty and alumni, Huff noted, and "overwhelming" was how Huff described their interest. The Fredonia contingent will be made up of 65 students, 20 alumni and 10 faculty members
"Some of these alumni have sung for me before, and wanted to spend some time touring with their old college choir directors," Huff said. Among the alumni are several 2022 graduates.