SUNY Fredonia faculty outreach expands science education at Chautauqua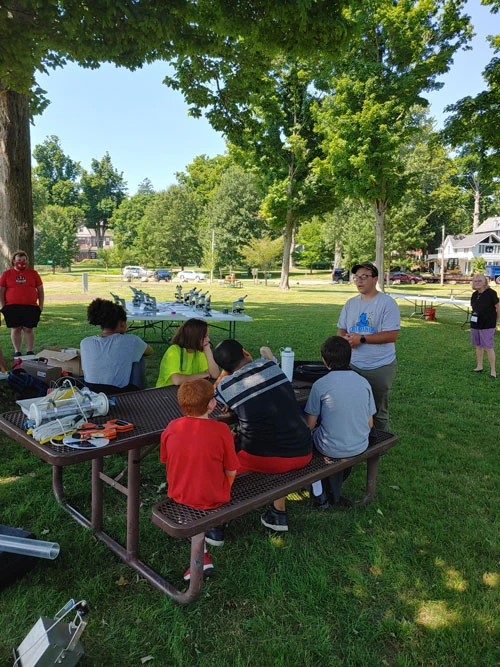 Faculty in the Department of Biology at the State University of New York at Fredonia created a new collaboration with Chautauqua Institution to increase science education opportunities for Chautauqua County students this summer through the institution's Chautauqua Field Trips program.
Over 1,100 students from 12 school districts attended the inaugural field trip program in June that's designed to provide a full Chautauqua Institution experience in one day that covers the institution's four pillars: art, education, recreation and religion.
Associate Professors Courtney Wigdahl-Perry and Scott Ferguson developed and conducted two STEM/STEAM activities that fulfilled the education-related offering of those experiences through two activities – Strawberry DNA Extraction and Water Matters, an introduction to water science – over the course of four days.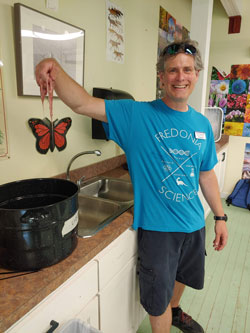 "The students were absolutely fascinated by what they learned from Dr. Wigdahl-Perry and Dr. Ferguson. The activities they led were engaging, enlightening and inspired curiosity," said Suzanne Fassett-Wright, director of Arts Education at Chautauqua. They were assisted by SUNY Fredonia students majoring in Biology or Exercise Science.
Using microscopes to analyze water samples from the lake was the focus of Wigdahl-Perry's activity, Water Matters, that utilizes lake sediments to make paint that the students used to color sketches of Chautauqua's Miller Bell Tower. Wigdahl-Perry also demonstrated how she uses paleolimnology – the study of ancient inland waters – to examine the history of environmental changes in the lake.
"We showed them some sediment examples from Chautauqua Lake, how we look at them as scientists to look at environmental change through time," Wigdahl-Perry explained, through the use of diatoms, a type of algae that reveals fossils of its glass cell walls behind at the lake's bottom.
Ferguson and Wigdahl-Perry team-taught Strawberry DNA Extraction to demonstrate the universality of DNA across domains of life. Strawberries were crushed in a plastic bag to break down the fruit. DNA, which is found inside individual cells of the berries, was released by adding a solution containing dish soap and salt, so the solution takes on a thick consistency. Rubbing alcohol was applied to draw the DNA out of the solution. Students were then able to make a necklace with a tube containing the strawberry DNA.
"It's a very robust reaction that yields a lot of DNA that the kids can see," Ferguson said.
Ferguson then outlined the function of DNA in biology, and showed insects, flowers and even the students' own fingertips under a microscope.
"I explained that the vast diversity of form and function in the biological world is due to differences in the sequence of the DNA contained in these organisms. DNA is the blueprint for building everything from a strawberry to a person," Ferguson said.
Handouts were also sent home with the students' teachers.
Through the field trip program, Wigdahl-Perry and Ferguson are expanding their outreach into the community beyond the academic year, while the science students assisting them have the opportunity to practice good science communication, translating complex science ideas to a different audience than they normally get to talk to, Wigdahl-Perry explained.
"That's a critical skill set for scientists today. I try to give students every opportunity to practice science communication skill sets with the public," she said.
Participating students also visited the Chautauqua Visual Arts Gallery, attended the Chautauqua Regional Youth Ballet Spring Gala Preview, tested their physical skills in a recreational activity called Chautauqua Survivor and enjoyed a "mindless moment" to reflect on Chautauqua's three remaining pillars.
Additional programs in the form of pop-up, interactive learning experiences that are fun and encourage a love of learning will be offered by SUNY Fredonia faculty during the Chautauqua season to create additional learning opportunities that include science education. "We're hoping to be there frequently as far as (offering) different activities for various ages and levels of interest," Wigdahl-Perry said.
"It's really nice for us as faculty to get out and connect with the community more, and working with kids and doing science is fun. It's a good time, a very enjoyable way to spend the day," Wigdahl-Perry said.