Trumpeter Gardner to give master classes, perform with ensembles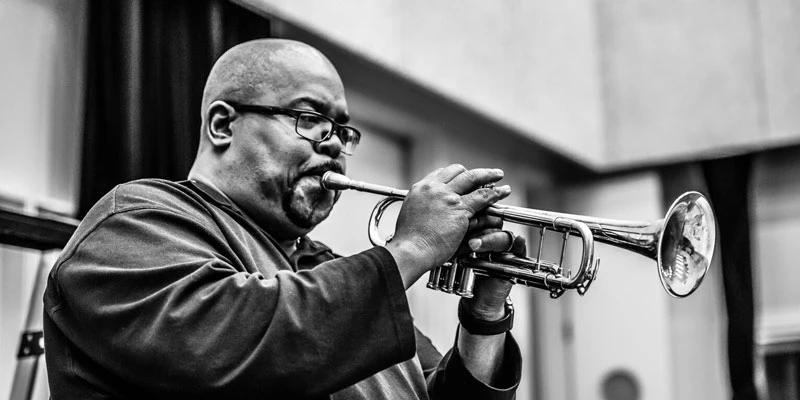 Acclaimed trumpeter, composer and educator Derrick Gardner will spend Thursday and Friday, March 23 and 24, at the School of Music, leading master classes and performing in concerts with the Fredonia Jazz Orchestra and Fredonia Jazz Sextet in Rosch Recital Hall, and the Faculty Jazz Collective at an off-campus location.
All on-campus master classes and concerts are free and open to the public.
Heralded as an extraordinary, creative natural talent, Mr. Gardner launched what became a top-flight career in the New York jazz scene in 1991. He's performed internationally with the Count Basie Orchestra, Frank Foster's Loud Minority Band, Harry Connick Jr.'s Big Band and the Smithsonian Jazz Masterworks Orchestra, among others.
Adjunct Lecturer Elliot Scozzaro met Gardner at the Jazz Education Network in New Orleans in 2020, heard him play at a club in the city and also spent time with him there.
"Derrick is incredibly kind, honest and thoughtful. He's a master musician, composer, arranger and educator. We talked about his life, career, music, and so much more. I was introduced to his music years ago by Buffalo-based pianist George Caldwell. I'm very excited for him to be here in Western New York!"
Scozzaro calls Gardner's playing "truly amazing," noting that he's performed and recorded in a wide variety of sessions with his own groups and various big bands.
The litany of artists Gardner has performed with includes the late Dizzy Gillespie, George Benson, Jon Faddis, Nancy Wilson, Tony Bennett, Joe Williams, Rufus Reid and Clark Terry. Gardner's own sextet, The Jazz Prophets, formed in 1991, continues to be the primary vehicle of his distinctive hard-driving music. The three-man ensemble's second release, "Echoes of Ethnicity," was named Best Jazz Album of the Year. Its most recent album, "Pan Africa," was inspired by a life-changing visit to Ghana while on tour with the Jazz Prophets in 2021.
An informal master class will be held at Mason Hall Room 1080 on Thursday, March 23, at 2:30 p.m.
Gardner will perform in two shows, at 5:30 and 8 p.m., with the Faculty Jazz Collective (Assistant Professor Nick Weiser, director; Adjunct Lecturer Elliot Scozzaro, saxophone; Kieran Hanlon, bass; and Adjunct Lecturer John Bacon Jr., drums) at an event sponsored by the Fredonia Jazz Society on the evening of March 23. Tickets are required and information can be found on the Fredonia Jazz Society website.
A master class will be held on Friday, March 24, at 8 a.m. at Fredonia High School. Later that day, Gardner will give a second master class, devoted to composition and arranging, at Mason Hall Room 2019 at 8 p.m.
Gardner will perform with the Fredonia Jazz Orchestra and the Fredonia Jazz Sextet in Rosch Recital Hall on Friday, March 24 at 8 p.m. The event is free and the public is invited to attend.
Gardner has traveled the world, and will offer students an incredible perspective on life as a professional musician, Scozzaro added. "He's also a renowned composer and arranger, having published more than 35 works for various jazz ensemble settings. Derrick's playing and composing is inspired by the funky hard-bop bands of the 1960s. His ensembles take the sounds of traditional, straight ahead jazz into new, exciting territory."
Funding support for Gardner's residency in the School of Music is being furnished by the Carnahan Jackson Fund for the Humanities through the Fredonia College Foundation. Additional support has been provided by the School of Music, Fredonia Jazz Society and Fredonia High School.