Ted Steinberg article says medieval poetry shows more tolerance between Arabs and Jews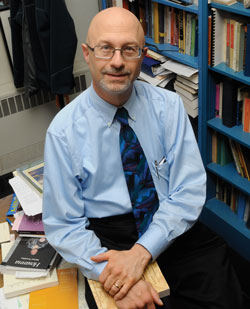 Theodore Steinberg, Ph.D.
Distinguished Teaching Professor Ted Steinberg has written an article, "Loading Jewry into the Medieval Canon," in the new edition of Pedagogy, a journal dedicated to critical approaches to teaching literature, language, composition and culture.
In the article, Steinberg recommends including medieval Jewish and Arabic poetry in courses on medieval literature, in part to illustrate moments of intercultural and interfaith exchange during the Middle Ages. These serve as models for forging cultural connections today.
The focus of the journal's special edition for spring 2013 is "teaching medieval literature off the grid," which means exploring the distinctive pedagogical challenges and payoffs of teaching a traditional literary period using noncanonical texts.