William Boerner is named Chief Diversity Officer
SUNY Fredonia announces the hiring of Dr. William A. Boerner as its new Chief Diversity Officer. He will begin in his new role, which reports directly to President Virginia Horvath, on July 17.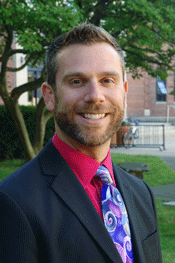 As Chief Diversity Officer, Dr. Boerner will publicize the university's policies and procedures regarding diversity and anti-discrimination regulations. He will also monitor and promote diversity efforts on campus and act as an information source on these matters. He will collaborate with faculty, staff and students to build consensus on diversity-related efforts, and develop programs that promote recruitment, retention and equitable treatment of a diverse population of students, faculty, and staff.
Boerner will also be Chair of the Affirmative Action Committee and help oversee faculty and staff recruitment searches from a diversity perspective. He will oversee compliance with complaint procedures and federal, state and university policies as well.
Boerner joins SUNY Fredonia after serving at Morehead State University, in Morehead, Ky., where he was Assistant Director of Housing and Residence Education since 2011. Prior to that, he served at Mount Holyoke College in South Hadley, Mass., as Associate Director and, subsequently, Director of Residential Life, from 2004 to 2011.
Boerner earned his doctoral degree in Educational Leadership from Johnson and Wales University. He also holds a Master of Arts in Education degree from the University of Connecticut and a Bachelor of Arts degree in Social Science from Keene State College.