Community Service
Community Service/Service Learning
"Beautify the Campus Woodlot/Help Pick up Litter and Pull Invasive Species" are the EDP-sponsored community service/service learning projects. This is designed to either pick up litter in the campus woods, known as Forever Wild, and the surrounding areas or pull invasive species (honeysuckle). Volunteers include not just EDP students but also faculty, staff, community members, and student groups such as women's rugby players and Brother-to-Brother members. All names are entered for a prize drawing for an FSA gifts card and are sent to Volunteer and Community Services to receive official credit. Volunteers meet at the four-way intersection of Ring Road and Symphony Circle. Plastic gloves and garbage bags are provided.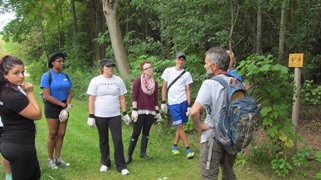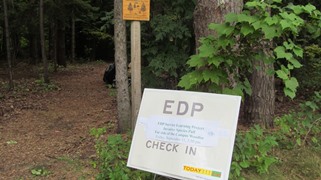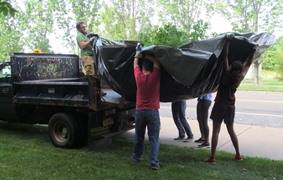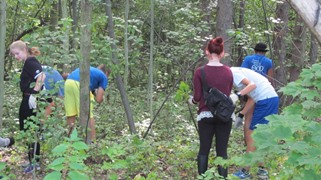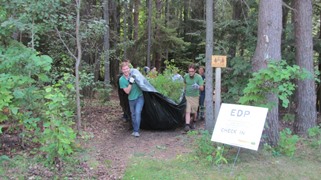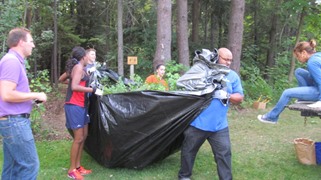 Thanks go to Fredonia's Facilities Service/Grounds Crew for pickup of the trash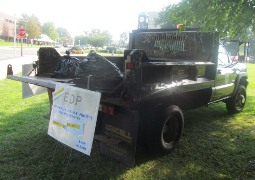 bags and honeysuckle plants. Dr. Michael Jabot/Sci Edu said "hopefully this experience will be a ripple effect on the participants because they will now be more aware of litter/littering and will not let friends litter."
"Not only are these service learning projects, but we incorporated and completed all of Fredonia's four institutional goals--skilled, connected, creative, and responsible," said Mr. White, EDP Director.
Spring semester's service project was on April 13* and fall semester's service was on September 11, national day of service.
*In recognition of Fredonia's commitment to sustainability and the principles outlined in the Power of Fredonia, the campus celebrates "Earth Month" during the entire month of April. Sponsored by the Engagement and Economic Development office, Earth Month has "No Impact" events throughout the month.

2016 Earth Month EDP/BSU Litter pick up - Wednesday, April 13, 3:30 pm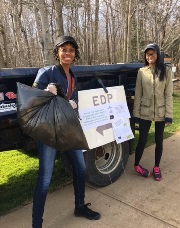 EDP and the Black Student Union co-sponsored a litter pick up around campus as part of the campus' Earth Month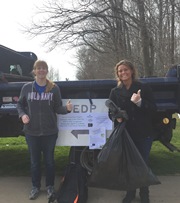 activities, this is the sixth year participants have been helping to beautify the campus. All participants were welcome to meet at the 4-way stop at Ring Road and Symphony Circle, Wednesday, April 13, at 3:30 pm. Names were be entered to win a gift card from FSA and submitted to Volunteer Services for official credit.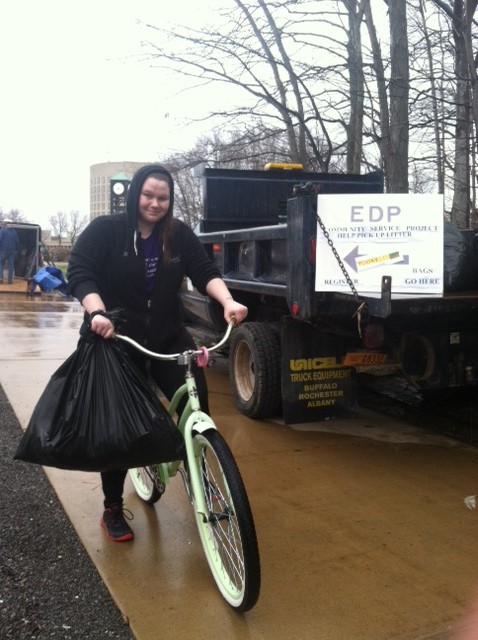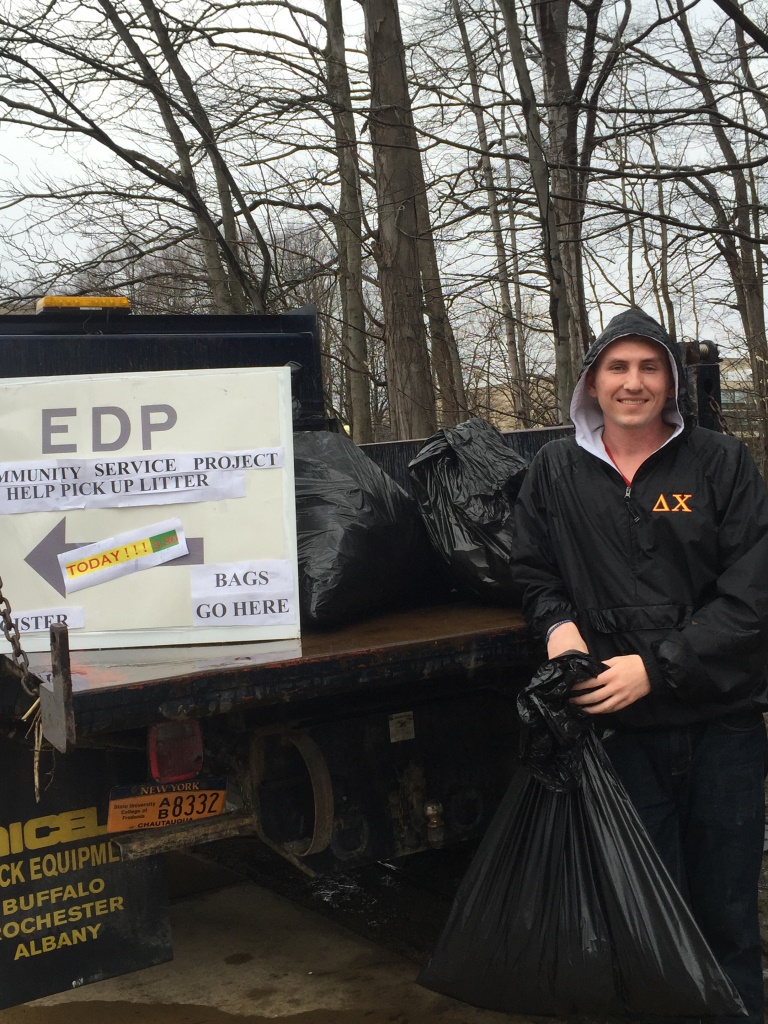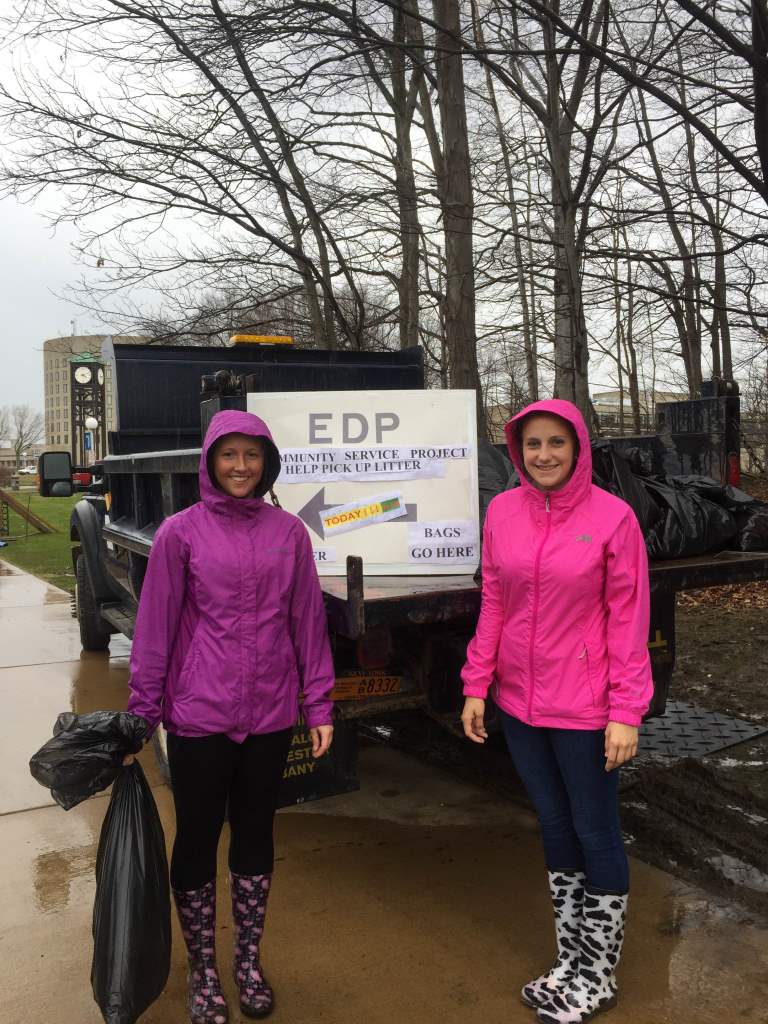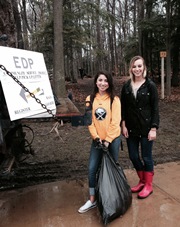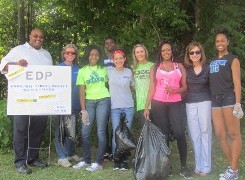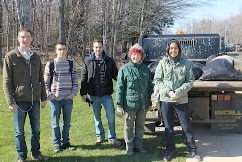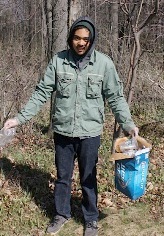 Past service events:
09/11/16 - National Day of Service - Invasive Species Pull in Campus Woodlot
04/09/15 - during 2015 Earth Month
09/11/14 - National Day of Service
04/23/14 - during 2014 Earth Week
09/11/13 - National Day of Service
04/17/13 - during 2013 Earth Week
09/11/12 - during President Horvath's "Inaugural Day of Service"
04/17/12 - during 2012 Earth Week
09/26/11 - see related article in the 9/19/11 Campus Report