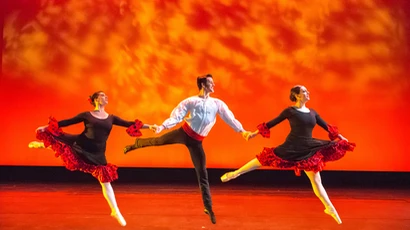 Arts at Fredonia
Arts at Fredonia encompasses music, dance, theatre, and the visual arts in traditional and new media, from world-renowned performers and artists to open mics and student gallery shows.
The total arts experience
3 theatres
Black box in-the-round, a 500-seat proscenium, and a 1,200-seat concert hall, in addition to two recital halls and three art galleries
More than 150 events presented each year
clients including academic departments, student organizations and community groups.
43,000 people
annual attendance at all events
Rockefeller Arts Center is one of the most impressive fine arts centers in the SUNY system. The 120,000 square foot facility houses faculty offices for the Department of Visual Arts and New Media and the Department of Theatre Arts and Dance, as well as classrooms, rehearsal halls and spacious, well-equipped art studios, dressing rooms, scenery and costume shops.
Rockefeller Arts Center serves as a showcase for the talented students and faculty in Fredonia's strong arts programs and as a venue for national and international touring artists.
A major addition was completed in 2016. The project added an additional 40,000 square feet to the building.
There's always something happening....