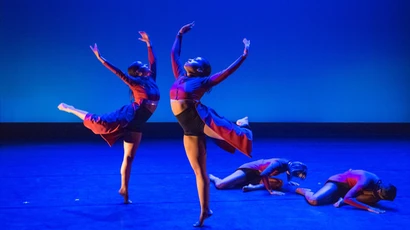 Alice E. Bartlett Theatre
Named after former beloved Associate Professor of Theatre and Assistant Dean Alice E. Bartlett, this theatre is the college's experimental or "black box" theater. Seating is flexible and can be re-configured for each production, up to a maximum of 225. The audience typically sits on three sides or four, creating "theater in the round" (but actually it's a square).
Two of the annual Mainstage productions by the Department of Theatre and Dance are presented here, as are shows produced by the student-run Performing Arts Company. Recent campus productions presented in Bartlett Theatre include Angels In America Parts I & II, Art, Rumors, Top Girls, You're A Good Man, Charlie Brown, Mad Forest and the world premier of the one-act opera The Monkey's Paw by music major Stephen J. Grieco (class of 1996).
Bartlett Theatre is also used for acting classes, directing class projects, and for BFA recitals by theatre and musical theatre majors. Lighting equipment includes an ETC Express console, Strand CD 80 dimmers and over 50 lighting instruments (including a 29 SourceFour jr. Zooms). The sound system is composed of an A Spirit FX16 console with a Yamaha SPX990, Sony Minidisk player, dbx equalizer, Crest amplifier and EV cabinets. The space also has its own Steinway baby grand piano.
Rockefeller Arts Center and the Department of Theatre and Dance are indebted to the generosity of Dr. and Mrs. Gerald Goldhaber, whose gifts and donations made the renovation of Bartlett Theatre's sound and lighting systems possible. The Goldhabers can also be thanked for their purchase of Bartlett Theatre's comfortable seats.