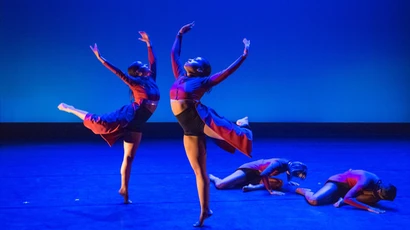 Robert W. Marvel Theatre
Named after former music professor, composer, and Dean of Fine and Performing Arts Robert W. Marvel, this 369-seat, handicap-accessible proscenium theatre is one of the best-designed and best-equipped small theatres in upstate New York. Sightlines are excellent. A hydraulic orchestra pit can accommodate up to 43 musicians.
Uses:
Marvel Theatre is the major performance space for the Department of Theatre and Dance, the annual Hillman Opera produced by the School of Music, and an annual major dance concert by Orchesis, the on campus student dance organization.

Size:
The proscenium is 40 feet wide and 28 feet high. The stage is 39 feet deep, and 10 feet of wing space exist on either side. The grid of the stage house is 58 feet above stage level and there are 38 single purchase counterweight line sets.

Big names:
Famous visiting groups that have performed in Marvel Theatre include the Limon Dance Company, the Paul Taylor Dance Company, Ohio Ballet, Catherine Wheels, folk singer Tom Chapin and funnyman Drew the Dramatic Fool. Recent campus productions have included such shows as The Wizard of Oz, Barnum, Evita, Damn Yankees and The Elephant Man.
Gear:
Lighting equipment includes over 120 instruments (Strand, Altman, and SourceFour), 254 dimmers, and an ETC Expression III console with digitizer pad. The sound booth is equipped with two Yamaha O1v digital mixing consoles, CD burners, Sony Minidisk decks, separate Ashly EQ, and Shure wireless. The main cluster is comprised of four ARCS cabinets by L'Acoustic. There is also Clear-Com throughout the space, and paging to the green room and dressing rooms.