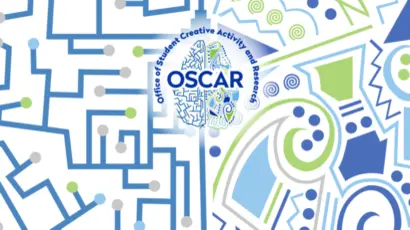 Undergraduate Student Research Award
Sponsored by Dr. Donald Nelson Nasca
The Undergraduate Student Research Award, sponsored by Dr. Donald Nelson Nasca, supports undergraduate student research and creativity at the State University of New York at Fredonia. The goal of the award is to promote excellence in student research and creativity and to enhance the dissemination of that work. Through an endowment, Dr. Nasca has provided funding to support student research projects at SUNY Fredonia. The Nasca Award will be provided to at least two students each academic year and a maximum of $5,000 will be distributed among at least two student projects.
Students selected for the award must be enrolled full time at Fredonia and incoming sophomores, juniors, or seniors for the following year. Awardees are required to present their work at the annual OSCAR Student Research and Creativity Exposition. Projects selected in the Spring will receive funding the following Fall semester and must be able to fulfill their objectives by the following Spring to share their work at the OSCAR Exposition.
Deadline for applications is March 29th, 2024.
Questions? Contact OSCAR@fredonia.edu
Dr. Donald Nelson-Nasca was an educator, scholar, writer, and mentor who was passionate about science, research, and people. He grew up in Laona, NY and graduated from Fredonia High School ('51) and The State University of New York at Fredonia ('54, Bachelors of Science in Elementary Education). He later earned his Masters in Science at Cornell University and his doctorate from the University at Buffalo ('65, Education, Ed.D.). Donald touched the lives of countless people of all ages through his love for science, exploration, creativity, inquiry, and problem solving. He was a respected researcher who published a number of articles in professional journals and magazines. However, he masterfully distilled that knowledge in an accessible manner for young scientists through hands-on science kits for Instructor magazine (a publication for teachers now called Scholastic Teacher magazine) and his books about science for children: The Science Discovery Series.

Dr. Nasca's career included 48 years as a professor at Brockport College (earning a Chancellor Award for Teaching in 1994 and a Distinguished Professor title in 1995), Director of Research at SUNY Brockport, and Chair Department of Education Administration at SUNY Brockport. He was a lifelong learner with an insatiable curiosity and thirst for new knowledge and skills which resulted in the cultivation of numerous creative hobbies over the years. His impact on emerging researchers and artists continues through the Undergraduate Student Research Award sponsored by Dr. Donald Nelson Nasca.