Student Research Showcase
Scroll down to see all showcased student researchers!
Elizabeth Wightman
Elizabeth Wightman, a junior Geology and Earth Science major here at SUNY Fredonia. She is currently conducting research with Dr. Hegna on a fossil sample from Madagascar using CT scan and Spiers software. The current findings were that the Pincers are long and straight which concludes they are most likely an omnivore. The next step in their research is comparing the 3D model created with other species of shrimp and its SPIERS software. 
Nicole Cronin 
Nicole Cronin, a Senior Psychology major with minors in Public Health and Sociology here at SUNY Fredonia. Cronin is currently conducting research on the attributions that people make regarding Covid related illnesses with Dr. Croxton in the Psychology Department. They are currently still in the data collection stage of their research through the use of Qualtrics Survey.
Sadie Olrogg 
Sadie Olrogg, a Junior Chemistry major here at SUNY Fredonia. Olrogg is researching a hydrogenation catalyst Specifically she is  looking to speed up the conversion of carbon dioxide to green methanol. The current finding is that the catalyst works but our preliminary results conclude the production of methane rather than methanol. More testing is needed to verify the production of methane as well as changing the conditions of the reaction in order to selectively produce methanol. Olrogg is currently conducting this research with Dr. Allon Jay Cardenas.
April Lorenzi
April Lorenzi, a psychology major at Fredonia, completed a research project on perfectionism and its negative side effects among dancers. In this project, April compared levels of perfectionism among dancers as compared to regular students. After college, she completed a Dance Psychology certification and is a performer at Disney World. She credits much of her success to her interest in performance and sport psychology.
Nick Certo and Jaime Birkmeyer
Psychology students, Nick Certo and Jaime Birkmeyer, conducted research on how lighting affects concentration and comfort In educational settings. As technology advances, research opportunities grow and not many studies have been done on lighting hue. The results of their research indicated that people prefer warmer lighting (oranges) for comfort and white lighting for concentration. 
Heather Han and Dr. Croxton
Heather Han, a Psychology/Music Therapy dual major from Long Island, worked on a research project with Fredonia's Dr. Croxton. Together they looked into variables affecting levels of altruism. Altruism is defined as the belief that the well-being of others is equally, if not more important than the well-being or survival of the self. Heather researched how others view a person with altruistic behavior as opposed to someone who helps others for profit.  She assessed the impact of sacrifice, motive, and need on the perception of a bystander. The bystander was viewed more favorably when their sacrifice was greater and when there was no external motive for their behavior. The impact of motive was greater when sacrifice was low and need was high. Heather is now working on a Master's Degree in Organizational Psychology at Northern Kentucky University.
Emilee Stenson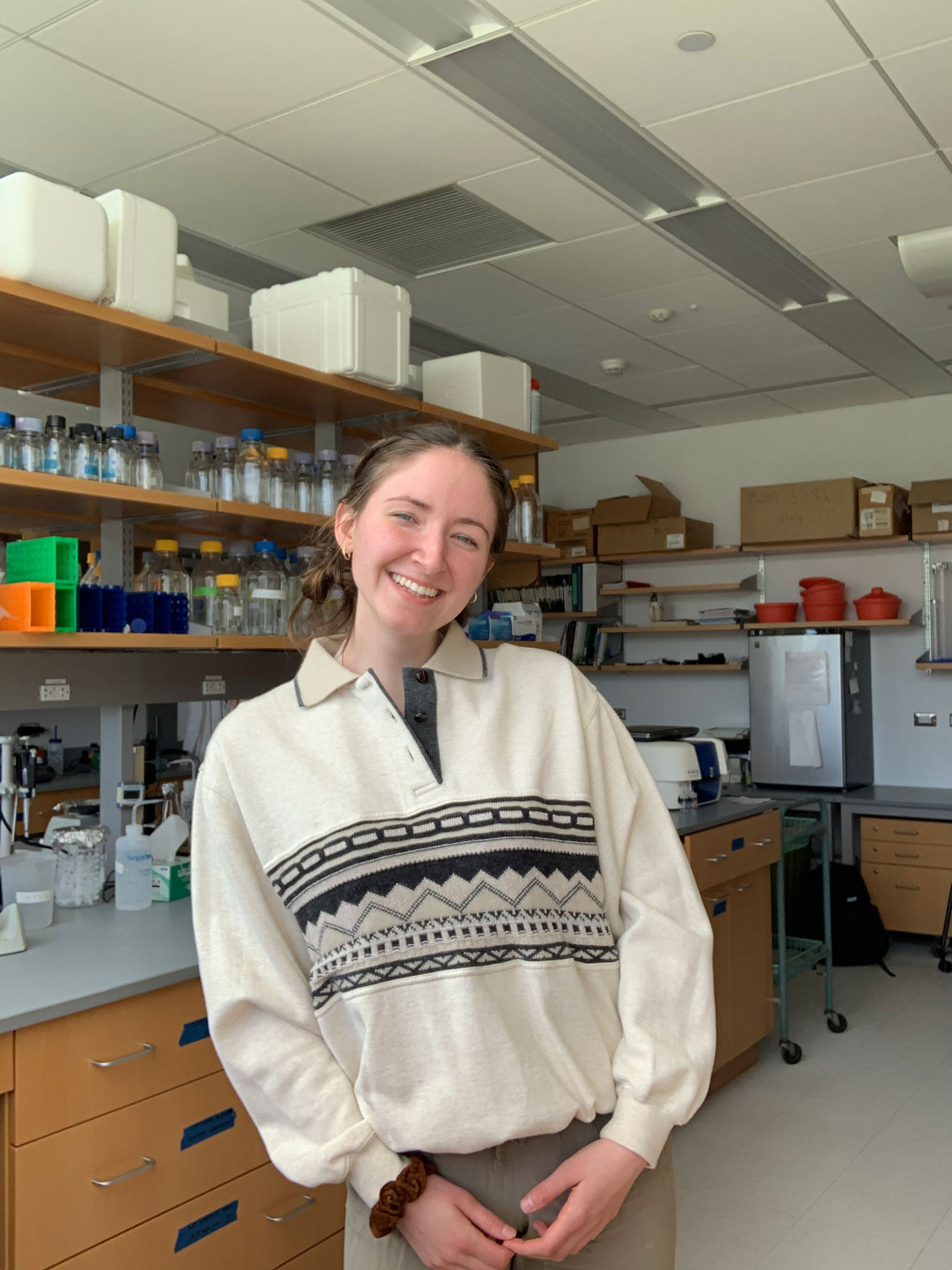 Emilee is a senior molecular genetics major with a minor in Chemistry and English at Fredonia. She is currently researching how to interpret and what causes grief in medical facilities. This research project was inspired by the following books written by the author Virginia Woolf: On Being Ill, Mrs. Dalloway, and To The Lighthouse. In Emilee's words, "Medicine is not simply the diagnosis and treatment of a set of symptoms or the understanding of the basis of a disease's pathology. A vital aspect of the field is comprehending the human experience, grief, the passage of time and death." Virginia Woolf's book provides a lens that connects these two ideas as well as providing guidance on how to treat and adapt to different situations of grief -from the standpoint of a healthcare provider. Emilee personally connects to this research project because she is a current health care worker, "as a healthcare worker, I have cleaned and placed a body in the morgue and then continued with my day. As a student of Virginia Woolf, I begin to understand the momentous emotions that I feel in those moments. Reading Woolf through the pandemic has altered how I perform in the lab, the hospital, and the classroom." A large aspect of this study focuses on the intersectionality of discrimination that expresses a potential cause for grief in medicine. With this research project, Emilee uses the practice of interdisciplinary studies, which consists of using multiple combinations of different types of fields to learn knowledge. Emilee's project uses the combined fields of Science and English to gather information on grief in medicine. Emilee's goal with this project is to spread awareness of Virginia Woolf's work on the idea that medicine is not just about understanding or treating diseases, it also includes considering a patient's feelings, emotions, and humanity. After graduation, Emilee will be working at the National Institution of Health as a research fellow in their IRTA Postbac Program. After that, she plans on attending Medical school and continuing research in the medical humanities. Emilee will be showcasing her findings at the International Virginia Woolf 2021 conference, the 2021 SUNY Undergraduate Research Conference, and Fredonia's 2021 Research and Creativity Expo! Emilee was also a recipient of the Donald Nasca Undergraduate Student Research and Creativity Award. Keep up the great work Emilee!
Sudi Wang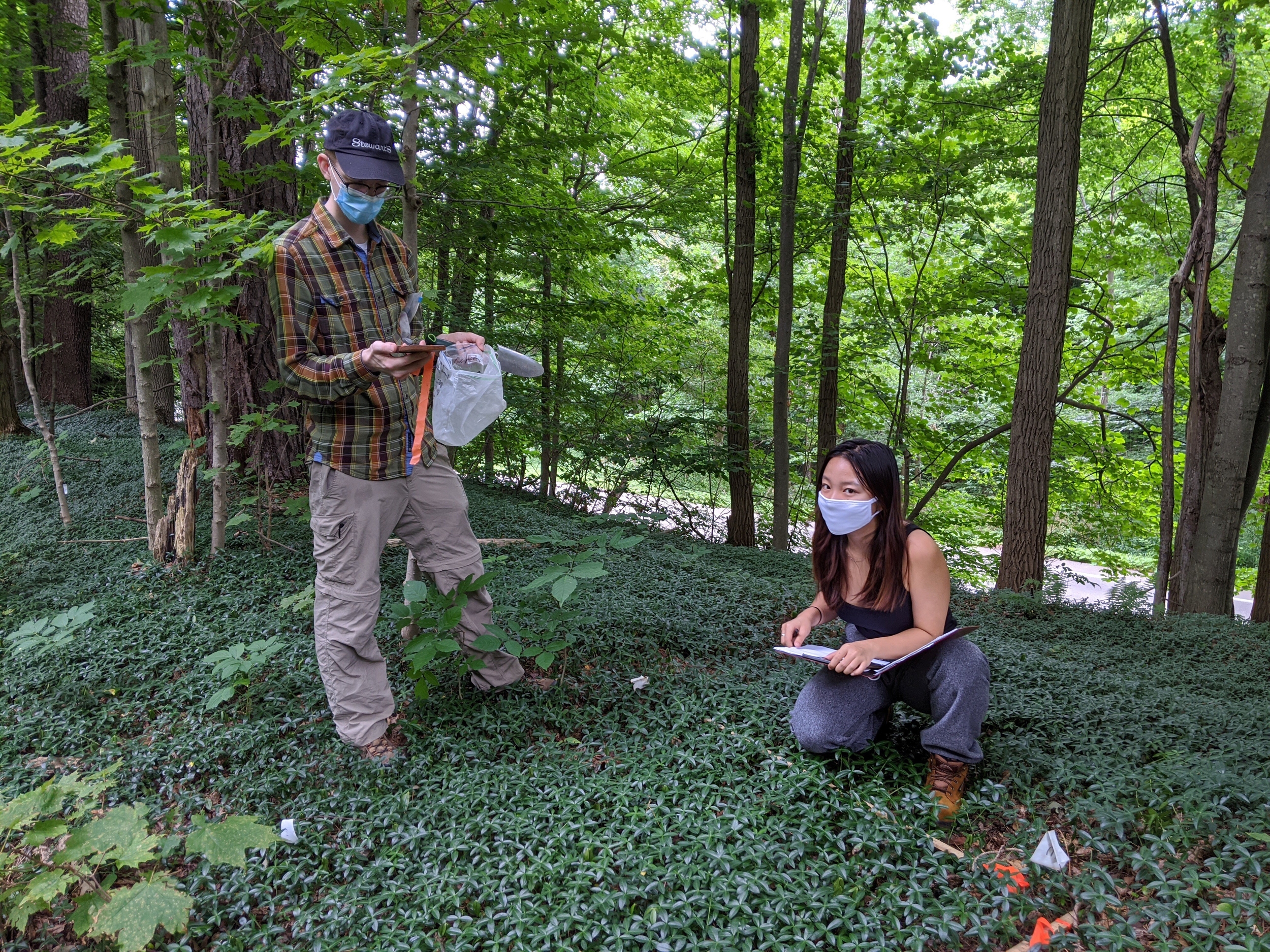 Sudi Wang, a senior Biology major with a minor in Visual Arts at Fredonia, is currently researching how non-native invasive periwinkle outcompete native species and their effect on the environment. She states, "the purpose of this research is to understand the impact of periwinkle on our native forest understory species and the mechanisms it uses to outcompete these native species." Sudi began this research by getting involved with Fredonia's greenhouse in her freshman year. One of her tasks was to collect plant data and, as a biology major, she began to take a large interest in plant research. "Non-native plant species travel from foreign areas usually by their seeds being attached to people's clothes." A large part of her research consisted of experimenting with physical plant samples of native and non-native plants in Western New York. This consisted of zoning off two areas in a local Fredonia forest. After gathering various samples, Sudi lab-tested various effects on the native plant's soil, roots, and population. The tests found that the non-native species of "periwinkle" caused root damage to local native species, while also having an overall competitive advantage and surplus population in the local forests. "Periwinkle has an impact on our native forest understory species. The biochemicals, mycorrhizal fungi, and soil moisture examined in this research provides evidence that invasive plants significantly outcompete with native species." This results in nonnative plants taking over native root space, fewer native plant biodiversity, decreasing plant food life for wildlife, plant resource competition, and higher population rates of non-native plants versus native plants. Sudi's goal with her research is to spread awareness that "some plants can be harmful for the environment". If native plant species are killed off by invasive species, entire ecosystems and the wildlife that depend on the plants for a food source will become affected as well. Society currently markets environment and plant protection from human harm such as emissions of greenhouse gases, deforestation, and acts that result in further global warming. The general population of people in the world do not know or realize that the environment is harming itself through non-native and native plant interaction. Overall, Sudi hopes more attention and awareness is brought to this subject, and further advancements will take place to limit invasive species in native forests. After graduation, Sudi plans on applying to graduate school to pursue her interests in ecology and botanical studies. Sudi will be showcasing her work at the SUNY Undergraduate Research Conference and Fredonia's 2021 Research and Creativity Expo! Sudi was also a recipient of the Donald Nasca Undergraduate Student Research and Creativity Award. Keep up the great work Sudi!
John Merino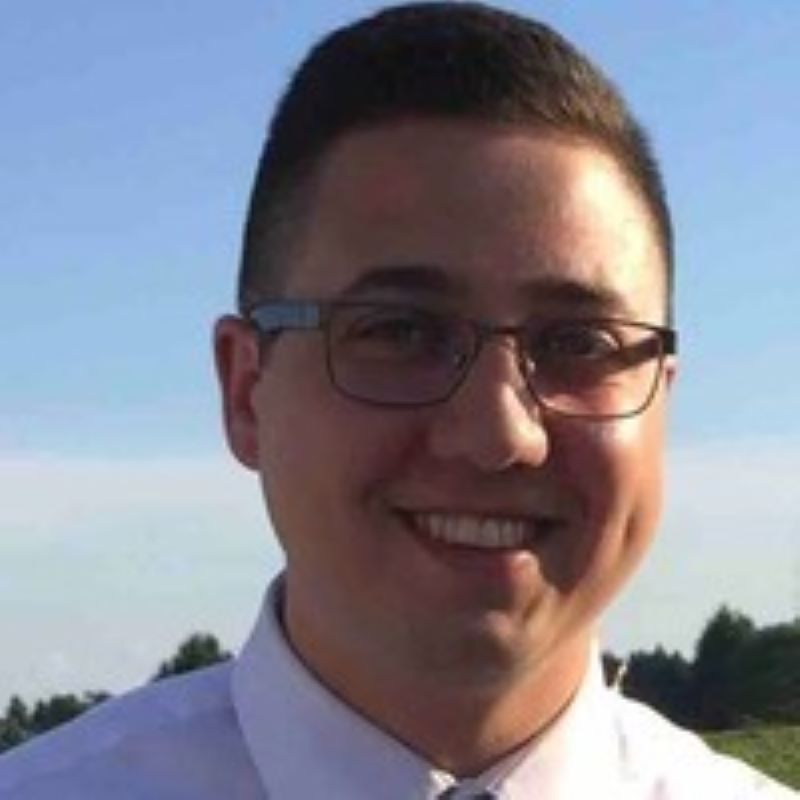 John is a senior Computer Science major at Fredonia. He is currently researching the following topic: "How to Use Localization and Clustering to Map Rescue Paths for Victims of a Building Disasters." This project explores applications of indoor localization techniques in disaster management with an emphasis on multi-story buildings, which may be partially collapsed and require recovery of victims. His research project consists of creating a program, named "MLOCATE", which will assist dispatched emergency crews by providing information about the disaster victims' exact location based on their cell phone signal. The "MLOCATE" program considers buildings' dimensions and the number of signals within the building. By using a radiometer, it can track distances and signals and can pinpoint large amounts of people in the same place, or in a cluster. This then creates an anchor point for response teams to know where the most people are in a building during a disaster situation. Having the anchor points enables responders to have a better chance at saving more lives. John's goal with this project is to further promote technology focused on emergency disaster relief and life-saving programs that cut down on the unpredictability of locating victims and saving time. After graduation, John hopes to pursue a career in software development. John will be presenting his findings at the upcoming conferences at Penn State Behrend and Fredonia's Research and Creativity Expo! John was also a recipient of the Donald Nasca Undergraduate Student Research and Creativity Award. Keep up the great work John!