Campus to assemble comfort bags for domestic violence shelters, rape crisis centers
Fredonia will host a "SUNY's Got Your Back" event to stock comfort bags with personal hygiene products for victims and survivors of violence on Thursday, Oct. 17, from 9:30 a.m. to 3 p.m., in the Williams Center Multipurpose Room.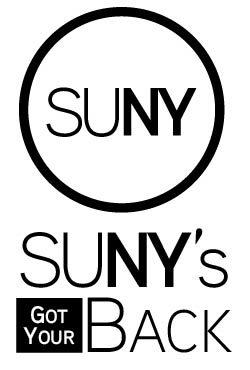 The stocked bags will be delivered to the Salvation Army Anew Center, which is Chautauqua County's domestic violence and sexual assault program.
Students, faculty and staff who are interested in volunteering at the event can complete the online form.
Since 2016, over 35,000 bags have been distributed to local domestic violence shelters and rape crisis centers across the state. More information on SUNY's Got Your Back is available online
Further information about the Fredonia event is available by contacting Julie Bezek, coordinator of Prevention, Advocacy and Wellness Services at the Counseling Center, by phone at (716) 673-3424 or by email
Fredonia's SUNY's Got Your Back is sponsored by the Counseling Center, Student Health Center, Division of Enrollment and Student Services, Title IX, Student Conduct, Residence Life, University Police, Intercultural Center, and the Department of Athletics and Recreation.