Distinguished alumni return as special guest artists for Fredonia pops concert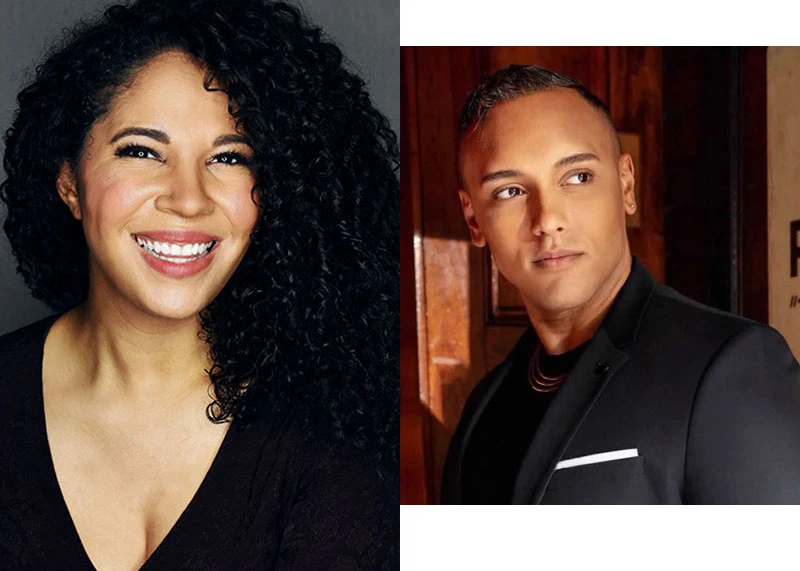 After having stepped out and made a mark in the professional world as performers, two distinguished alumni will return to SUNY Fredonia as special guest artists for Rockefeller Arts Center's traditional Commencement Eve concert.
Amanda Lynn Bottoms and Jordan Weatherston Pitts will be featured as part of "Commencement Eve Pops: The Music of Andrew Lloyd Webber" on Friday, May 19 at 7:30 p.m. in King Concert Hall.
Tickets are available through the Campus Ticket Office in the Williams Center, by phone at (716) 673-3501 and online.
Rockefeller Arts Center's Commencement Eve Pops is a tradition dating back 30-plus years.
This season, the concert pays tribute to the works of Lloyd Webber, with selections from "Phantom of the Opera," "Evita," "Jesus Christ Superstar," "Cats," "Joseph and the Amazing Technicolor Dreamcoat," "Sunset Boulevard" and more.
Bottoms and Pitts will perform selections from "Evita."
Bottoms earned her Bachelor of Music degree from Fredonia in 2014 and went on to receive a Certificate of Professional Studies in Opera from the Curtis Institute of Music and a Master of Music degree from The Juilliard School where she was a coveted Kovner Fellow.
Her major debuts include Paquette in "Candide" with Philadelphia Orchestra, Mercedes in "Carmen" with the Buffalo Philharmonic, Songfest with the Juilliard Symphony Orchestra, The Brothers Balliett's "Fifty Trillion Molecular Geniuses" at Carnegie Hall, originating the role of Frances in the world premiere of "The Flood" with Opera Columbus, de Falla's "El Amor Brujo" with the Lansing Symphony Orchestra and Anita in Bernstein's "West Side Story" with the NHK Symphony Orchestra of Tokyo.
Pitts holds a Master of Music degree from Boston University and a 2012 Bachelor of Music in Music Performance from SUNY Fredonia.
On the concert stage, Pitts has most recently performed with Hartford Symphony Orchestra, The New York Opera Collaborative, The Garden State Opera, The Boston Camerata, Heartbeat Opera, The Newburyport Choral Society, and the Western New York Chamber Orchestra. Notable works have been as a soloist in the Messiah, Haydn's Great Organ Mass, The Lord Nelson Mass and the Mozart Solemn Vespers.
"The Music of Andrew Lloyd Webber" will also feature nine of Fredonia's best student vocalists, the Fredonia Chamber Choir and the Western New York Chamber Orchestra under the direction of Glen Cortese.
"Commencement Eve Pops: The Music of Andrew Lloyd Webber" is a DFT Communication Pops Series event presented as part of the 2022-23 Lake Shore Savings Season at Rockefeller Arts Center.