Fredonia hosts only Amtgard LARPing park among universities in the state
By Jules Hoepting, Marketing and Communications Intern
Notable for their enthusiasm, their Medieval themed outfits and foam weapons, it is hard to miss members of the Fredonia LARPing Fellowship as they act out fantasy combat in highly visible sections of campus.
LARPing, or live action role playing, is a lot bigger than many realize. The activity consists of different leagues which span internationally.
Fredonia LARPing Fellowship, a student-run organization, is a part of the Amtgard International System, specifically the Kingdom of Goldenvale which spans across the eastern U.S. coast and Ontario, Canada.
Amtgard is a type of LARPing that involves combat, spells, fantasy creatures and the need to conquer quests. Other forms of LARPing include Dagorhir, which is predominantly combat-based, and the historical reenactment of famous events.
There are 15 Amtgard parks in the regional Goldenvale Kingdom and eight Amtgard parks in New York State. SUNY Fredonia is the only college campus that hosts an Amtgard park.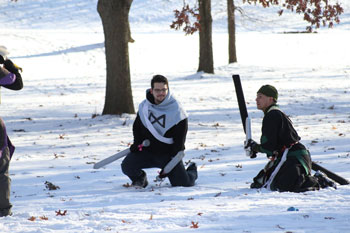 The name of the park is Annwyn and encompasses all the college campus. Fredonia LARPing Fellowship members generally play in the lawns between the Williams Center and the suite-style dorms on Mondays at 5 p.m. and on Saturday at 1 p.m. Sometimes the group plays in other locations, such as "three man hill" between Rockefeller Arts Center and the campus woodlot.
Once a semester, other Amtgard leagues within the eastern region come to Fredonia. Leagues from Rochester to neighboring states to Ontario, Canada, travel to Annwyn to live out their fantasies in the lawn near the townhouses.
Although Amtgard is based in fantasy, LARPing can provide members with valuable, real-world experience. Christopher Shirley-Brown, a member of Fredonia LARPing Fellowship since 2016, a graduate student and Resident Director of Eisenhower Hall, says he developed leadership and event planning skills from putting together LARPing events. Being involved with an international organization has "opened up gateways" and established connections for him.
According to current student and Gregory Hall Resident Assistant Nikos Konstans, a monarch or representative of the Fredonia LARPing Fellowship, one of biggest misconceptions about LARPing is that it is "just a bunch of people standing around talking or being goofy." In reality, the game is a "very physically taxing activity. It's a lot of fun, but you will definitely be exhausted after a field day."
Shirley-Brown points out there are numerous ways to get involved with LARPing. In addition to combat or field days, the Fredonia LARPing fellowship has art days dedicated to creating Medieval or futuristic costumes and foam weapons. Quests are also developed for the game, which consist of puzzles and different scenarios. Quests are developed over a semester so that members can add a lot of detail. Another way to get involved is to focus on reinforcing the specific rules of Amtgard — reinforcing what hits can and cannot "kill" members, how spells work, etc. — and figuring out the logistics of the game.
Fredonia LARPing Fellowship is always welcoming new members. "We can get you set up with a sword and put out on the battlefield in no time!" Konstans assures.
For more information on the upcoming events, visit the "Barony of Annwyn" Facebook page or online and click on the "find Amtgard near you" tab.