Fredonia student talent takes center stage in Commencement Eve concert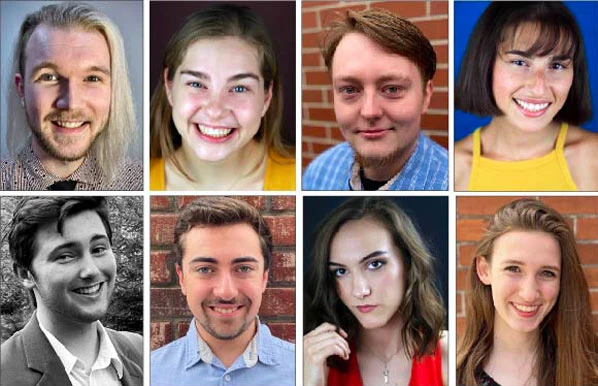 When Rockefeller Arts Center presents its traditional Commencement Eve pops extravaganza, the talented students of SUNY Fredonia will be in the spotlight.
Tickets are available by phone at 716-673-3501 and online.
"Commencement Eve Pops: Salute to the Big Apple" takes place on Friday, May 20 at 7:30 p.m., in King Concert Hall. In addition to the 17-piece Fredonia Jazz Orchestra directed by Dr. Nick Weiser, eight of Fredonia's best student vocalists will be featured. They are:
Zachary Bills, a first-year graduate student in the Music Education Master's in Five program following the Choral Conducting Recital track with Dr. Vernon Huff. He also studies voice under Dr. Kimberly Upcraft. He is from Rochester, N.Y., and after graduation intends to pursue a career as a high school choral director. Bills is the assistant vocal coach for the production
Arden Brown, a sophomore B.F.A. Musical Theatre major with an Athletic Coaching/Psychology minor from New York City studying under Dr. Robert Strauss. She plans on pursuing a career in theater.
Gavin Card, a senior B.F.A. musical theatre major from Jamestown studying under Joe Dan Harper. He intends to further his stage combat education and pursue a career focusing in voice and Shakespeare. Past credits include Frollo in "Hunchback of Notre Dame" and Eddie in "Wild Party."
Taryn Feuer, a sophomore B.F.A .Musical Theater major from Long Island studying under Julie Newell. Some favorite past credits include Katherine ("Newsies") and Martha ("Spring Awakening"). She is also cast as Alma Winemiller in the upcoming Hillman Opera production of "Summer and Smoke" in Fall 2022.
Daniel Novak, a sophomore Music Education Major with a concentration in voice from Lakeview studying under Professor Lynne McMurtry. He plans to be a choir director for middle or high school.
Nathaniel Peets, a sophomore Music Education major from Webster studying under Joe Dan Harper. This semester he played the role of Sam in the Student Opera Theatre Association production of "Trouble in Tahiti," and he also took part in WNYCO's production of "Le Vin Herbé."
Lauren Teller, a senior B.F.A. Musical Theatre Major from Buffalo. She had the privilege of studying voice with Brent Weber for the past four years. She plans to move to Chicago to further pursue her acting for film and live theatre.
Vanessa Vacanti,a senior Musical Theater major and Dance minor from Baldwinsville. She was last seen in the Walter Gloor Mainstage Series as Jenny and Edna in "Mr. Burns: a Post Electric Play." After graduating, Vanessa plans to move home to Syracuse and audition for theaters, as well as begin performing within the area as a jazz vocalist.
A full evening of some of the most-loved tunes about the city that never sleeps have been chosen for this special concert, which is a Fredonia tradition spanning almost three decades.
The program is a DFT Communications Pops event presented as part of the Lake Shore Savings Season.