Fredonia students team up to clean up village streets
For the third straight year, students at Fredonia launched into Study Week by volunteering their time to clean up village streets.
Students from seven Greek organizations - Delta Chi, Delta Phi Epsilon, Kappa Sigma, Sigma Gamma Phi, Sigma Kappa, Sigma Phi Epsilon, and Alpha Phi Omega - rallied together to pick up litter and trash that followed a busy weekend in the village.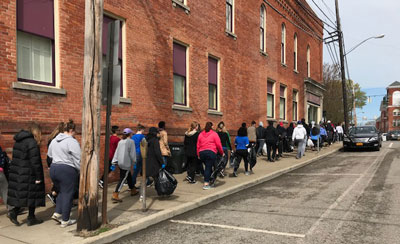 "We realized that the greek organizations can handle this situation easily, because it's the kind of thing we do all the time, so why not clean up a student-made mess," said Matthew Oliver, Kappa Sigma president and one of the organizers. "To see the Greek organizations out there taking opportunities like this to help in our communities is really refreshing."
Over 100 students spread out through the village picking up litter; in 90 minutes the job was done. For some organizations, it was their first time joining in the effort on this particular spring Sunday. Sigma Gamma Phi actually changed its service event plans so approximately 20 members could participate in the cleanup.
"We're so grateful for all opportunities Fredonia has provided for us, so we see that it's really important to give back to the community. We wanted to help Fredonia for all they do for us, and for all they put up with with us," said Lily Coots, Sigma Gamma Phi president.
As students worked to clean the streets, they were greeted by community members grateful for their efforts. "When they saw us out cleaning, it was really nice to see people driving around honking, giving thumbs up, thanking us for our hard work, which made it all worth it," said Julia Haley, president of Delta Phi Epsilon, which had about 45 members take part. "We definitely got interested in doing it because we really do love Fredonia."
Delta Chi fraternity started the cleanup effort three years ago. "We feel that it's important to make sure everything is cleared up and Fredonia looks just like it did before the weekend," said Kris Thompson of Delta Chi. "I think that it shows the student body does care about things in Fredonia that are off-campus."
For residents who woke early Sunday morning and were on the street before the organized cleanup began, the groups made sure residents knew students were on the way. According to Megan Little, president of Sigma Kappa, signs were put up at several locations very early Sunday to indicate the seven greek organizations were on their way to clean up. "It's important to show we care about the town and that it's clean. We want the community to have a positive image of students, so it's good to show we're doing good things," said Little.
"Fredonia has such wonderful, caring students, I'm so honored to work closely with these organizations and the student leaders of these groups," said Lisa Newell, director of Student Conduct at Fredonia. "They are all so proud to be part of the Fredonia campus and community, and to help keep our community a great place to live and work. They add so much positive to our community through community service, campus involvement, and other volunteer opportunities. They are always looking for new and innovative ways to make Fredonia a better, more inclusive place."
For these organizations, cleaning up village streets is simply the latest endeavor in a long line of community outreach programs. Some examples include:
Kappa Sigma hosts the Easter Egg hunt at Lanford House each spring
Delta Phi Epsilon members have an "adopt a highway" section of Main Street they clean up each year, and have participated in the village police cleanup
Sigma Gamma Phi organizes the March of Dimes walk and Bald for Bucks events
Sigma Kappa organizes the Walk to End Alzheimer's
While the organizations work on their own projects individually, they recognized this opportunity to join forces. "We all have a bunch of philanthropies we fundraise for ourselves, but I think it's nice when we can all do something together, because we all have the same goal and purpose," said Little.
It's also a chance to better connect Fredonia students with the residents they share the community with. "We get to know the town and meet the residents themselves," said Coots. "Often, you go to college and find your group, and forget about the town you live in. Living off campus, I found it nice to live in town and see smiling faces. It's good to have that connection and relationship. We feel proud to be appreciated by the community."