Get to know student clubs, organizations at Activities Night
Students, especially those new to Fredonia, will have an opportunity to get to know more than 170 clubs and organizations at Activities Night on Wednesday, Sept. 4, from 6:30 to 8 p.m., in Dods Grove.
Representatives from these groups will set up displays that describe their organizations and sign up new members. Music, with support from Sound Services, and other kinds of performances will be held throughout the event.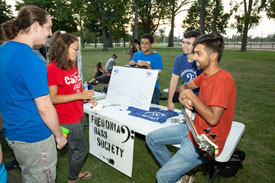 Held at the beginning of each semester, Activities Night is hosted by Spectrum Entertainment and sponsored by Student Association. For more information about this large club fair, contact Rachel.martin@fredonia.edu
For the second year in a row, Network on the Go, which connects employers with students seeking internship opportunities offered throughout the year as well as part-time and full-time employment, will be a part of Activities Night.
In case of inclement weather, Activities Night will be relocated to the Steele Hall Fieldhouse.