Hockey coach completes challenging 280-mile GAP bike ride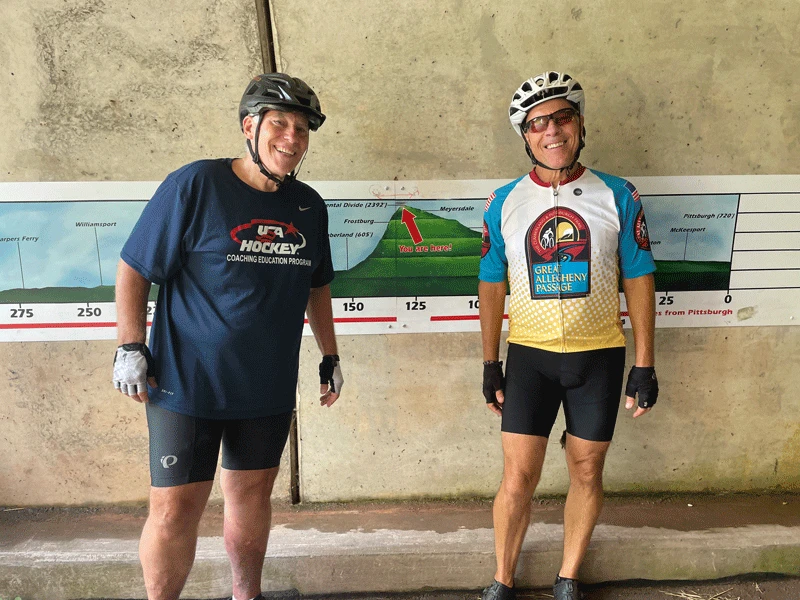 "The training and preparation for the ride for me is just as exciting as the ride itself!" 
That's the conclusion Jeff Meredith, longtime head coach of hockey at SUNY Fredonia, reached after completing a bicycle adventure with his brother, Eric, on the Great Allegheny Passage (GAP), a nearly 150-mile "rails-to-trails" journey between Pittsburgh, Pa., and Cumberland, Md., in early July. 
Coach Meredith's pursuit of long-distance biking was borne out of the COVID-19 pandemic that closed gyms and prompted him to find an alternate way to exercise. "I started biking for exercise and really enjoyed it," he said. Meredith pulled an old bicycle pulled out of storage to use before upgrading to a Trek Verve 3 Disc, a versatile bicycle suitable for roads, paths and city streets.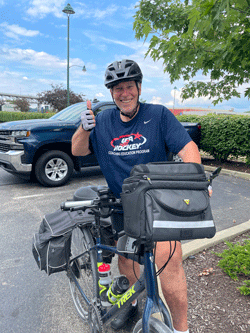 From the beginning, Meredith enjoyed bicycling so much that he trained for and completed a 360-mile ride along the old Erie Canal, completing the Buffalo to Albany trail in six days in 2021. That triumph spurred Meredith to ask his brother to join him on the GAP in 2022. It wasn't a difficult pitch, as Eric Meredith had already biked it twice.  
"The GAP trail is an old rail line, discontinued in the '70s, that's been made into a trail, but the neat thing about it is it goes through nine train tunnels, along five or six trestle bridges, and through the Savage Tunnel, which is ¾ of a mile long," Meredith explained. 
The Meredith brothers covered the 140 miles in a mere two days, pedaling 80 miles on the first day and 60 on the second, and then turned around to head back to Pittsburgh. There's a slow grade climb until the Eastern Continental Divide, followed by a gradual downhill that spans about 22 miles into Cumberland, Meredith said. "And then the next morning, you have to go up that climb. It's just a great time!" 
The challenge is doing 60 to 80 miles a day. "You have to prepare for that; the preparation was both in the gym and getting miles on my bike," Meredith said. 
Of course, there are guidelines for riders to follow on the trail. 
"When you're riding for seven to eight hours a day, you have to make sure to keep hydrated, and you keep eating snacks along the way to keep your energy levels up. Eighty miles is a long way, and every day when you hit the 40-mile mark, you go 'okay … this is for real.'" 
But definitely worth it. 
"It's a great way to get outdoors, get some exercise and meet people and have a great experience," Meredith said. "Someone we had met at the bed and breakfast came up behind us on the second day, and they had just seen a bear cross the path. We missed that, and saw a fox and some rabbits, but a bear would have been cool to see," he noted. 
"You just find a way to work through it, that's part of the fun. It's a challenge." 
Weather was "absolutely beautiful," Meredith recalled, and neither rider encountered a flat tire or mechanical breakdown. 
Meredith suffered no ill-effects from the ride, crediting training that began in February. "I was pleased with the way the ride went, how I felt. I think a lot of that had to do with the time I put into preparation that got me ready for that ride." Meredith wears a GPS that monitors his heart rate, logs the miles and measures bike speed and incline and decline grades. 
What's the next adventure? Meredith is already looking into biking the trail between Dayton and Cleveland, Ohio, as well as a ride around Lake Champlain.