Ice cream, superhero film launch Welcome Week
An ice cream social will get the fall semester's Welcome Week off to a cool (and delicious) start on Saturday, Aug. 24, at the Williams Center patio. Students can build their own sundae from 1 to 4 p.m.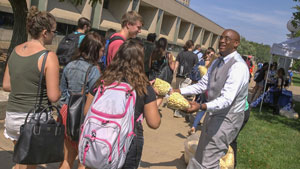 The outdoor screening of "Spider-Man: Into the Spider-Verse," the 2018 computer-animated superhero film featuring the Marvel Comics character Miles Morales, will be held on Monday, Aug. 26, at 9 p.m. in the Dods Hall grove. The Academy Award-winning film (Best Animated Feature) was the overwhelming choice in a poll of new students.
Popcorn will be provided. Students are welcome to bring blankets.
A Kahoot! tournament, which challenges students to be the first to submit the correct answers on their cellphones, will be played on Tuesday, Aug. 27, beginning at 7 p.m., in the Williams Center Multipurpose Room. A buffet featuring a breakfast menu will be served.
A Latin dance night, hosted by Latinos Unidos, will be held on Wednesday, Aug. 28, at 7 p.m. in the Williams Center Multipurpose Room.
The always entertaining Karaoke Night will be staged on Thursday, Aug. 29, at 7 p.m. on the Tim Hortons' stage in the Williams Center.
The week concludes with bingo, the week's most popular event, on Friday, Aug. 30, at 7 p.m., in the Williams Center Multipurpose Room. As always, big prizes will be awarded.
Welcome Week events are free to students and are hosted by Spectrum Entertainment Board and sponsored by the Student Association.