New game room, student lounge enhance the Williams Center
The role the Williams Center plays as a campus student union will be upgraded in the fall semester with the openings of the Blue Devil Den and Blue Lounge. Input from students fueled creation of both spaces.
"Our goal is to get students to really use the Williams Center as their student union, so we wanted to make sure we had spaces that would be attractive to students," explained Khristian King, executive director of Student Engagement and Inclusion. "A lot of students did not realize that it was a student union."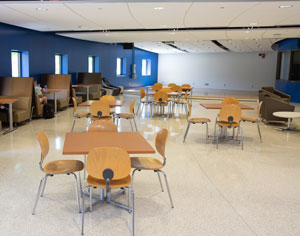 The Blue Devil Den, in Room S220, will be outfitted with popular games such as ping pong, pool and air hockey, along with gaming consoles, assorted board games, a large-screen television and fireplace. The Blue Lounge, in Room G138, is where students will find vending machines and a microwave oven, modular furniture arranged around a fireplace, full-body massage chairs, soft seating with attached work tables, cell phone charging stations, a television and a standing waterfall. Both areas are decorated in blue and white, the school colors.
Soft openings of the Blue Devil Den and Blue Lounge will be held on Monday, Aug. 29. The ribbon will be cut at the Blue Devil Den at 11:45 a.m. and Student Association executives will offer remarks. Dedication of the Blue Lounge, in the former Tim Hortons' space, will be at noon and include remarks from President Stephen H. Kolison Jr. Raffle prizes will be given away by Student Engagement and Inclusion at 12:15 p.m. Students of SUNY Distinguished Professor Kay Stonefelt of the School of Music will perform at 12:30 p.m. The Faculty Student Association will offer refreshments.
Responses by over 900 students to a Student Association survey taken last year were "overwhelmingly in favor of adding a game room," Ms. King explained, and the games ultimately chosen – air hockey, ping pong, pool and Nintendo, along with traditional board games – were based on that student feedback.
"We learned students want to see more school spirit, and want to see more of the (school mascot) Blue Devil," King added. "Students wanted spaces where they would feel comfortable, a place to relax, and they felt this building didn't do that."
A large graphic of Freddy Blue Devil, clutching a pool stick, will be mounted on the back wall of the Blue Devil Den, the former Intercultural Center space that's been relocated to the first floor in the Campus Life suite.
The Blue Lounge is a versatile space, with the emphasis on relaxation, and boasts massage chairs and opened for student use on Monday, Aug. 22. The stage area in the lounge has been retained, so open night mic and other events can be accommodated.
"The goal is to make the lounge a space where students can play (board) games, study, hang out with friends – a place for them to come and gather," King added.
Two additional features, the Help Hub and Freddy's Locker, are situated by the Blue Lounge entrance. The Help Hub is a resource that will dispense in-person guidance to students. Massage chairs will be placed outside of the Help Hub.
"The object is to be a place where students who have questions but are not sure where to go on campus; it can help students get connected with the right people," King explained.
Freddy's Locker, in the former Tim Hortons' pickup counter, will be stocked with food pantry items as well as personal hygiene and toiletry items, hand sanitizer and tissues that are also available at LoGrasso Hall.
Both the lounge and den are decorated in Fredonia blue and white. The Blue Devil Den and Blue Lounge will be open during regular Williams Center hours: Monday through Friday, 8 a.m. to 10 p.m.; Saturday, 9 a.m. to 10 p.m., and Sunday, noon to 10 p.m.
The separate FREDwell lounge, in Room S212, a wellness-focused space that hosts informal "let's talk" peer-led sessions about mental health, stress and coping, has also been redecorated in Fredonia colors and has massage chairs.
Another change in the Williams Center is relocation of the Student Association to upstairs in the former Intercultural Suite. Multicultural Support Services/Intercultural Center, Office of Student Conduct and Student Engagement and Inclusion (SEI) occupy the first-floor Campus Life suite.
Elsewhere on campus, the relocation of the Department of Mathematical Sciences from Fenton Hall to the renovated Houghton Hall has been completed. The departments of Computer and Information Sciences, Geology and Environmental Sciences, and Physics were relocated to Houghton in the spring semester.
Students will also see rehabilitation work continuing on Daniel Reed Library and the Maytum Hall /Reed/McEwen Hall plaza.
Contractors are re-doing the concrete at the library's carrel hood spaces, across from Fenton Hall, due to issues found with the new concrete that was placed at the base of the sloped windows last spring. That new concrete was found to be contaminated with organic material, was cracking and not adhering to the original concrete, Capital Project Manager Kenneth Schmitz said, so it has to be replaced. That work is expected by mid-September.
Construction of a new accessibility ramp to the upper plaza level of the library is the most noticeable part of the plaza rehabilitation. Replacement of the concrete slabs between Maytum and Reed, on the plaza's lower level, from Reed to Symphony Circle; a new canopy at the library entrance; a new accessibility ramp to the amphitheatre's performance level and replacement of pavers on the plaza's upper level between Reed and McEwen are also part of the rehabilitation project. A Spring 2023 completion date is projected for the entire plaza project.