New mural by drawing/painting students honors workers at Dunkirk steel plant
Spurred by the initial success of three large murals they painted a year ago at Dunkirk Specialty Steel, Erin Ruffino and Alisia Glasier, an alumna and current student enrolled in the Visual Arts and New Media program at Fredonia, returned to the metals producer last summer to undertake a more ambitious project.
During a visit with the Dunkirk Historical Society, Ms. Ruffino, who received a B.F.A. in Drawing and Painting this year, and Ms. Glasier, a junior B.F.A. student also majoring in Drawing and Painting, became interested in the history of the plant as an industrial backbone of Dunkirk and the broader Chautauqua County region.
They developed a design concept inspired by the hardworking spirt of the steel plant workers and created two complementary murals that features portraits of five long-time employees, each framed by actual cranes used at the Brigham Road plant.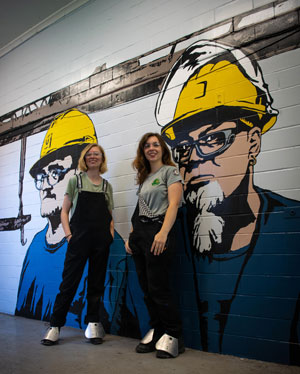 The mural on the left side of the wall at the plant entrance depicts John Taddio, who began working at Dunkirk Specialty Steel on July 24, 1966; William Cody, who started May 3, 1977; and Hiram "Doug" Hunt, whose first day on the job was May 23, 1977.
On the right side of the same hallway is a mural featuring Michael Dimmer, who was hired March 27, 1978; and Joseph Dowdy, on April 4, 1977. The overhead crane on the second wall is operated by Mr. Dimmer in the steel pickling room. The mural is a stencil design with strong black outlines and large areas of flat color to convey continuity across the portraits.
Ruffino and Glasier intended for murals to not only honor these five men in particular but everyone who works at Dunkirk Specialty Steel.
As employees arrive at the plant for their shifts, Ruffino and Glasier say they hope these larger-than-life portraits foster a sense of pride in the workplace and respect for the many years of service employees have contributed to Dunkirk Specialty Steel.
Joshua Warren and Shane Ferguson, health and safety managers at Dunkirk Specialty Steel who supervised the mural project, collected statements about the murals from plant employees.
"Fantastic Job. It's a good gesture," was Mr. Hunt's response when asked how he felt about the murals and what they mean to him.
"It makes me feel like I'm leaving a legacy behind. I do appreciate the girls' hard work. Hopefully, it means something to the future of our company and future employees," added Mr. Dowdy.
Another employee with nine years of service called the murals a good idea. "I feel that the murals are good for morale first thing in the morning when we come through the turnstile," said the worker, who asked not to be identified.
Sarah Conley, a more recent hirer who joined one month ago, praised the students' work as "A wonderful job; it's great for our history. If the girls come back next year, I have some excellent ideas for more murals."
Ruffino and Glasier, who formed 716 Murals as a mural painting business in 2018, also created a landscape mural, inspired by Point Gratiot and Washington Parks in Dunkirk, for the dementia unit at the Chautauqua Nursing and Rehabilitation Center. "We worked with the client to produce a calming and welcoming scene with flora and fauna," Ruffino said.