Student research reigns supreme at annual OSCAR Expo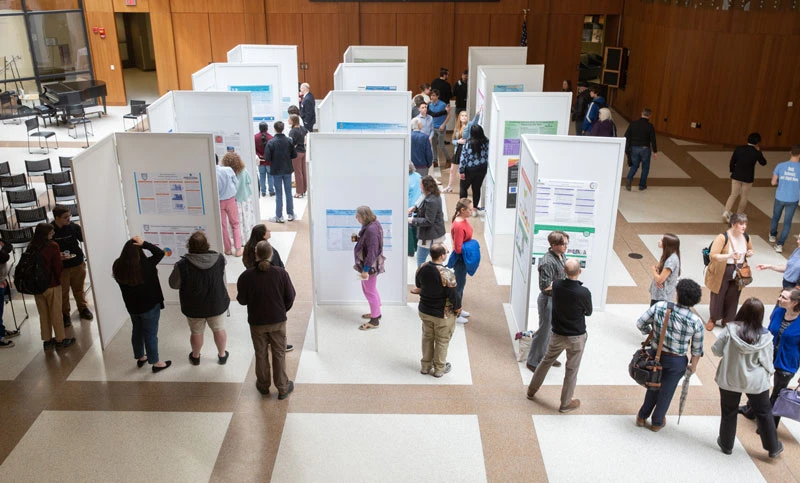 The spotlight shined brightly on students and their research and creative projects that spans SUNY Fredonia's academic divisions – Business; Education, Health Sciences and Human Sciences; Music and Liberal Arts and Sciences – at the annual OSCAR Student Research and Creativity Exposition in the Williams Center.
From all accounts – by the numbers and feedback from participants and attendees alike – the expo, marking its 25th year, was a rousing success.
"I think it went well; we had good student participation and lots of positive comments from faculty who were supporting the students and also from community members," reports Associate Professor of Music Education Jill Reese. Dr. Reese helped to coordinate this year's expo and will step up next year to carry the torch as the new director of OSCAR (Office of Student Creative Activity and Research).
"It went really well. We had lots of positive feedback," echoes Erin Mroczka, who is Interim Associate Vice President for Retention and Academic Success. "A number of students indicated that it was their most favorite event on campus this year, which was really great!" Ms. Mroczka worked closely with Reese to coordinate this year's expo.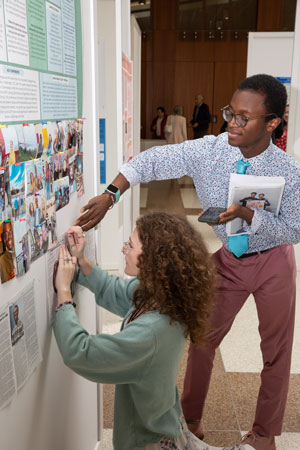 Across four hours, more than 160 people looked over poster presentations and heard oral presentations and musical performances in the Multipurpose Room and adjacent areas. Students were scheduled at specific times to be stationed at their poster, so they could interact with attendees, discussing their findings and explaining how they went about their project.
"We also saw more activity extended later into the day, which was good; it often gets quiet early, so the program had robust attendance throughout the entire day, which was important to us," Mroczka noted. "It was exciting to see the energy around student learning, specifically applied learning and creativity," she added.
Student presentations totaled 75, spanning an incredibly wide variety of topics via poster and in oral and performance. Presentations rotated every half-hour, thus giving students, faculty, staff and community members more reasons to stay longer at the expo. Some presentations were the result of work from projects from the semester and others were the manifestation of a full semester or more of time.
Besides being creative, students were also resourceful in choosing topics for their projects. "Should Every Drop Count? – An Investigation into the Fredonia Water Billing System," was the poster presentation by four students – senior Kampbell Howard (Applied Mathematics, major; Chemistry, minor), senior Jakob Pachucinski (Applied Mathematics, major; Data Science and Statistics, minors); senior Mindy Doktor (Adolescence Education: Mathematics and Mathematics); and senior Jay Casey (Applied Mathematics, major; Statistics, minor). They were mentored by Associate Professor of Mathematics Lan Cheng.
Poster presentations can have more than one life. Some students have already presented or will be presenting their research at state and national conferences in their field of study. For example, Amber Nellett, a graduate student in Music Education, was supported through OSCAR travel funding to share her research at the Eastern Division Conference for the National Association of Music Education in April.
There were 16 oral presentations, also given in half-hour increments in the Blue Lounge or Room G103B.
In "The Fundamental Importance of Warm Dense Matter," senior Joe Vargas (Physics, major; Mathematics, minor) explores alternative energy sources that could mitigate some of the worst effects of global climate change. "One possible alternative scheme involving nuclear fusion is called proton fast ignition, and it crucially depends upon the amount of energy deposited into the confined fuel capsule once it reaches 'warm dense matter' conditions," Mr. Vargas explained.
Vargas' talk outlines current experimental efforts to measure and characterize this parameter, called "stopping power," and briefly covers some of the diagnostics employed during these campaigns. He was mentored by Associate Professor of Physics Michael Dunham.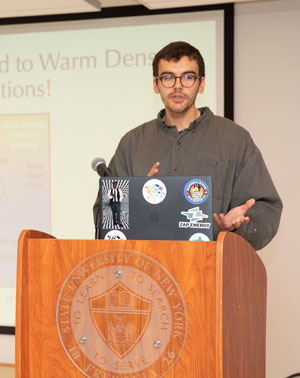 "Missing and Murdered Indigenous People: Examination of Temporal Ordering Effect," the oral presentation given by senior Cassie Thomas (Psychology and Criminal Justice, majors), examines the association between adverse childhood experiences and economic hardship during adulthood among Indigenous people (Native American, American Indian and Alaskan Native) and drew connections from her findings to the disproportionate risk of experiencing violence, going missing and/or being murdered.
Research has traced the root of his crisis to colonization and government assimilation policies, with the most recent being residential schools where Indigenous children experienced rampant sexual, physical and emotional abuse by school officials.
"A cycle of intergenerational trauma emerged in the research where Indigenous children first experienced adverse childhood experiences and then economic hardship during adulthood, and I quantitatively examined if there was a significant association between those experiences using a sample of Indigenous people who were participants in research conducted by Add Health (National Longitudinal Study of Adolescent to Adult Health)," Ms. Thomas said. She was mentored by Assistant Professor of Sociocultural and Justice Sciences Jessica Finkeldey.
In her oral presentation, "Trans Identities," senior Sophie Myers (Psychology, major; Sociology and Creative Writing, minors) addresses what it means to be trans and the historical use of the term "transgender" as an umbrella term and gives a deep dive into trans identities in different cultures, many of them Indigenous. 
"There's a discussion of what roles people with these identities took in their societies and how their gender expressions have been limited because of colonization. The last point is about how Christianity and colonization have shaped American views of gender, and how we need to decolonize our approach to gender in order to truly understand it," Ms. Myers said. She was mentored by Visiting Instructor of Sociocultural and Justice Sciences Danielle Lewis.
Five students – senior Caeley Harsch (Music Education), senior Taylor Rakovic (Music Education), sophomore Angelina Seamster (Music Performance), sophomore Jeremiah Trowbridge (Music Education) and senior Colin Arnett (Music Education) were dressed in formal attire and performed Braham's Piano Quintet in F minor, Op. 34. They were mentored by Music Professor Fr. Sean Duggan.
A unique question/answer session, "Open Minds and Shared Voices: Making Student/Faculty Collaborations Possible" brought 10 students and faculty together on a panel to discuss how to get started in research. Opportunities for shared experiences were identified. Topics discussed included the best ways to connect with a professor, where to find good sources for inspiration and advice on where to start.
Ample amounts of encouragement were dispensed. "The goal was having students find out more about the process, while encouraging faculty," Mroczka explained.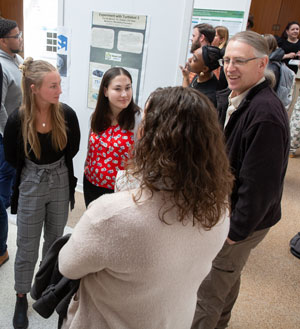 In a nod to next year's expo, four students who will receive Donald Nelson-Nasca Undergraduate Student Research Awards to support their upcoming OSCAR projects were introduced. The students and their projects are: Zainab Ahmed, "Induction of Mitotic Defects via Estrogen-Linked Signaling;" Aiden Carney, "Recruitment of Beginning Band Students: Teachers' Experience and Use of Technology;"  Amanda Roth, "Identification of Bacteria in Drinking Water in Honduras;" and Savannah Steves, "The Archaeology of Climate Change: OSL Dating of Loess Sediments at the McKendry Archaeology Site." The four students will present their research at  the 2024 OSCAR Expo.
Visitors were also able to connect with last year's Nelson-Nasca Award recipients – Esmeiry Ventura Santana, Caitlin Snyder, Colm Roster, Alexander Mathewson and Jacob King – who were stationed at their posters in the Multipurpose Room.
The Dr. Donald Nelson-Nasca awards are sponsored by an endowment, created by Dr. Donald Nelson-Nasca, a 1954 graduate of Fredonia, in the Fredonia College Foundation. Diane Wolcott, who helped to establish the award, attended the conference to congratulate the Nasca award winners from this year and revisit those who earned the award last year and were presenting this year.
A new partnership between OSCAR and Reed Library was unveiled at the expo. The library conducts workshops to help students with their posters, oral presentations and research skills.
SUNY Distinguished Service Professor Jack Croxton was also acknowledged for his long tenure as Fredonia's "champion of undergraduate research" with OSCAR. He fostered student travel funding for conference participation, communicated scholarship opportunities to the campus and mentored countless undergraduate students through their research.