SUNY Fredonia student film wins 'Festival Director's Award' at Cannes Short Film Festival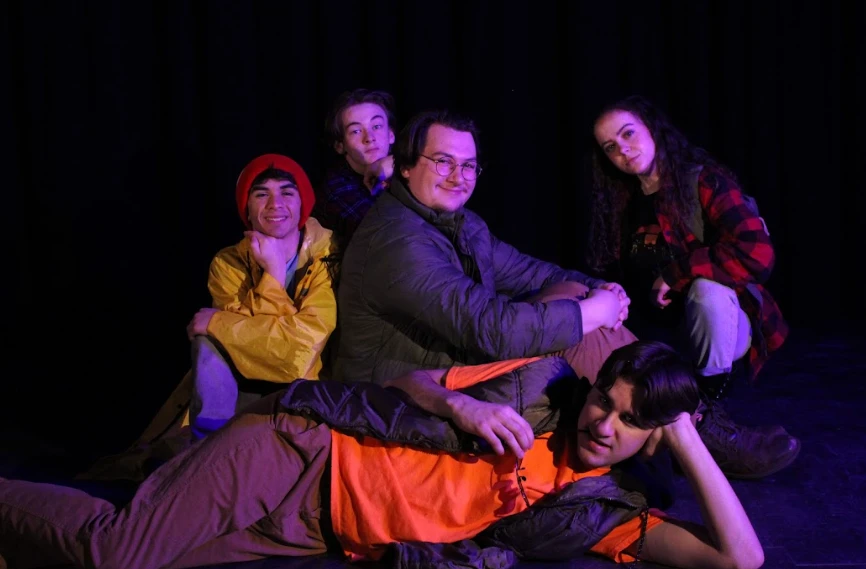 Hard to imagine anyone in Hollywood coming up with a better script than the one that played out for a group of Video Production students in their final semester at SUNY Fredonia.
"The Cryptid Cast vs. The Goopy Ganker," the film they produced in the spring semester, won the "Best Short Feature: Festival Director's Award" at the 2022 Cannes Short Film Festival in July and bagged top grossing honors at the Dunkirk Multiplex in the same week these young filmmakers walked across the Steele Hall arena stage with diplomas in hand. It was among more than 80 films screened.
Their Department of Communication professor in COMM 454: Fiction II, Associate Professor Roslin Smith, summarizes the amount of work the students put into the film in a single word: phenomenal. "Yes, (I'm) very proud of them. It is hard to get a film screened locally, let alone internationally [at the Cannes Short Film Festival], and win an award, especially at Cannes."
"It is hard to get a film screened locally, let alone internationally [at Cannes Short Film Festival], and win an award, especially at Cannes." – Associate Professor Roslin Smith
They represent the first students of Ms. Smith to enter this festival, most likely due to upfront costs and high rejection rates, so their cinematic triumph represents a first at SUNY Fredonia.
Backed by a strong student PR campaign, two screenings of "The Cryptid Cast vs. The Goopy Ganker" in Dunkirk sold more tickets than the superhero film "Dr. Strange," which played in an adjacent screen in the same week.
The Cannes Short Film Festival (CSFF), held in the south of France, was created about a decade ago as a showcase opportunity for young emerging talent and a celebration of the best of international indie short filmmaking. Its goal is to become a hub for the short film industry and one of Europe's most innovative short film festivals. CSFF is not part of the long-running and widely known International Festival de Cannes.
Jackson DiCarlo, who shared directing and writing duties with Ben Anderson, was clearly surprised by the CSFF win. "I woke up in the morning and saw the email on my phone while I was half asleep. I had to do a double take to make sure I was actually awake. I couldn't believe it. I still can't, a little bit," he recalled.
"We were all so proud of the movie when we finished it, but receiving this award has been an immense honor that has really cemented this achievement for us. This is a great milestone for all of us and our careers right out of college. If there was ever any doubt of our futures being bright, this award has certainly dispelled that," Mr. DiCarlo remarked.
Nearly 50 students were involved in the production in some way, and most wore multiple hats. The core class crew of nine included: DiCarlo and Mr. Anderson, both director/writer; Nick Dohre, producer/gaffer; Ryan Champlin, producer/assistant director; Jay Gleason and Alec Wright, both director of photography; Sam Macintosh-Smith, editor/camera assistant; Kai Guilds, audio director/public relations; and Skyla Cedeno, costume design/camera assistant. Another 19 students also served on the crew. DiCarlo, of Orchard Park, and Anderson, Jamestown, both majored in Communication: Video Production and had minors in Film Studies.
For nine crew members, the movie, which had a run time of 46:30, was their senior capstone project for their Communication: Video Production degree. Other students came from other classes and departments.
The cast was comprised of Gemma Vodacek, Joseph Marciniak, Shawn Adiletta, Luke Brewer, Matt Neary and Jay Gleason, as the Goopy Ganker.
"The story follows Kate Blair, an ambitious and aspiring podcaster, Ron Anderson, Kate's co-host and the well needed voice of reason, and the ever anxious but endearing Alex Quincy, who acts as the heart of the group," DiCarlo explained.
The movie's tagline: "Out for Intrigue and Out of their League"
DiCarlo says the film shines as a brilliant proof that anything is possible with enough dedication and support. "In the film's own words, 'You don't stand a chance if you don't take a chance.' The plan to make this massive movie started because a small group of talented and driven students wanted to go above and beyond," DiCarlo said. "That team grew and grew as more friends and family lent a hand."
The hard work of the crew stands out in the film, DiCarlo said, and is a showcase of everyone's best work. "Between the sets/locations, audio design and music compositions, the film nails the tone it's paying homage to. The cast and their performances elevate the film to another level. Their characters become alive through the cast's wonderful mix of reality and ridiculousness," DiCarlo said.
"As a director, I'm so proud of what everyone accomplished. Everyone brought their A-Game to the table, and as a result, we've made a movie that exceeded every expectation, including my own."
The team was able to come up with a budget for the film through a successful GoFundMe campaign that, combined with tabling at several campus events such as Rockin' The Commons and the Lend-A-Paw Dog Walk, raised over $2,500. The money was used in every part of production, covering costs for costumes, make-up, props and festival submissions, among other expenses.
Writing the script began in August 2021, and the team began pre-production in December, followed by casting in January 2022, and filming a month later. The project was screened for the first time on May 20 at the multiplex and a second time on May 21, one hour after Commencement. Seeing a line extending out the front door of the theater at the first screening was an awe inspiring sight, DiCarlo recalls. Audience feedback was overwhelmingly positive.
"Graduation was the targeted date for the screenings so our family members that were traveling to watch us walk the stage could stay to see our movie, too. It worked out thankfully, but we were very worried that we'd have to floor it to the theater to make it just in time."
"It was a whirlwind of a semester to say the least," DiCarlo noted.
DiCarlo applauds the management of the Dunkirk Multiplex for being super friendly and accommodating by scheduling the film around several blockbusters being shown on other screens. He would love to have another local screening.
"The Cryptid Cast vs. The Goopy Ganker" won't sit on a shelf somewhere. It's been entered into 18 film festivals around, and another local screening is not beyond the realm of possibility. More information is available at: the Instagram page: @cryptidcastfilm.
"If we can see a demand, we'll make it happen!" DiCarlo said.