U.S. Air Force jazz ensemble to perform free concert in King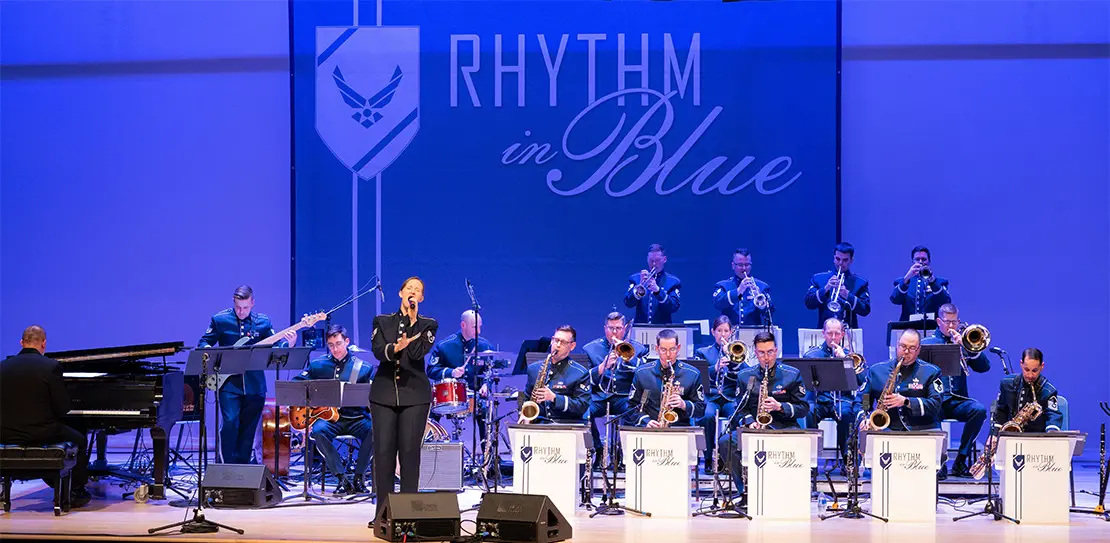 Rockefeller Arts Center, in cooperation with The Observer and The Post-Journal, is presenting a free concert with Rhythm in Blue, the United States Air Force Heritage Band of America's dynamic jazz ensemble.
The free concert is on Wednesday, Aug. 23 at 7:30 p.m. in Harry A. King Concert Hall. Tickets are required and may be picked up at the Fredonia Ticket Office in the Williams Center. There is a limit of four tickets. Office hours are Monday, Wednesday and Friday from 9 a.m. to 3 p.m.
Rhythm in Blue performs exciting and uplifting music to inspire patriotism and tell the Air Force story. The band is based at Joint Base Langley-Eustis in Hampton, Va.
Made up of outstanding Air Force enlisted professional musicians, Rhythm in Blue takes great pride in preserving America's uniquely original art form, recruiting a new generation of listeners, and representing all Airmen.
From formal concerts in grand auditoriums to casual shows in the park, Rhythm in Blue is in constant demand traveling throughout the Eastern United States, performing for diverse audiences from Maine to South Carolina.
The high level of talent showcased by each member of Rhythm in Blue enables the group to perform with unparalleled excitement and versatility. With their extensive repertoire highlighting instrumental and vocal soloists, Rhythm in Blue makes lasting connections with audiences of all ages. Rhythm in Blue honors our American military veterans for their selfless sacrifice at every performance, and shares the message of excellence, courage and commitment displayed every day by the brave men and women of the United States Air Force, serving throughout the world.
The free concert with Rhythm in Blue is part of the 2023-24 Lake Shore Savings Season at Rockefeller Arts Center.