Writers@Work guests to bring GRAMMY credentials, insight to campus
Alumni with GRAMMY credentials will be welcomed back to Fredonia for Writers@Work in November.
Kent Knappenberger, recipient of the GRAMMY Music Educator of the Year Award, along with his wife, Nannette, a Fredonia alumna, and Anthony Casuccio, a GRAMMY-nominated producer, will meet with students and guests during the two-day residency.
The trio will conduct a panel discussion, "GRAMMYs Spotlight: Alumni on Writing Your Way in the Music World," on Thursday, Nov. 7, from 7 to 8 p.m. in the Science Center's Kelly Family Auditorium. The many ways students can use writing skills to succeed in the music industry will be highlighted at the session. Light refreshments will be served.
The Knappenbergers will host two morning talks on Friday, Nov. 8. "Original Music Theatre for Secondary Schools" will be held from 9 to 9:50 a.m. at Mason Hall Room 1080. The session, "Composition for the Emerging Adolescent Music Student," will be held from 10 to 10:50 a.m. at Mason Hall Room 1001. The couple has written several musicals, designed specifically for the adolescent voice, that have been performed at Westfield Academy and Central School and community theatre.
"Open Office Hours with the Knappenbergers" will be held on Friday, from 1 to 2 p.m., in Fenton Hall Room 127. Students will have an opportunity to join a casual question-and-answer exchange with the couple.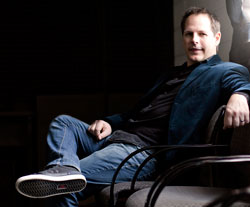 Mr. Casuccio will present, "Professionalism in the Music Industry: Nice People Can Succeed," based on his 2013 Kindle book "Be Nice: Nice People Can Succeed," on Friday, from 2:15 to 3:15 p.m., in Science Center Room B010.
Mr. Knappenberger will also speak to prospective first-year students and their parents during the Fredonia Exploration Day on Saturday.
All primary Writers@Work events are free and open to the public. The guests will also meet with students in classrooms and other group settings.
"I am excited to speak with students and share my professional experiences that all started with my education at SUNY Fredonia," Casuccio said.
Casuccio received his B.S. in Sound Recording Technology from Fredonia in 1991 and an M.S. in Public Relations and Business Management from SUNY Buffalo State. A 20-year veteran of the music industry, Casuccio has worked with major record labels producing, mixing and remastering over 450 albums, including some that attained Recording Industry Association of America (RIAA) gold record status, and mastered three GRAMMY-nominated albums, including "Night Breeze" by harpist Sarah Schuster Ericsson.
He is the Music Department chair at Villa Maria College in Buffalo, the founder and principal sound engineer at Xtream Audio Mastering and president of the Buffalo Music Hall of Fame. Casuccio recently co-founded Buzz Records, creating a unique approach to develop artists in the 21st century music industry, and has over 50 jingles running on radio and television across the country.
"Fredonia provided me with many wonderful experiences and opportunities," Nannette Knappenberger said. "I am very grateful for my Fredonia education." Kent Knappenberger added, "My experience at Fredonia gave me a chance to figure out who I was."
Mr. Knappenberger received his B.M. in Music Education from Fredonia in 1987 and an M.M. in Music Education, Harp Performance and Literature from Eastman School of Music. He is the inaugural recipient of the GRAMMY Music Educator Award – chosen from among 32,000 nominees – and a longtime music educator at Westfield Academy and Central School. Knappenberger has received the New York State School Music Association's Distinguished Service Award, the National Association of Music Merchants I Support Music award and the Chautauqua County School Boards Association Friend of Education award. Knappenberger has also served as a guest lecturer at Penn State, Marietta College, Buffalo State College, James Madison University and Houghton College.
Ms. Knappenberger received her B.M. in Music Education specializing in Voice in 1991 from Fredonia and an M.S. in Education, also from Fredonia, and is currently a private vocal instructor and a returning instructor at the Sagamore Great Camp Mountain Music Weekend in Raquette Lake. She has worked as a voice teacher for the Fredonia School of Music Choral Camp and His Command Performance youth choir and as choir director for the Westfield United Methodist Church.
Writers@Work is an alumni writers-in-residence series featuring both well-established and emerging writers, editors and publishers in a range of professional and creative genres. The series seeks to connect Fredonia's alumni, students, faculty and community members with a focus on the diverse ways writing and the humanities make a difference in the world.
Writers@Work is sponsored by the Fredonia Alumni Association, Fredonia College Foundation, the foundation's Carnahan Jackson Fund for the Humanities and Mary Louise White Fund, and the Faculty Student Association. The program is made possible by a partnership with Admissions, Alumni Affairs, Career Development Office, the Fredonia College Foundation, and the departments of Biology, Business Administration, Communication, English, History, Music Education, Music Industry, Sound Recording Technology and Theatre and Dance.
For more information, please visit online