Since 1917, EAPs have provided support and assistance to employees with work performance problems that result from some type of personal problem.
R.M. Macy and Company, and the Northern State Power Company were the first to recognize the need and to establish EAPs mainly because of the high rate of alcoholism among their white-collar workers in the 1940s.
Gradually, EAPs evolved and began treating mental, emotional, and financial difficulties as well as those problems caused by alcohol and drug use.
Today's programs are broad and cover almost any employee problem.
Organizational Structure
The New York State Employee Assistance Program is a labor/management committee operating in conjunction with the Governor's Office of Employee Relations. It is designed to strengthen the working relationship between management and unions in New York State. An advisory board, comprised of five union and five management representatives, meets regularly in Albany to set program policy.
The Program Manager, selected by the Labor/Management Advisory Board, is responsible for program administration, including staffing, policy implementation, and ongoing program improvement. The Program Manager, Assistant Program Manager, Central Region EAP representatives, and support staff are located at the main office of the New York State EAP, which is located at Empire State Plaza in Albany.
Nine regional representatives report to the Program Manager. The eight regional offices are located in Albany, Buffalo, Hauppauge, Manhattan, Newburgh, Syracuse, and Watertown.
Local EAP programs function across the state in almost every agency, offering services to more than 180,000 state employees and their families. These local programs receive guidance, support, and training from the regional field offices and the New York State EAP.
Organizational Chart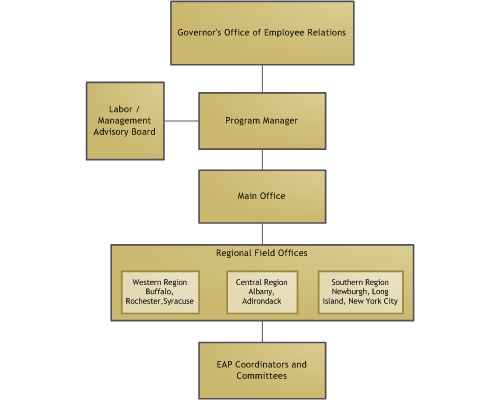 EAP Committee Members
Susan H. Murphy EAP Coordinator EAP Office AOC 108

x3586

Denise Szalkowski MC Presidents Office, Fenton Hall

x3456

Dean Messina Asst. Director of Dining, FSA, University Commons

x6268

Roger Coda
UUP Writing & Communications Foundation House

x3323

Sandra Lewis
UUP Professional Development Center Reed Library

Donna Howlett CSEA/Local 607 Purchasing Maytum Hall

x3438

Jen Szymanski CSEA Ed. Dev. Program, Thompson E286

x3318

Kimberly Mead-Colegrove UUP Learning Center Reed Library

x3550
NYS Contacts
New York State Employee Assistance Program 55 Elk Street Suite 301-A Albany, New York 12210-2316 Website: http://www.eap.lmc.state.ny.us/public.htm
Western Region Office Electric Tower Building 535 Washington St., Suite 306 Buffalo, New York 14203 (716) 847-3911