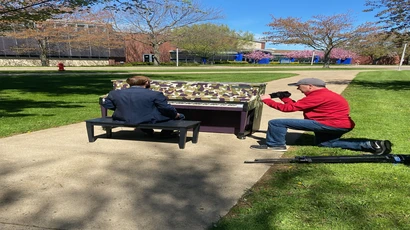 Media and Publicity Resources
The Department of Marketing and Communications fosters relationships with a variety of local, regional, and national media outlets to raise awareness about Fredonia's endeavors. News releases highlight the accomplishments of students, alumni, faculty, and staff, as well as campus events and academic programs. News stories are also posted on our campus news site and in the Campus Report, our weekly email to campus. Keep in mind, there are so many events on campus, it is difficult to publicize all of them. Make sure you utilize the Events Calendar in those cases.
Some tips about sharing your story:
Three weeks of lead time are required for timely Campus Report content.
Hometown publicity: Students can fill out this form so we can place your accomplishments in your hometown newspaper.
Style guide for submitting information
Here are a few tips to help us more effectively publicize your event or accomplishment:
The basics: include who, what where, when, why and how. Submissions with incomplete information will not be considered. We need to be given complete information about your story. If the staff has questions about your submission, we will reach out.
Uniqueness: What is the fresh twist to your story? Is it something that hasn't been done before?
Campus in action: We especially value stories about the teaching and learning happening at Fredonia that have a direct impact on the community. If your program or project enhances quality of life or the world in tangible ways, we want to know about it!
Awards in action: while faculty grants and awards are great accomplishments, stories that focus on the work going on because of a grant or award can gain a wider audience.
Significant awards and accomplishments, meanwhile, are ALWAYS good material for news releases. information about student achievements can be submitted through Hometown Publicity Form.
Now that you know what to provide ...