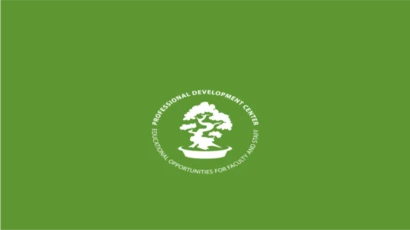 About the PDC
Mission | Staff | Advisory Board
---
Professional Development Center Mission
The State University of New York at Fredonia Professional Development Center strives to meet the professional development needs of all Fredonia employees by coordinating and providing educational opportunities for faculty and staff at various stages in their careers, and providing consultation and training opportunities. The Center's goal is to provide a centralized location for collecting and disseminating information about professional development opportunities taking place on campus and beyond. The Center is committed to fostering a culture in which knowledge and expertise are shared among diverse constituencies and will provide a gathering place in which this dialog can occur.
---
Establishing the Professional Development Center
In the fall of 2007, the Vice President of Academic Affairs formed the Professional Development Center Committee to research, identify campus needs, and make recommendations for a Professional Development Center. Through a series of surveys and open forums the Professional Development Center Report was written, making recommendations for the hiring of a full-time Director and designing a physical space for the Center.
---
PDC Staff
Dawn Eckenrode, MLS, Associate Librarian
Director, Professional Development Center
Ms. Eckenrode began her work as Fredonia's Professional Development Center Director in 2010. She previously served as the library instruction program coordinator for Reed Library. She received her Master's in Library and Information Science from the University of Texas at Austin. 
---
Professional Development Center Advisory Board
The Professional Development Center Advisory Board serves in an advisory capacity to the Director of the Professional Development Center. The Board assists the Director in the planning and decision-making processes on the PDC's annual programming and communicating the campus' vision for the Center, collecting feedback from the campus community regarding potential services and programming, and in the planning and decision-making processes as needed. Members of the Planning Committee will actively participate in and contribute to the Center's programming, and will additionally act as spokespeople and advocates for the Center, raising awareness of the Center's services on campus and encouraging colleagues to participate in and contribute to its programming.  
Faculty representative College of Visual and Performing Arts: Barry Crawford
Faculty representative School of Business: Mark Nickerson
Faculty representative Education: Guangyu Tan
Professional representative from Finance & Administration: Lindsey Aldrich
Professional representative from Student Affairs: 
Professional representative from University Advancement: Jonathan Woolson
Classified Staff representative: Caldwell Proper
Ex-Officio: Kathleen Gradel