Mentoring Program
We are excited to announce our new mentoring program for all secretarial/clerical staff on campus. The mentors are willing to help you get familiar with Fredonia and get acquainted with the polices and procedures on campus. Please feel to reach out to any of them if you have a question, need guidance, information, etc.
Introducing our mentors (in alphabetical order):
---
Tammy Bankoski, Secretary II, School of Music
(Academic Affairs Division)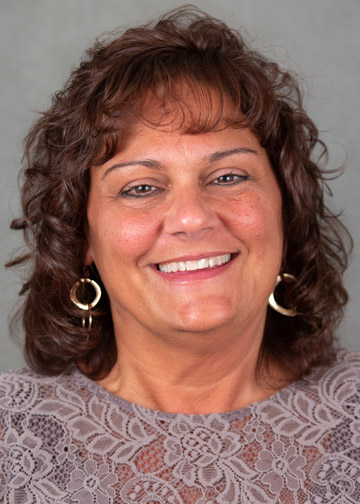 Tammy started working for the School of Music as a KBS 1 in June 2007. Before that she worked as a Typist ll at Jamestown Community College for 13 years and also had a small stint at Chautauqua Opportunities as the Assistant to the Director of Housing. In December 2009, she moved over to the Department of Communication as a Secretary 1 and in February 2014, she moved back to the School of Music as a Secretary 2. Tammy holds an accounting degree from Alfred State College. She is a member of the Secretarial/Clerical Professional Development Committee, the Poummit Secretarial Committee, a SEFA Coordinator, a Building Coordinator and was a member of the Council for Women's Concerns for 6 years, the last 3 as the co-chair.
When Tammy first arrived on campus, she participated as a "mentee" in the Professional Development Center's Mentor program and after completing that program, she was asked to be a mentor for another secretary on campus. She felt the program was very beneficial and would like to continue to "pay it forward".
Outside of the University, Tammy is on the Board of Consultors for Northern Chautauqua Catholic School, a volunteer for St. Baldrick's Foundation and an advisory member of the City of Dunkirk Dog Park Committee. She keeps busy keeping up with her husband and three children, and two St. Bernard's Griffin and Laken!
Tammy can be reached by e-mail at tammy.bankoski@fredonia.edu or at ext. 3153.
---
Dawn Hunt, Secretary II, President's Office
Dawn was promoted to Secretary II in the President's Office in October 2017.
Previously, Dawn was the Secretary for the Department of Biology since August of 2009. Prior to that she worked in the Purchasing Department and the Research Foundation Post Award Grants Administration Office. She has a total of 13 years of service with the State University of New York at Fredonia. She says being able to work in the Academic Affairs area, with the faculty, staff and students, is a wonderful experience, and one she would like to share with you!
In 2011, she completed the Business, Economics and Management Associates Degree with SUNY Empire State. She also attended Jamestown Business College in 1986 and earned a certificate in the Medical Office Assistant Program.
Please feel free to contact her at any time with questions regarding your new position.
Dawn can be reached by e-mail at dawn.hunt@fredonia.edu or at extension 3456.
---
Lori Johnson, Secretary I, Facilities Planning and Environmental Health and Safety
(Finance and Administration Division)
Lori started working for the Office of Facilities Planning in September 2005. Lori is responsible for the overall office management, which includes scheduling/coordinating meetings, transcribing and distributing meeting minutes, assisting with the solicitation phase of projects, supporting staff members with typing requests, handling department travel arrangements, and supervising student assistants. In addition, Lori is the department secretary for the Office of Environmental Health and Safety and Sustainability.
Prior to her employment at Fredonia, Lori spent 17 years working for the Chautauqua County Office of Probation, where she development a strong base for working in the public sector. While there, she was responsible for maintaining the accounting system, as well as orchestrating a new database for the department, which included training, troubleshooting, and problem solving. Lori holds an Associate's Degree in Administrative Executive Secretarial from Jamestown Business College and a Bachelor's Degree in Business Administration from SUNY Empire State.
Lori can be reached by e-mail at lori.johnson@fredonia.edu or at extension 3722.
---
Kellie Sacilowski, Secretary I, Rockefeller Arts Center
(Academic Affairs Division)

Kellie is currently the Secretary for The Rockefeller Arts Center and prior was the Department Secretary for Applied Professional Studies and Economics and was there from January 2016 to November 2017 when she transferred to RAC. Prior to that she worked in Facilities Services as a Office Assistant 1, starting there in September of 2014. Prior to working at Fredonia, Kellie worked for the New York State Department of Corrections at Lakeview Shock Incarceration and Correctional Facility as an Office Assistant I for 13 years. Since coming to Fredonia she feels blessed to be surrounded by so many amazing people to work with. She wants to be a mentor to new staff to show them what this campus has to offer.
Kellie is also the Treasurer for CSEA Local 607 Union.
She graduated from Jamestown Business College in 1998 with an Associates Degree in Administrative Assistant with a concentration in Information Processing. While she worked for DOCCS, she acted as a mentor to new employees for many years. Please contact her with any questions or concerns you may have.
Kellie can be reached by e-mail at kellie.sacilowski@fredonia.edu or at extension 3217.
---
Stephanie Teachman, Secretary I, International Education
(Academic Affairs Division)
B.A. History – The State University of New York at Fredonia
Stephanie started her state service when she was a freshman at Fredonia working as a student assistant in Student Affairs. In June 2013 she returned as a part time Office Assistant I in Human Resources. In January 2015 she took a full time position as Office Assistant I (Keyboarding) in the Dean's office for the College of Liberal Arts and Sciences. She was promoted to Office Assistant II in July 2016 in the Youngerman Center. She was promoted to Secretary I in July 2017 in the Computer and Information Sciences Department. In November of 2018, she was appointed to her current position in International Education.
Stephanie also has prior state service as a part time Toll Collector for the NYS Thruway Authority.
Stephanie is the President for CSEA Local 607. Stephanie is the CSEA Representative on the Board of Directors for the Campus and Community Children's Center, where she chairs the Nominations and Bylaws Committee. Stephanie is excited to welcome new employees to Fredonia as well as share her experiences and knowledge with them.
Stephanie can be reached by e-mail at stephanie.teachman@fredonia.edu or at extension 3451.