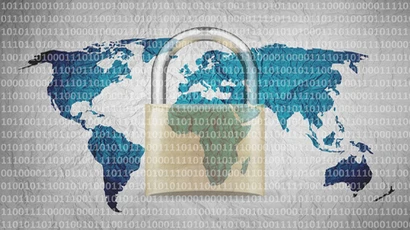 Cybersecurity (Online) Program at Fredonia
Cybersecurity is a growing area and the world faces a shortage of specialists. The Bureau of Labor and Statistics predicts that there will be an 18 percent increase in cybersecurity jobs by 2024. Some cybersecurity specialties are projected to grow by as much as 36 percent.
The Advanced Certificate in Cybersecurity will prepare you to identify risks, and manage and control computer and network security in industrial, government, and educational settings. This fast-track, completely online program will prepare you for an in-demand career at a fraction of the cost of industry-sponsored programs. Whether you have just completed your academic work or are a new professional in the field, Fredonia has a pathway for you.
The Fredonia Difference
Fredonia offers a hands-on virtual laboratory that allows you to perform system configuration, design secure architectures, and develop software exploits. This practical training is often offered at industry conferences, and is frequently prohibitively expensive. At Fredonia, it's an integral part of the program that you can access for the duration of your certificate. 
Career Opportunities for Cybersecurity (Online)
Application/Software Security Engineer
Associate Security Consultant
Cybersecurity Analyst
Cybersecurity Specialist
Information Security Engineer
Information Security Officer
IT Auditor
IT Security Engineer
Penetration Tester
Product Security Engineer
Security Director
Security Engineer
Technical Security Specialist
Cutting-edge program
Practice-based 100% online learning that leaders in the field desire
High-growth career
Designed to qualify you for a variety of cybersecurity positions that defend data or prevent physical harm.
Professional Certifications
Can be added right after completing this program. This program prepares you well for attempting the professional certification exams.
Sample Courses
CSIT502 Enterprise Security Operations
Security control types, Need to know and least privilege, Access control models, Identification and authentication, User account provisioning, Access control methods, Biometrics, Multi-factor techniques, SSO technologies, Security operations, Change and configuration management, Privilege management, Incident response and investigation, Backup and Recovery operations, Application Security testing, client-server app vulnerabilities, secure SDLC, Database security
CSIT503 Network Security
Introduction to Network Security. Network attacks. Secure network architecture. VLANs. NAT. VPNs. Firewalls. Packet inspection. Ingress/Egress filtering. Intrusion detection. Intrusion prevention. Network encryption.
CSIT506 Penetration Testing and Exploit Development
Introduction to penetration testing, Penetration testing methodology, Reconnaissance, Google hacking, Email harvesting, Open source intelligence and social media, Enumeration, DNS enumeration, Port scanning, Vulnerability assessments, Exploits and exploit development, Bypassing Antivirus, Post­exploitation techniques, Privilege escalation, Password retrieval and cracking, Pivoting, Web application hacking, SQL Injection, Cross-site scripting, Cross-site request forgery, Local and remote file inclusion.
Program Additional Links
What does a example degree look like?
What are all the courses required to obtain a graduate certificate in Cybersecurity?