Honors at Fredonia: Learn. Lead. Live.
The Fredonia Honors Program invites academically motivated students to pursue meaningful opportunities for in-depth, interdisciplinary learning, as well as for leadership and professional development, all while living and learning in a community of like-minded peers.
In addition to a one-time scholarship, you may qualify for considerable aid based on academic achievement and/or financial need.
Priority registration
Get in the courses you want while avoiding common registration issues.
Live with other students who like academic challenges, engage in service projects, cultural activities, and special programs with faculty and staff.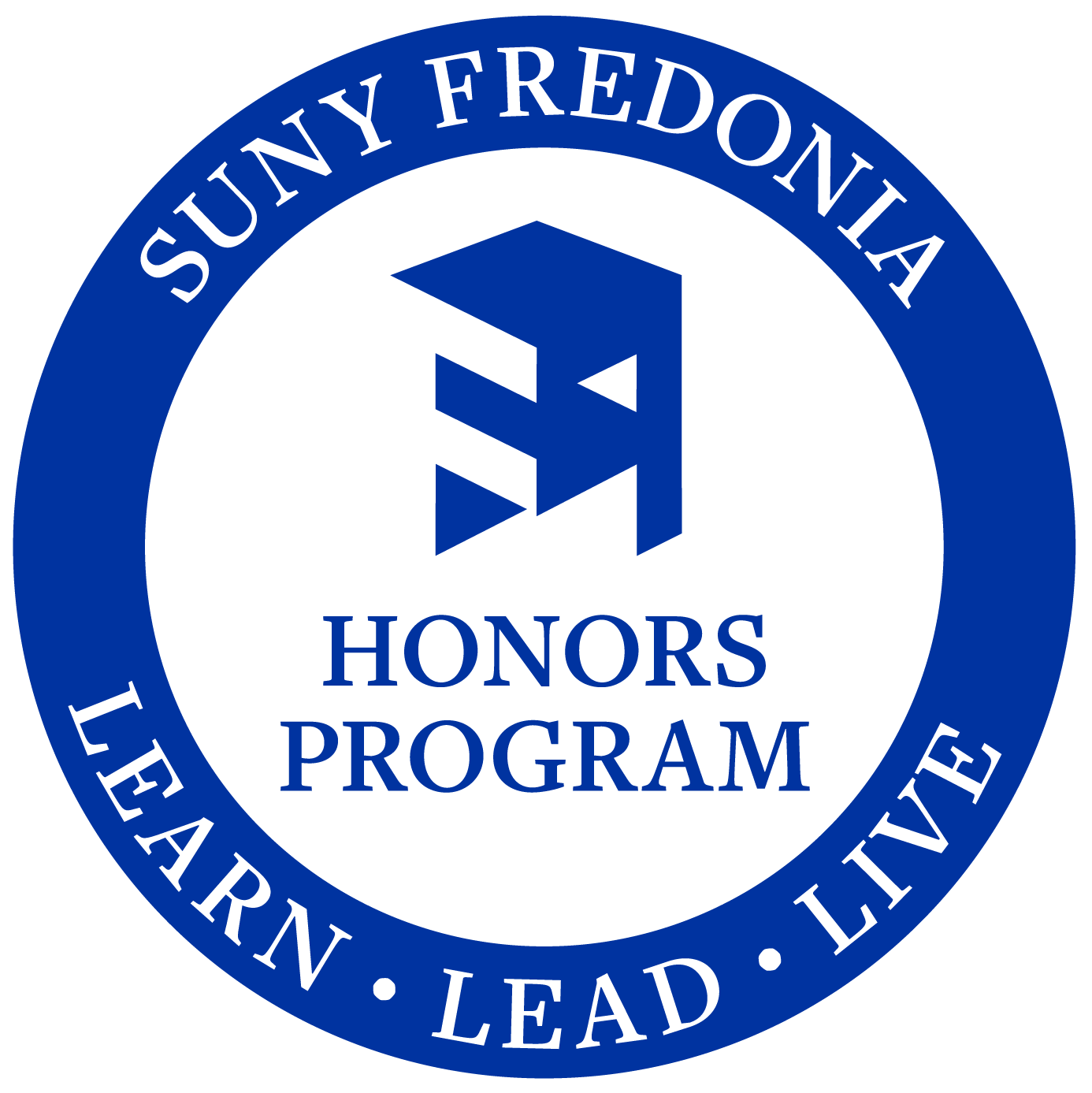 Students in Fredonia's Honors Program are smart, talented, hard-working, and looking for students like them to share in the unique opportunities available. The Honors Program is open to students who enjoy intellectual challenges and are excited by ideas! 
Applications for Fall 2024 will open soon. Please note that Honors Scholarships are limited, so apply as soon as possible!  If you have any questions, please email honors.program@fredonia.edu.
Fredonia Honors Program:
Learn. Lead. Live. 
Learn Honors
Study with like-minded students in Honors-only courses and seminars.
Fulfill core requirements with customized courses on engaging topics. 
Enjoy flexible learning experiences, like study-abroad and undergraduate research opportunities.
Take advantage of priority course registration, helping you to do more in less time.
Enrich your learning through special events on and off campus.
Lead Honors
Be part of a community of student leaders and winners of Fredonia's most prestigious academic awards.
Take courses specifically designed to develop leadership competencies and presentation skills.
Become an Honors Student Advisory Council Member. 
Become career-ready through internships and Honors-only career consultations. 
Engage in service projects to enhance the greater community.
Live Honors
Live with other Honors students in the Honors House (in Grissom Hall).
Participate in social events, including destress events (therapy dog, healthy cooking).
Get involved with the Fredonia Honors Club.
Read more about what current students have to say about the Honors Program in The Leader, Fredonia's student-run newspaper!
Requirements for the Fredonia Honors Program:
The 18-credit Fredonia Honors Program is compatible with any college major. Students must maintain at least an overall 3.3 GPA to remain in good standing in the program.
Honors Mission and Vision:
Honors Mission Statement: The Fredonia Honors Program supports academically motivated students by connecting these students to meaningful opportunities to learn, lead, and live amid a community of like-minded peers.
Honors Vision Statement: The Fredonia Honors Program will be a transformative, comprehensive experience for academically motivated students from diverse backgrounds, providing access to distinctive, high-impact, interdisciplinary learning and leadership opportunities.