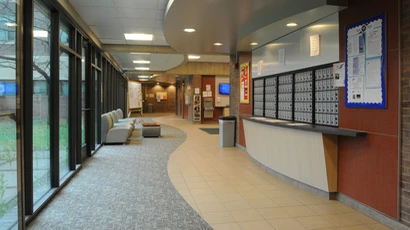 Honors House
The Honors House at Fredonia, located in Grissom Hall, exists to expand the classroom experience by integrating learning through campus and community engagement. Students will have opportunities to be in an environment with other students who like academic challenges and to enrich their learning through special programs, visiting speakers, cultural activities and events, and shared meals.
Benefits
Enjoy a fulfilling residence hall experience designed to support student learning.
Develop relationships with a group of students who are serious about learning.
Participate in opportunities for learning outside the classroom.
---
How to Apply for Honors House for Students Entering in the Fall 2024
To indicate your preference for Honors Housing, students will complete the housing questionnaire through the New Student page of the Office of Residence Life.
After logging to "Your Connection," select "MyHousing," students will indicate electionally that you would like to live in Honors Housing. All correspondence regarding room selection or other housing questions should be directed to the Office of Residence Life at reslife@fredonia.edu or 716-673-3341.
---
How to Return to Honors House for Current Students
Current residents of Honors House will receive information via email and will have the opportunity to remain in Honors House for the coming year.
---
Frequently Asked Questions (FAQs)
What style of residence hall?
Do I have to live in the Honors House if I'm in the Honors Program?

No, the Honors House is an added opportunity as part of the Honors Program. Students may live in other residence halls.

Is this housing opportunity open to all students or just freshmen?

The Honors House is open to all Honors students. First-year students are encouraged to apply to the Honors House as a way to connect with other students in the program and to help foster a culture of learning.