Greystone Nature Preserve student internships stay on track
Though some activities have been changed or postponed due to coronavirus pandemic restrictions, student internships at Greystone Nature Preserve are humming along this spring, just as they've pretty much done since 2010.
Diane Clark, Greystone founder and director of the 75-acre environmental education facility near Brocton, adjusted activities to support students through email, phone and video conversations to develop resources and continue research available through various media outlets, according to Jennifer Wilkins, internship coordinator and career counselor in the Career Development Office at Fredonia.
Five students – each pursuing individual goals – are completing internships that involve environmental science research, public and media relations and marketing. Weekly telephone conferences with each intern have been held since the beginning of the semester to assess how the interns are progressing with their goals, Ms. Clark said.
"This is one bunch of fantastic students."

Diane Clark, Greystone founder and director
"When COVID-19 sent some of them home and limited our face-to-face time, we simply ramped up the telephone conferences," Clark explained.
Some work assignments were modified or replaced with new ones. A student who was to build a natural playground become editor of Greystone's first newsletter. Organizing festivals was changed to writing newspaper articles and researching local environmental activists, Clark said. Pond analysis was put off until late spring and summer and teaching classes will have to wait.
Two students have been able to continue doing field work, such as eradicating invasive species and making a butterfly garden, since social distancing can be maintained when learning these skills, Clark said.
An environmental reading component, drawing heavily on Henry David Thoreau and John Muir, was added to each internship to broaden and deepen each student's environmental understandings.
"This is one bunch of fantastic students," Clark said.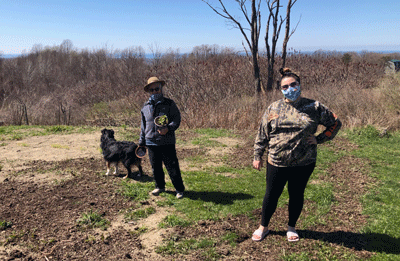 Environmental Sciences major Rachel Isbell, a senior, changed course with some of her internship activities, deferring much of her study of water chemistry in the pond and microorganisms that live there to a summer internship.
That shift has allowed Ms. Isbell, who also has a minor in Applied Music, to expand her monitoring of monarch butterflies to include caterpillars and birds. She wants to see if birds and caterpillars are attracted to specific plants. While much of her research is done online, Ms. Isbell says she's still able to enjoy the outdoors and grow her scientific skills.
"This doesn't require any equipment and it allows for easy social distancing," Isbell said.
Katie Lenda, a public relations intern, wrote the entire script and furnished photographs for a Greystone segment on the television talk show "Chautauqua Sunrise with Doc Hamels." Her planned appearance on the program was canceled due to social distancing, so Bill Moran, Greystone operational manager, and Clark took her place.
Since the Earth Day Expo on campus, a major event that she was to organize, was canceled, Lenda, a junior Public Relations major with a minor in English, picked up new projects. She wrote an introductory piece for the Greystone newsletter and created advertising material. Lenda, who is public relations chair of Fredonia's chapter of the Public Relations Student Society of America (PRSSA), is also continuing to work on grant writing.
As Greystone's content marketing manager, Adam Mills, a senior majoring in Business Administration: Marketing, is in the process of finalizing the first edition of "The Connector," the preserve's newsletter. He credits fellow interns for providing "immense amounts of efforts towards" developing the newsletter.
"Our initial goal at the beginning of the semester was to mainly work remotely and have phone conferences once or twice a week. I would have never guessed how smooth it was going to be while collaborating with Diane," Mr. Mills said.
"Diane has been the epitome of a positive influence which can be considered a very important factor given our circumstances," Mills said.
Developing the newsletter dovetails with Mills' plans to move out West to pursue an opportunity to become involved in environmental marketing campaigns of national parks.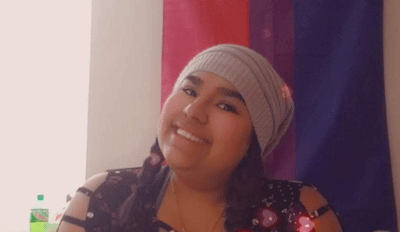 As a media outreach intern, Alexandria Nieves, a senior majoring in Communication: Journalism, with a minor in English, handles social media aspects (Instagram, Facebook and Twitter) for Greystone and maintains its website.
"I am constantly working on new projects," Ms. Nieves said, including assisting with advertising. She also makes sure the website provides answers to questions that the public may have about Greystone.
Nieves was working remotely when she began the internship, so little has changed with her workflow. "When COVID-19 hit, we just decided to keep doing everything remote for the safety of others and ourselves. The only thing that was modified was me connecting physically to promote Greystone. I keep in contact with the staff via email and sometimes through phone calls."
Alex Richard, a senior Environmental Sciences major, with a minor in Geographic Information Systems, is utilizing GIS as a tool to learn more about invasive plant species that over time have spread in Greystone.
"My internship consists of a variety of projects including mapping and removing invasive species, researching alternative energy systems, learning about sustainable gardening and harvesting practices and conducting a stream analysis," Mr. Richard said.
Much of his work involves research or constructing computer-generated maps, so he's able to complete that portion remotely. For projects that require fieldwork, such as the invasive species removal, GIS data collection for map construction and stream analysis, Richard practices social distancing.
Richard primarily stays in contact with Moran and Clark through email and telephone to discuss weekly assignments or availability for visitation.
While visits to Greystone are less frequent and the amount of in-person guidance received diminished by social distancing, which inevitably impacts the overall learning experience, Richard says he's grateful for the opportunity to continue his work at Greystone.