Job prospects exceptional for Medical Technology graduates
When students at Fredonia complete Medical Technology courses, fulfill graduation requirements and pass the national certification exam, they'll be positioned to hit the ground running – straight to a high-paying job.
In fact, all 10 students on track to complete hospital internships in August already have multiple job offers on the table, reports Department of Biology Associate Professor Patricia Astry, the longtime director of the Medical Technology program at Fredonia.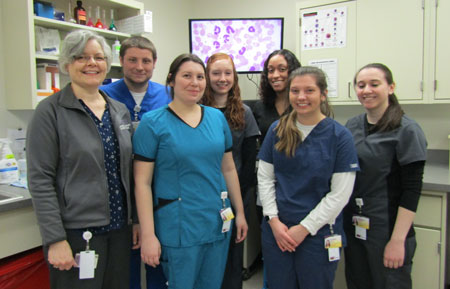 The Bureau of Labor Statistics of the U.S. Department of Labor predicts that employment of clinical laboratory scientists will increase by 22 percent through 2022.
"It's becoming more apparent earlier in the year, before graduation, that students are getting multiple job offers," Ms. Astry observed. "Most students have already made commitments to a job offer, while some are approaching it from the standpoint that they'll apply for three, four or five jobs and see who makes the best offer, so they understand that they're in the driver's seat," Astry said.
That's not all in play to the benefit of Fredonia Medical Technology students.
New in the last two years are signing bonuses – which can be as high as $9,000 for a three-year commitment – offered to seniors during their clinical/internship year. It's that lucrative a job market, even in Western New York, where the average starting salary is $52,000 to $60,000.
Medical technologists – informally known as healthcare detectives – perform a variety of tests on blood and body fluids to assist physicians in the diagnosis, treatment, monitoring and prevention of disease. Most work in hospital laboratories, private laboratories and physicians' offices.
Fredonia launched its Medical Technology program in the mid-1970s as a career-focused alternative to traditional degrees in Biology and Biology: Adolescence Education. Board-certified from the beginning, it offered a defined career path outside of teaching and was an immediate success, attracting a whole new group of students, Astry recalled.
More than 400 students have since graduated from the program and gone on to become laboratory scientists, reported Astry, who literally "grew up" in the program and has served in a leadership role for the last 39 years.
Tara Thompson, of graduate of Tonawanda Senior High School, was drawn to the med tech program by the challenges and opportunities that it provides. "What attracted me the most was the science, puzzle-like problem solving and the vast amount of things that could be done with the degree," Ms. Thompson explained, citing hospital labs, forensics, doctors' offices, state labs, biodefense and the Centers for Disease Control as prospective workplaces.
By the late 1980s the job market had become somewhat saturated, Astry explained, as schools were pumping a steady flow of new graduates into the market. Now baby boomers who worked decades in the profession are retiring, fueling demand for new med techs.
Students enrolled in the Medical Technology program at Fredonia are in an enviable position – all key boxes that measure or define med tech programs are checked. It has the "licensure" designation, meaning that graduates become licensed by New York state. It is an "affiliate program" of hospitals accredited by the National Accrediting Agency for Clinical Laboratory Sciences [NAACLS], which facilitates internship placement. It's also accredited by the American Medical Association Council on Health Education.
Meeting these benchmarks provides a "seamless" path – that can be completed in four years – for Fredonia students to earn a B.S., complete a hospital internship and prepare for the Board of Registry certifying exam administered by the American Society of Clinical Pathologists. That final step leads to national board certification and makes graduates eligible for licensure through the New York State Education Department.
Impeccable best describes the track record of Fredonia students on the certifying exam: 100 percent pass on their first attempt in each of the last 10 years. The national rate is 83 percent.
Fredonia has contracted agreements with Rochester General Hospital; Rochester, N.Y.; UPMC Chautauqua at WCA, Jamestown; and St. Vincent Hospital, Erie, Pa., to ensure internship placement for qualified students who complete university requirements. Fredonia is also exploring the possibility of affiliating with downstate hospitals for internships, given the increasing number of students that the campus is enrolling from that part of the state.
Admission to the year-long internship is highly selective. A 3.0 GPA in science courses is the minimal standard. Not a concern at Fredonia.
"The average GPA for all students accepted [at a hospital internship] in a given year is around 3.2, but this year's group is exceptional, at 3.52," Astry remarked. "This shows the excellence of the students in the program; they're high achieving, very enthusiastic and are very positive in their mindset. It's a really outstanding group."
All are essential characteristics for a student to possess, particularly when embarking on a challenging internship, Astry noted. "There is so much focus on getting good grades, focusing on the interview process, making sure to put you best food forward, while being yourself in the interview and making sure you convey this sort of attitude." Students are supervised by medical technologists and physicians.
Six students currently serving internships at UPMCA Chautauqua at WCA, Jamestown, are: Meghan Gallivan, Silver Creek; Patrick Reuman, Franklinville; Maia Scott, LeRoy; Shania Spicer, Russell, Pa.; Leanne Stirling, Lancaster, N.Y.; and Ms. Thompson, Tonawanda.
Fredonia alumna Michele Harms, who directs the Medical Laboratory Science (MLS) program at UPMC Chautauqua at WCA, indicates she is always impressed with Fredonia students. "The hard work they put into their courses at the university creates a solid foundation for the demanding preceptorship year. As students simultaneously complete the year of clinical experience along with their B.S. degree, they quickly discover jobs are currently plentiful and they are sought after. The idea of finding a job is actually more of figuring out which offer to except!"
Ms. Harms, a 1989 Fredonia graduate, noted that the quality of the MLS education has become even stronger over the years and is excited to see that trend continue. This is also the first year that all students in that MLS program are Fredonia students.
Fredonia students currently serving internships at Rochester General Hospital are Erin Neary, Buffalo; Ryan Scott, Rochester, N.Y.; Britny Starzynski, Depew; and Lauren Woolston, Rochester, N.Y.
Recent Fredonia graduates have been hired by the Erie County Medical Center and Roswell Park Comprehensive Cancer Center, Buffalo; United Memorial Medical Center, Batavia; Olean General Hospital, Olean; and Warren General Hospital, Warren, Pa., in addition to UPMC Chautauqua at WCA, Saint Vincent and Rochester General.