Mainstage season closes with Lee's 'Lear'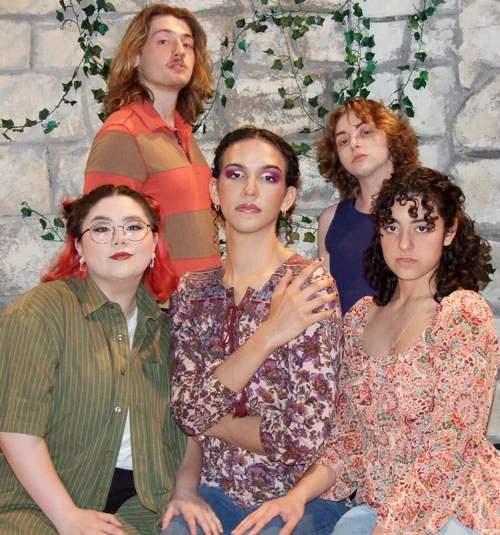 The Department of Theatre and Dance at SUNY Fredonia will close out the 2022-23 Walter Gloor Mainstage Series with "Lear," a work by Young Jean Lee, the first Korean American woman to have a play on Broadway.
"Lear" runs for one week only in Marvel Theatre on the Fredonia campus, with performances at 7:30 p.m. on Thursday, May 4; Friday, May 5 and Saturday, May 6.
Tickets are available through the Fredonia Ticket Office in the Williams Center, by phone at (716) 673-3501 and online.
"Lear" is presented as part of the 2022-23 Lake Shore Savings Season.
"It's so thrilling to be producing Lee's work," said Assistant Professor Daniel Lendzian, who is director of the Mainstage production. "Before becoming a playwright, she was pursuing a Ph.D., and her thesis was on 'King Lear.' Lee has created a piece of theater that gives the audience the feeling of watching 'King Lear,' but by using modern and absurdist text, a scene from 'Sesame Street,' and stream of consciousness monologues."
While the play includes some lines from Shakespeare, and a monologue from "King Lear," Lendzian said Lee is "really using the spirit of the play to create something new."
"We are not following the plot of Shakespeare's 'King Lear,' but are having the emotional experience of it," Lendzian explained. "This bold, visceral, absurdist piece of theater is like watching a poem come to life onstage. It allows people to wrestle with the themes of 'Lear,' and have an experience that isn't based in plot or story, and make their own conclusions.
"Shakespeare's play uses some incredibly beautiful and heartbreaking language (look at Lear's final speech in Act 5), some violent and debasing language (Act 1, scene 4), and non-nonsensical language (Edgar as Poor Tom), and Lee is using the modern equivalent. This is a celebration of language, rather than story."
More than 30 students are involved in this Mainstage production, which Lendzian explained is being installed on the top of the "Romeo and Juliet" set, and using it as a site-specific location.
"The actors are phenomenal, and the assistant director, Margot Mills, is such a brilliant student, and is bringing so much to the production," the director said. "I am also always in awe of the design professors and students at Fredonia, and I am so excited for people to see the 'deconstruction' concept that we have come up with."
In the end, Lendzian hopes audiences will leave having been emotionally affected by "Lear."
"Lee used to sell t-shirts that said 'destroy the audience,' but that is not the intention here — although I think 'Lear' will challenge some people's notion of what theater is," Lendzian said. "I hope that it will provide conversation and reflection. I hope people internally wrestle with the production and the text, and the aesthetic after the show. Sometimes, theater patrons only judge work based upon expectation - did it fulfill them or not, but this kind of piece is really different, and I hope those who see it go in with an open mind, ready to have an experience, rather than a preconceived notion about what should happen. I think that would be the best way to see 'Lear.'"