SUNY Fredonia breaks ground on $60 million Science Center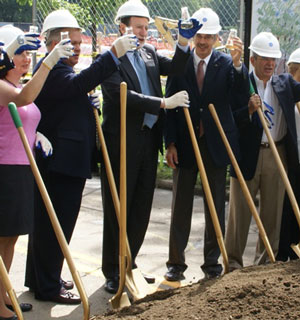 SUNY Fredonia faculty and administrators (click for full photo) share a toast with area officials at the groundbreaking of the campus' new, $60 million Science Center, set to open in 2014. The group enjoyed some sparkling grape juice out of Erlenmeyer flasks destined for the new chemistry labs within the 92,000-square-foot facility.
ID of people in Groundbreaking Photo: From left, are: Rufus Judson, President and Chief Operating Officer, The Pike Company; Chautauqua Industrial Development Agency President Bill Daley; Village of Fredonia Mayor Stephen Keefe; Dr. Holly Lawson, SUNY Fredonia Chemistry Professor and Project Shepherd; Mr. Kevin Muldowney, representing State Senator Catharine Young; SUNY Fredonia President Dennis Hefner; State Assemblyman Andrew Goodell; Fredonia College Council Chair Frank Pagano; Dr. Virginia Horvath, Vice President for Academic Affairs; SUNY Fredonia Biology Department Chair Patricia Astry; John Dougherty, Partner, Mitchell/Giurgola Architects; Dr. John Kijinski, Dean of the College of Arts and Sciences; and Dr. Thomas Janik, chair of the Department of Chemistry and Biochemistry.
For more information about this project, visit www.fredonia.edu/sciencecenter.
With the tossing of some ceremonial dirt and a celebratory toast from Erlenmeyer flasks destined for new chemistry labs, scores of SUNY Fredonia faculty, students, administrators and alumni marked the beginning of a long-awaited facility dedicated exclusively to the sciences at SUNY Fredonia.
With it, many in attendance agree, comes a new era in the campus' academic evolution, and in the ways in which prospective students, faculty and others think of SUNY Fredonia.
The new, 92,000-square-foot building set to open in 2014 is the single largest facility investment in the campus' history. When complete, it will house the biology and chemistry/biochemistry departments, in addition to the environmental science and science education programs, which at present collectively comprise more than 400 students.
Following its completion, a renovation of Houghton Hall will follow and eventually house the departments of physics, geosciences, mathematics, and computer and information sciences — another roughly 400 students at present — thereby creating a Fredonia Science Complex dedicated to all of the STEM (science, technology, engineering and math) disciplines.
"For many years, SUNY Fredonia has been home to high-quality science students and faculty, as is evidenced by the many accomplished alumni who have played a key role in helping us shape this new vision, many of whom have returned to campus to join us for today's event," said SUNY Fredonia President Dennis L. Hefner. "This new facility will serve as a far better representation of the quality of this campus' science programs. It will not only meet the standards our graduates have set, but it will significantly increase the potential of both our faculty and our students, allowing them to follow the lead of our alumni and build upon their impressive work."
The mission of the new building is to provide Fredonia graduates with a skill set relevant to a world economy increasingly driven by scientific innovation. It also seeks to create an environment that enables state-of-the-art faculty research which facilitates the inclusion of undergraduates, a long-held hallmark of the sciences at Fredonia.
"One of the ways that you can see our planning as a campus is in how we're planning our physical space for the kind of learning we want to have happening at Fredonia," added Vice President for Academic Affairs Virginia Horvath. "We're not just taking into account what's needed inside of a lab or for proper ventilation; we're thinking of the ways in which students can best learn science, and we're making sure the space we create is best suited for collaboration across disciplines for both students and faculty."
Dr. Holly Lawson, a professor of chemistry at SUNY Fredonia, is the project shepherd for the center. She has been involved in all aspects of the planning, design and construction of the new facility, acting as a liaison between the faculty and the design and construction teams. She echoed Dr. Horvath's remarks, offering details of these new collaborative opportunities.
For the source file to a video walkthrough of the new facility as it's designed, visit our webpage>>
"This facility will have amazing formal teaching spaces that will contain smart technologies coupled with very clever designs to support all styles of teaching and learning," Dr. Lawson explained. "This wonderful facility filled with light, wood, stone and glass will serve to showcase science by allowing visitors to look into science labs, witness scientific exchanges in the halls and explore science in the numerous displays. The public spaces will all invite people in and provide locations for 'intellectual collisions' that are the pathways to new directions in study and collaborations. In the end, we'll be able to apply more effective teaching strategies toward our students, and provide them with more complete, real-world collaborative opportunities for learning and research."
Other prominent features of the new facility include:
Faculty offices placed between teaching and research laboratories, including informal teaching spaces in front of each office and writing boards outside those offices;
First floor teaching laboratories to afford passers-by a view of science laboratory activities both from the corridors and the windows onto the science courtyard;
An observatory open to the community, as well as an attractive greenhouse;
An atrium featuring a café, science displays and seating;
A student reading room on the first floor, which will look onto a garden; and
A science courtyard, featuring native plants and examples of local geologic features.
A balcony with views into the Science Courtyard and Science Quad will create a new architectural highlight for the campus and a highly sought after space for many events;
The building has been designed by Mitchell/Giurgola Architects, a New York City-based firm with a worldwide reputation for excellence in the design of academic and scientific research facilities, including projects at Cornell University, New York University, Stony Brook University, the University at Buffalo and many more.
In addition, the new facility was designed under the guidance of the campus' Natural Science Advisory Council, comprised of accomplished alumni working in the STEM fields from all across the country, several of whom made the trip for today's ceremony. Dr. Michael Marletta, '73, president-elect of the world-renowned Scripps Research Institute in La Jolla, Calif., represented the council and addressed those in attendance.
"The Fredonia leadership, led by President Hefner, should be applauded for reaching out to alumni for their insight into this pivotal new facility," Dr. Marletta said. "The entire campus will benefit from this new science center. In addition, the new facility will bring chemistry, biology and other sciences together in the same building, and students will have the chance to work at the intersection of these fields, which is how science operates today — and how nature works, incidentally — thereby making Fredonia's students much better prepared to solve the complex problems that confront us."
Other area officials who spoke at the event included Assemblymen Andrew Goodell, and Kevin Muldowney, representing State Senator Catharine Young.
"Today's groundbreaking represents the culmination of more than a decade of hard work and planning by dozens of faculty, development officers, Fredonia alumni, community leaders and administrators," said Assemblyman Goodell. "You should all be very proud of your efforts."
"This science center is critical for the continued success of SUNY Fredonia and Western New York," added Mr. Muldowney. "Advanced programs in medical technology, recombinant gene technology and other biotech programs draw students to this college and are in high demand by industry worldwide, bringing job opportunities to our graduates and businesses. Senator Young worked hard for capital funding to plan and build this spectacular addition to campus, and she is proud to have played a role in bringing the SUNY Fredonia Science Center to life."
The lead contractor is the Pike Company, based in Rochester, N.Y., whose academic clients include Cornell, Geneseo College, Rochester Institute of Technology, the University of Rochester, Yale University and many others. Pike also led the recent Nixon Hall renovations on Fredonia's campus.
To learn more about the science center, including accessing a video with a computer-generated walkthrough of the completed facility as designed, as well as a live webcam of the construction site throughout the project, visit: www.fredonia.edu/sciencecenter.