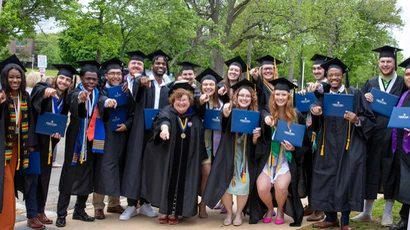 Commencement
Congratulations, 2023 Graduates!
Expanded Commencement Program available online
SUNY Fredonia seeks to integrate sustainability into all aspects of campus life, and we are committed to promoting environmental awareness and responsibility in institutional choices. As such, the campus did not print the full program for the Commencement ceremonies. Guests and graduates received a short guide to the ceremony as they arrived in Steele Hall, which had a QR code to access the full program. 
---
Commencement Photos
A professional photographer took photographs of each graduate as they were recognized during the ceremony. This does not represent an endorsement by Fredonia and there is no obligation to purchase. It is a service provided to Fredonia graduates, families and guests.
Information supplied by the vendor:
GradImages® is proud to support one of the biggest moments in a graduate's life: walking across the stage and into the next chapter. With over 40 years of experience, we understand the importance of this moment and the desire to preserve these memories for a lifetime. Finding your graduate's photos after the ceremony is easy. Visit online to view and purchase custom photo products like prints, plaques, specialty gifts, and more.
If have any questions or concerns regarding your photos, please contact the Customer Service Department at (800) 261-2576, online or email. We have a large team of customer care representatives ready to help graduates and family members with anything they may need.
---
2023 Cap and Gown Reuse Program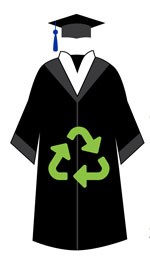 An optional "Robe Reuse Program" was initiated in 2022. Graduates have the opportunity to donate their Commencement gown (the "robe") following their ceremony.  If you wish, send it to us after you return home c/o The Sustainability Committee, 140 Hendrix Hall, 380 Central Ave., Fredonia, NY 14063. Robes will be laundered, repackaged, and made available to future graduating students.
---
2023 Commencement Ceremony