Commencement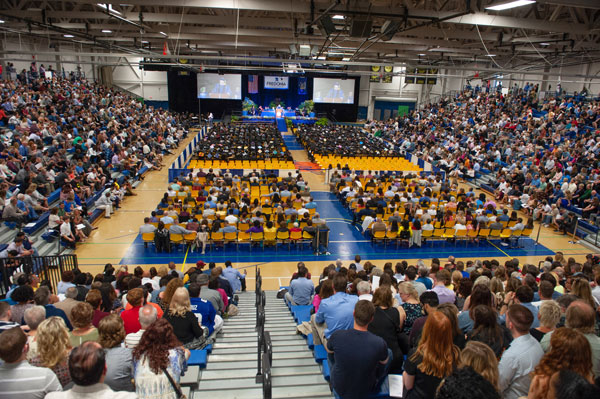 When will an announcement be made about Fredonia's Commencement for both the graduating Class of 2020 and 2021?
An announcement about a virtual or in-person ceremony for both the graduating class of 2021 and 2020 will be made sometime after January 2021. By postponing a decision until the spring semester, we'll be able to make a better determination based on how things have progressed with a vaccine and slowing the spread of the virus. While we hope to honor this momentous occasion with you in person, your health and safety are our first priority.
We will continue to follow the guidance of New York State health and safety protocols.
Diploma Covers. Graduates who participate in the May 2021 Commencement will receive a diploma cover at the ceremony. For graduates who are unable to attend, or just want a cover now, the campus Bookstore currently offers diploma covers for purchase at a price of $10.95.
Class of 2020 celebration video
Watch the Class of 2020 Celebration Video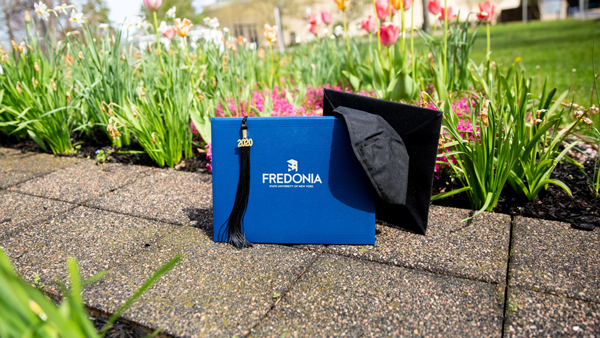 2020 Dual Ceremonies:
Note: Information below was compiled before the May ceremonies were postponed. The information will be updated for a future ceremony as new plans develop.
Bachelor's and master's degree and advanced certificate graduates are combined during these ceremonies. View information on when students will graduate.
Island Photography has informed us that all proofs for 2019 have been uploaded; there were a few email addresses that came back undeliverable. If you did not receive your proofs, contact Island Photography customer service at (800) 869-0908.
Volunteers
The 2020 Commencement Committee is looking for volunteers for either or both ceremonies. Any questions regarding volunteers should be directed to Assistant Director of Campus Life Rachel Martin via email. There is an online form for interested persons to sign up to assist the committee.
2020 Tickets:
Ticket distribution for graduates begins on Wednesday, April 22, in the Fredonia Campus Ticket Office in the Williams Center, and continues until Friday, May 8. View ticket information.
2020 Cap and Gown:
Regalia will be available to students in the Bookstore beginning March 23. View cap and gown information.
Student Rehearsal on Friday, May 15
2020 Individual Graduate Photos:
A professional photographer from Island Photography will take photographs of each graduate as they are recognized during each Commencement ceremony. This does not represent an endorsement by Fredonia and there is no obligation to purchase. It is a service provided to our Commencement families and guests.
Within 48 hours after Commencement, students will be emailed a secure link and a PIN to view and order photos. Students can also register the email addresses of friends and relatives so that they would receive a direct link to their photos by visiting the website.
For questions, graduates should contact Island Photography customer service at (800) 869-0908 or email.
Got plans?
Students graduating this year are invited to share their future plans for posting on the website. Information can include new jobs, acceptances to graduate schools or other programs, and professional summer activities. Parents, faculty and staff members are encouraged to submit items, as are students. Please include the graduate's name, hometown, and major. Tell us your future plans.