Commencement
Save the Date!
Saturday, May 20, 2023
10 a.m. and 3 p.m.
Steele Hall Field House
All Commencement activities are subject to change based on the New York State health and safety guidelines at the time of the event. We will update all affected students by email in the case of any changes as soon as they are made known to us.
Commencement will bring together a large number of individuals. At this time, we are not requiring proof of vaccination of guests. Depending on the status of COVID-19 community transmission levels, proof of vaccination and/or masks may be required. Please visit this site regularly for updated information.

All graduating students must comply with the current in-person student vaccine requirements (even if you received a waiver for being fully online previously). This means that students must either be fully vaccinated (and boosted if eligible) or must have submitted a medical or religious waiver and received approval. Please review the Student Vaccine Policy for more information and links to exemption request forms.
Please see individual sections of this website for additional Student, Family and Faculty/Staff information. Complete information will be available on this website by Jan. 30, 2023.
---
2023 Dual Ceremonies
Bachelor's and master's degree and advanced certificate graduates are combined during these ceremonies. View information on when students will graduate.
---
Expanded Commencement Program to be available online
SUNY Fredonia seeks to integrate sustainability into all aspects of campus life, and we are committed to promoting environmental awareness and responsibility in institutional choices. As such, the campus will not print the full program for the Commencement ceremonies. Guests and graduates will receive a short guide to the ceremony as they arrive in Steele Hall, which will have a QR code to access the full program. There will also be a link at the left hand side of this page just prior to Commencement day.
---
Volunteers
The 2023 Commencement Committee is looking for volunteers for either or both ceremonies. Students, Faculty and Staff who are interested in volunteering to assist in the celebration of our graduates may complete the online form. Any questions regarding volunteer opportunities should be directed to Registrar Scott Saunders via email.
---
2023 Tickets
Ticket distribution for graduates begins on Wednesday, April 26, in the Fredonia Campus Ticket Office in the Williams Center, and continues until Friday, May 19. View ticket information.
---
2023 Cap and Gown
Regalia will be available to students in the Bookstore beginning Monday, March 20. View cap and gown information.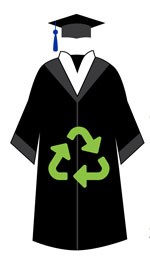 An optional "Robe Reuse Program" was initiated in 2022. Graduates will have the opportunity to donate their Commencement gown (the "robe") following their ceremony. Collection bins will be located on the second floor of the Steele Hall Fieldhouse. Robes will be laundered, repackaged, and made available to future graduating students. Students in need of a cap or gown may request one by emailing sarah.laurie@fredonia.edu. The robes/caps are first come-first served, while supplies last.
---
2022 Commencement Ceremony