Fredonia awards degrees four times each year.
Spring (May)
Fall (December)
Summer (August)
J-Term (January)
A student who expects to earn a degree for a given term or session must submit the Application for Degree form by the established deadline (see deadlines below).
Are you ready to apply for your degree?
Have you checked DEGREE WORKS and met with your advisor to make sure all requirements will be satisfied by the semester you're applying for?
Have you met all University Level Degree Requirements, or applied for waivers is applicable?

120 total earned hours (not waivable)
45 credits at the upper-level?
2.0 or above GPA? (not waivable)
66 credits outside the discipline?

Graduate students should visit: Graduate Degree Requirements
Please follow steps below to ensure correct submission and processing of your application:
Check Your Connection and Degree Works to verify all declared majors and minors are accurate. Please be sure to include each of your declared Major(s) and Minor(s) on one form. (Specializations or concentrations WITHIN YOUR MAJOR do not require applications.) If any changes need to be made, please visit www.fredonia.edu/registrar for instructions on how to add/delete majors or minors.
Download form from link below and save it as a PDF to your desktop
This will then open in Adobe and allow you to fill out the text boxes
Save it upon completion
Email the attached PDF to degreeapps@fredonia.edu by the February deadline for inclusion in the commencement program
If you are completing your degree requirements in J-term, Spring, Summer or Fall of the following year, but you would like to participate in this years commencement ceremony, you will have to appeal to participate.
Appeal to Participate in Commencement
If you have further questions or comments regarding the degree application process, please call the Registrar's Office, 716-673-3171.
J-Term 2023: January 20, 2023
Spring 2023: May 20, 2023
Summer 2023: August 7, 2023
Fall 2023: December 15, 2023
If you are planning on participating in the MAY 2023 commencement ceremony, and have not yet submitted your application for degree, please do so as soon as possible! Applications are still being accepted and can be emailed to degreeapps@fredonia.edu.
Spring 2023
Summer 2023
Fall 2023

Wednesday, September 6, 2023
Approximately two weeks after submitting your degree application to the Registrar's Office, please check your "Student Academic Transcript" in Your Connection. Under the "Degrees Awarded" heading, you'll see Undergraduate Pending and the type of degree (Bachelor of Science, Bachelor of Arts, Master of Arts, etc.). If you do not see the "Degrees Awarded" field, your application has not been processed.  If you do not see this posted in Your Connection after two weeks, please contact our office immediately.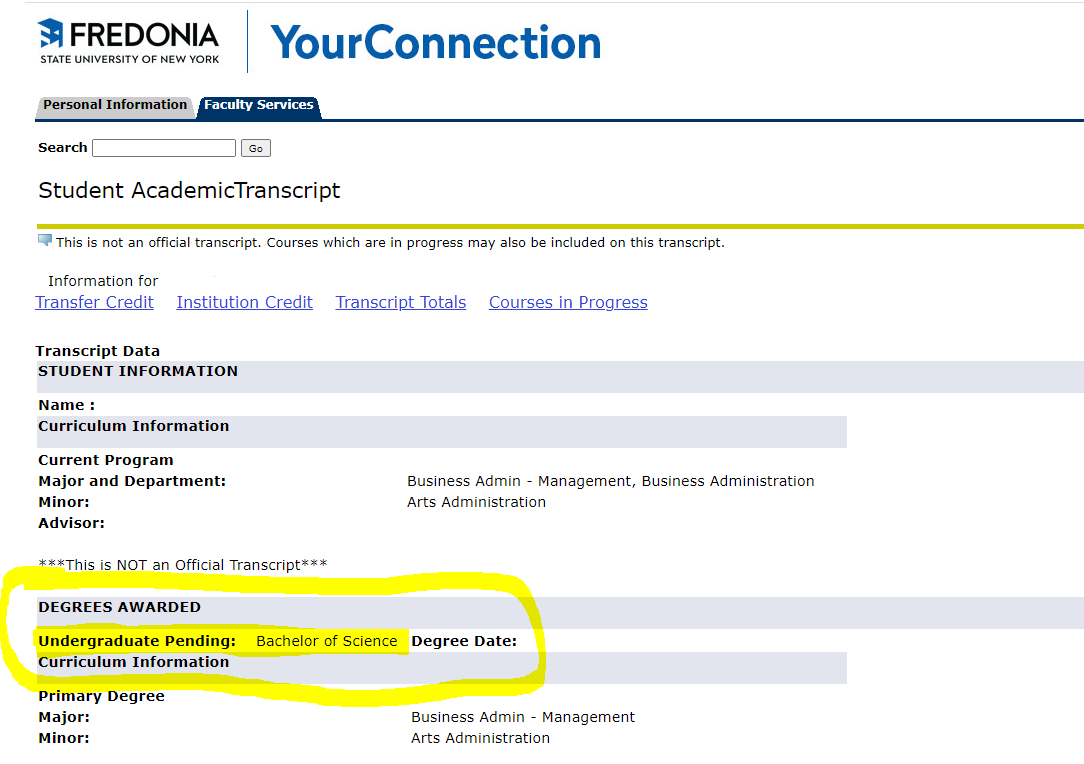 The diploma(s) will only display:

the earned DEGREE TYPE
any earned Latin Honors 
the degree conferral date (semester and year) 

Specific major, minor and concentration (curriculum) information is not displayed on the Diploma. Curriculum information is stored and displayed as part of the academic transcript

Diplomas will be ordered after the majority of the current degree audit is completed
The initial diploma will be mailed directly the the student at the address indicated on the degree application and there is no fee

Approximate dates:

May diplomas - mailed by August 30th
August diplomas - mailed by October 30th
December diplomas - mailed by February 28th

Please click here for more information on ordering additional/replacement diplomas
There is NO fee to apply for your degree
Degree conferral consists of extensive degree audits by the academic departments and our office after final grades have been submitted following each semester.  
The commencement program honors those students who were eligible to earn their degree for any conferral date throughout the year, and is only published in May.  
For information about commencement ceremonies and planning guides, visit the commencement web site.
When your degree is awarded, you will be able to see it in Your Connection and on your Academic Transcript.  If you need proof of your degree conferral before diplomas are issued, please order an official transcript and indicate "hold for posting of degree"