Family Information for Commencement
All Commencement activities are subject to change based on the New York State health and safety guidelines at the time of the event. We will update all affected students by email in the case of any changes as soon as they are made known to us.
Commencement will bring together a large number of individuals. At this time, we are not requiring proof of vaccination of guests. Depending on the status of COVID-19 community transmission levels, proof of vaccination and/or masks may be required. Please visit this site regularly for updated information.

All graduating students must comply with the current in-person student vaccine requirements (even if you received a waiver for being fully online previously). This means that students must either be fully vaccinated (and boosted if eligible) or must have submitted a medical or religious waiver and received approval. Please review the Student Vaccine Policy for more information and links to exemption request forms.
---
Expanded Commencement Program available online
SUNY Fredonia seeks to integrate sustainability into all aspects of campus life, and we are committed to promoting environmental awareness and responsibility in institutional choices. As such, the campus will not print the full program for Commencement ceremonies. Guests and graduates will receive a short guide to the ceremony as they arrive in Steele Hall, which will have a QR code to access the full program. The program will be available online with a link at the left hand side of this page, just prior to Commencement day.
Dear Parents and Guests of the Class of 2023,
On Saturday, May 20, 2023, Fredonia's Commencement will celebrate a new phase in the lives of the students that we will be honoring. There is a special place or role for you as well. Your support and encouragement will be essential for the success of this very important occasion being held for the sole purpose of honoring and celebrating your graduate's success.
Commencement ceremonies will take place in the Steele Hall Fieldhouse. Bachelor's, master's, and advanced certificate candidates/graduates will be included in each ceremony. This link provides information on which ceremony you will attend. Students will graduate at either 10 a.m. or 3 p.m., according to their primary major/program.
Up to 4 tickets will be available in April to graduates, and additional tickets, up to 4, can be requested by your graduate by filing the online Intent to Participate form through Your Connection.
Please discuss with your graduate two important matters that will contribute to making this a great day for everyone. The consumption of alcohol in the Steele Hall Fieldhouse is neither acceptable nor condoned, and university policy on alcohol consumption will be strictly enforced. Also, please plan your post-Commencement activities so all members of your party can remain in the Steele Hall Fieldhouse until the ceremony concludes.
A professional photographer will take a picture of each graduate shaking hands with the President. Students will be notified when photos are available; of course, there is no obligation to purchase a photo. For those family and friends who cannot attend, the event will be live streamed so that all may see their loved ones graduate.
We look forward to seeing you on Saturday, May 20, and thank you for everything that you have done to get your graduate to a successful completion of their studies at SUNY Fredonia.
Stephen H. Kolison Jr., Ph.D. Hannah Barden
President, SUNY Fredonia Senior Class President
Ticket distribution begins on Wednesday, April 26, and continues until Friday, May 19. Only students are eligible to pick up tickets, not family members. Graduates will receive up to 4 tickets to the ceremony. When a student fills out their Intent to Participate Form through Your Connection, they will be able to request up to 4 additional tickets to the ceremony. The number of tickets available will be based on the legal and safe seating capacity for the venue. The university reserves the right to limit the number of tickets distributed for each ceremony. Students will be contacted by the Commencement Chair if extra tickets are available, with instructions for picking them up at the Fredonia Campus Ticket Office in the Williams Center by Friday, May 19. Only graduates may pick up tickets; they will not be given to family members or friends.

Tickets will be labeled for a specific ceremony, 10 a.m. or 3 p.m. Read further on this web page for the university's Ticket Policy. It is your responsibility to verify with your graduate their assigned ceremony. We will not honor tickets at the door that are not labeled for the appropriate ceremony.

Commencement seating is general admission bleacher seating (no back support) with the exception of a limited number of Special Needs seating. Special Needs includes visual and hearing impaired guests. Accommodations are available on a first-come, first-served basis. Please plan to arrive early in order to secure Special Needs seating. Please refer to the section, "Information Regarding Special Needs Seating" on this web page for additional information.

The Steele Hall Fieldhouse is not an air-conditioned venue.

The afternoon ceremony will begin promptly at 3:00 p.m. We ask that families attending the morning ceremony please vacate the venue immediately after the ceremony, so that we may prepare the venue for the afternoon ceremony.

Only certified service animals are permitted into the ceremony.

Commencement information will also be distributed to graduates/potential candidates on this site.

Concessions will be available in the fieldhouse.
Please direct questions or concerns in writing to the Commencement Committee, c/o Office of the Campus Life, Williams Center, SUNY Fredonia, 280 Central Ave., Fredonia, NY 14063.
We realize that the majority of our Commencement guests will be parking in areas some distance to the Steele Hall Fieldhouse. Bussing will be available to assist guests from parking areas to Steele Hall.
We encourage people to park in Lot #9 adjacent to University Stadium off Ring Road, and use the shuttle bus provided to be transported to the venue.
For those choosing to walk, there is a wide paved path from the University Stadium lot to the Steele Hall fieldhouse.
Arriving early on campus is strongly suggested; doors to all venues will open at 8:45 a.m. for the morning ceremony and at 2:00 p.m. for the afternoon ceremony.
With the exception of those holding valid Special Needs parking permits/tags/license plates, there will be limited parking available in the immediate Dods/Steele hall area. Those with Special Needs parking tags should plan to arrive early to park at Steele Hall. Signage will be posted to direct those visitors to Lot #11.
Following each ceremony, a bus will be available to transport guests back to campus parking areas.
Paramount in our planning is the knowledge that this is a very special day for graduates and their guests. The entire Fredonia family wishes to create a safe, enjoyable and memorable day for you and your guests.
The members of the Commencement Committee and the University President have established the following policy on the distribution of tickets for Commencement.
Commencement tickets are not considered a salable commodity; they are free to degree candidates. Concurrent degree students (i.e. those receiving two bachelor's degrees during the same semester) are entitled to up to 4 tickets for the ceremony in which they are participating. All students must show photo I.D. (FRED card preferred) when they pick up their tickets at the Fredonia Campus Ticket Office in the Williams Center.
Tickets will be given only to students, not family members/friends.
Students who do not plan to participate in Commencement should not request tickets.
Commencement tickets may not be sold. Offenders will be referred to the University's Office of Student Conduct, and records will be held until any penalties are satisfied.
Students who pick up tickets for Commencement are not entitled to tickets for another Commencement at a later date unless they are obtaining another degree; i.e. bachelor's graduates who participated in Commencement are entitled to tickets if they have earned a master's degree (or advanced certificate). Students requesting extra tickets for Commencement will have an opportunity to request up to 4 additional tickets through Your Connection. Students should be sure they know the number of extra tickets they need before completing the Commencement Intent to Participate Form.
Students who have picked up tickets for Commencement, and, because of unforeseen circumstances do not plan to use them, must return the tickets to the Fredonia Campus Ticket Office for redistribution. These students will not be eligible to receive tickets for a later Commencement if they have not returned their first set of tickets.
Tickets will be color coded for each ceremony, as will be (name) Reader Cards for degree candidates. Students should make sure family members are aware of which ceremony they will be attending.
A Fredonia tradition continues on Friday, May `19, at 7:30 p.m., in King Concert Hall when the Michael C. Rockefeller Arts Center presents "'Commencement Eve Pops: the Music of Andrew Lloyd Webber."
All seats are reserved for this DFT Communications Pops Series Event, and due to the popularity of the event, early ticket purchase is recommended.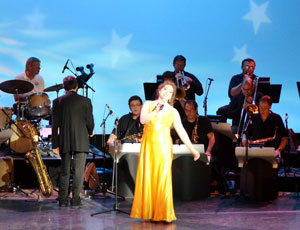 Andrew Lloyd Webber is arguably the most successful composer of our time. After he dropped out of school to compose musicals and pop songs, he had his first success with "Joseph and the Amazing Technicolor Dreamcoat." Three years later, he achieved fame with his rock opera,  "Jesus Christ Superstar." Now Rockefeller Arts Center's Commencement Eve Pops pays tribute to the works of Lloyd Webber. Some of Fredonia's very best student vocalists join with the Western New York Chamber Orchestra and the Fredonia Chamber Choir for selections from "Phantom of the Opera," "Evita," "Jesus Christ Superstar," "Cats," "Joseph and the Amazing Technicolor Dreamcoat," "Sunset Boulevard" and more! 
Tickets are $20, $25, $30 and $35, depending on seat location, and are available at the Fredonia Ticket Office in the Williams Center. Orders can be made by telephone with Visa, MasterCard, Discover or American Express.
For telephone orders, call 716-673-3501 or toll-free at 1-866-441-4928. A nominal fee of $6 per order is applied to telephone and online orders. Requests will be filled with the best available seats at the time the order is received, and tickets will be held at the Fredonia Ticket Office in the Williams Center until 3 p.m. on the day of the performance. Unclaimed tickets will then be available for pick up at King Concert Hall beginning at 6:30 p.m. that evening.
The Fredonia Ticket Office is open during the spring semester, when classes are in session, from Monday through Friday, from 9 a.m. to 3 p.m.
Fredonia is pleased to provide special accommodations at Commencement for individuals with Special Needs. This balcony-level seating is limited and available on a first-come, first-served basis and we ask that you arrive early in order to secure Special Needs seating. The top row of bleachers will also be reserved for these special guests/family members.
Please also note that each entrant into the venue must have their own ticket (from the original 4 tickets given to each graduate). For example, if the person with Special Needs requires an attendant, both must have a color-coded ticket for entry. There are no special tickets for Special Needs guests - tickets must come from the student's initial allotment.
There will be special volunteers on the balcony to assist you in finding Special Needs seating when you enter the venue.

A valid Special Needs parking permit/tag/license/sticker will be honored for parking close to the fieldhouse.
We encourage other guests to park in Lot #9 adjacent to University Stadium off Ring Road, and use the shuttle bus provided to be transported to the venue.
For those choosing to walk, there is a wide paved path from the University Stadium lot to the Steele Hall Fieldhouse.
___ Made reservation for hotel accommodations.
___ Reminded student graduate to pick up tickets for family, and purchased cap/gown
___ Purchased tickets for Commencement Eve Pops Concert, if desired.
___ Determine when your student will give you Commencement tickets, as it will be difficult to connect with students in the hour or two prior to each ceremony.
For information on area accommodations and restaurants, see this guide.
We invite you to mark your graduate's place in Fredonia's history by purchasing a Scholarship Walkway Brick. The brick, typically engraved with a person's name and class year, can be a personal legacy or can be used to honor a friend, a parent, or even a favorite faculty member.
Fredonia Alumni Association representatives will be available in the Steele Hall Natatorium lobby on Commencement day. For guidelines and online ordering prior to Commencement, see the website.
The Brick Walkway is located in the Williams Center Patio area for students, faculty and alumni to enjoy. The purchase of a walkway brick will support scholarships to assist Fredonia in continuing to attract the best and brightest students. All proceeds benefit the Fredonia Alumni Association and scholarships.
The Commencement Committee is proud to announce that fresh cut flowers will be available for purchase at the main entrance to the Steele Hall Natatorium on the day of Commencement. A large variety of sizes, colors and products will be available.
This link does not represent an endorsement by Fredonia. It is provided as a service to our Commencement families and guests.
The Commencement Committee has arranged for a photo to be taken of your graduate during the Commencement ceremony. This does not represent an endorsement by Fredonia and there is no obligation to purchase. It is a service provided to our Commencement families and guests.
Information below supplied by vendor:
GradImages® is proud to support one of the biggest moments in a graduate's life: walking across the stage and into the next chapter. With over 40 years of experience, we understand the importance of this moment and the desire to preserve these memories for a lifetime. Finding your graduate's photos after the ceremony is easy. Visit online to view and purchase custom photo products like prints, plaques, specialty gifts, and more.
You can also pre-register your contact information using the direct link below. Upon completion, you will receive a coupon code for 20% off an order of $50 or more.
If have any questions or concerns regarding your photos, please contact the Customer Service Department at (800) 261-2576, online at or email. We have a large team of customer care representatives ready to help graduates and family members with anything they may need.
There will be live streaming of both Commencement ceremonies. More information will be posted on this page on Commencement day.
Following the ceremonies, a recording will be made available on the Commencement website.