Faculty and Staff Instructions for Commencement
Cap and Gown Rental or Purchase
If you have not signed up to participate and wish to, please contact Commencement Co-chair Raleigh Hawk at the Fredonia Campus Ticket Office in the Williams Center, x3501. An online form is also available to sign up to participate, with a deadline of May 8.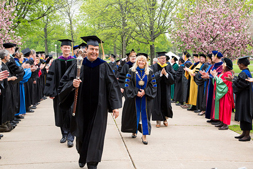 Enrobe: Faculty and professional staff will enrobe in the Women's Locker Room on the first floor of Dods Hall. There will be signage as you enter the front doors of Dods (which faces Mason Hall) the morning of Commencement. When you get to the enrobing area, form even lines of two behind the Faculty Marshals. If you wish to sit next to someone, they should be directly in front of or in back of you.
Time: It is important for you to report to the enrobing area no later than 9:20 a.m. for the morning ceremony and 2:20 p.m. for the afternoon ceremony - because this is when we will establish the number of seats we reserve for faculty/professional staff in Steele Hall.
Parking: We suggest that you arrive early to avoid any difficulties in a finding a parking space; and suggest Thompson/Fenton lots. We are busing in guests from all parking lots to Steele Hall. Parking will not be available in the Steele Hall lots with the exception of limited special needs parking.
Tickets: Tickets are not required for those enrobing and participating in the ceremony as part of the Processional/Recessional. Faculty and staff who are not part of the procession are welcome to sit in the reserved VIP area of the arena, depending on available space. VIP Tickets are required, and may be requested via the required form and will sent to you through campus mail. Due to limited seating, there are no tickets available for family members and friends accompanying faculty/professional staff.
Seating: Faculty/professional staff in the Processional/Recessional will be seated directly in front of the Platform in the Steele Hall arena.
Order of Procession: Mace Bearer, Platform Party, Student Marshals, Master's and Advanced Certificate candidates, Bachelor's candidates, Faculty Marshals, Faculty/Staff.
Length of Ceremony: Commencement typically lasts around two hours including Processional/Recessional. As is tradition at Fredonia, we individually recognize all graduates.
Recessional: Mace Bearer, Platform Party, Faculty Marshals, Faculty/Staff, Student Marshals, Master's and Advanced Certificate graduates, Bachelor's graduates.
Reception: Interim President Dennis L. Hefner will host a reception for the graduates and their families immediately following Commencement in the Williams Center Multipurpose Room.
Seating for Family Members of Graduates: For faculty/professional staff who have immediate family members among the graduates, there may be VIP seating available. The graduate must obtain their four tickets for Commencement through the usual process in April and then take the tickets to the Fredonia Campus Ticket Office. Commencement Co-chair Raleigh Hawk will stamp a limited number of tickets for seating in the VIP area.
Cap and Gown for Faculty/Staff
Once again, the Bookstore is pleased to offer caps and gowns for Commencement. Both rentals and purchases are available.
The bookstore will continue to offer the "Doctoral Keeper," a purchase option for 2020 for $108.50. The price includes the gown, cap, tassel, and hood in a style similar to the custom tailored apparel. The price for the package including the tam instead of a cap, is $128.00. A "Master Keeper" is available for $88.50.
The purchase price on custom tailored garments varies because of the options available. The Bookstore can show faculty and staff fabric swatches and quote a price prior to placing an order. Contact the Bookstore for more information on purchases/custom tailored garments.
Rental orders should be placed by Friday, April 3, 2020 to ensure delivery for Commencement.
2020 Rental Prices
Master Cap and Gown $33.50
Master Hood $33.50
Doctor Cap and Gown $33.50
Doctor Hood $33.50
The President's Office has a limited number of gowns and caps to borrow.
Although the store is open at 8 a.m. the morning of Commencement, Saturday, May 16, it is recommended that any regalia be picked up at the Bookstore by Thursday, May 14.
We look forward to sharing this very special day with you.