The Committee is committed to getting the word out to campus about what has been accomplished and is currently underway, as well as ways the campus community can get involved in furthering Fredonia's goal to "Go Green".
Sustainability Tracking and Rating System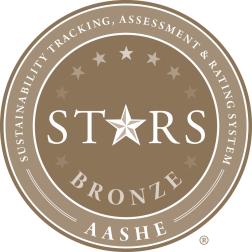 As an addition to the American College and University President's Climate Commitment, AASHE (Association for the Advancement of Sustainability in Higher Education) has developed STARS - a rating system designed to help colleges and universities gage their progress toward sustainability. This program is completely transparent, and any information a campus provides is available to the public, allowing potential students and others to view the credits earned by each participating campus. This is an amazing opportunity for Fredonia to publicize the work being done around campus.
visit the STARS Website to view Fredonia's report.
Sustainability in the news
Educating for Sustainability power point by Dr. 'SAM' Mason and Dr. Jabot.
Sustainability Pledge
The Student Sustainability Pledge is now available. This pledge is meant to encourage students to take a serious look at their actions and the actions of this University, and to strive to make sound environmental decisions. This pledge will be offered to all Freshmen beginning Fall 2010. The pledge is available on the gogreen site to sign or view.