Fredonia annually recycles tons of corrugated cardboard, mixed paper, glass, tires, batteries, plastic, metal, motor oil, mattresses and many more items. In the Fall of 2007, the university expanded these efforts to offer campus-wide recycling in all buildings. Recycling centers were placed in lobbies, café areas, and loading docks of all campus buildings. In 2008, recycling totes were placed in all Residence Hall students rooms, lounges, classrooms, conference rooms and every office on campus. Just look for the recycling center signs throughout campus, and start doing your part to help the campus achieve a more sustainable future. A brief overview of the benefits of recycling along with information on how to recycle appropriate materials is below.
Current List of What Can Be Recycled
Recycling Procedures for Faculty, Staff, and Students
---
Recycling Toner Cartridges
Toner cartridges can be recycled free by registering with tonerrecycle
Recycling Batteries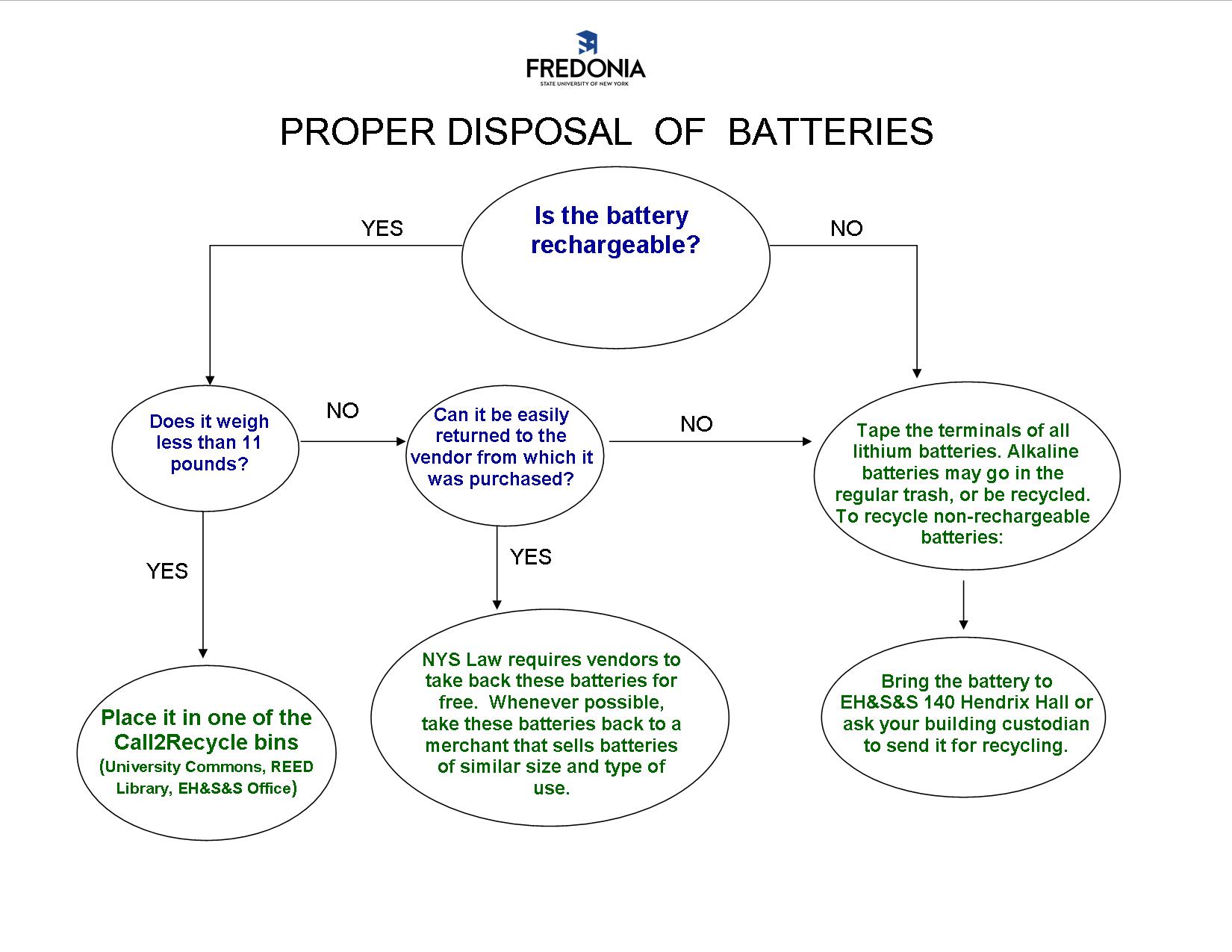 There are three boxes available for rechargeable batteries located in University Commons, Reed Library, and the EH&S&S Department in Hendrix Hall. View the full policy.
Recycling plastic bags
There is a box for plastic bags in the lobby of University Commons by the bookstore.
Why recycle?
Recycling makes both economic and environmental sense. By reducing our extraction and use of virgin materials, recycling saves energy, reduces pollution, lessens greenhouse gas emissions, and keeps millions of tons of garbage from winding up in landfills.

According to a 1998 EPA pamphlet on recycling (5306W), manufacturing and recycling one ton of recycled office paper reduces total energy consumption by 43 percent, net greenhouse gas emissions by 70 percent, and hazardous air pollutant emissions by 90 percent.

More recently the National Recycling Coalition has reported that recycling aluminum uses 95 percent less energy than creating it from bauxite ore. The organization has also found that making "recycled steel saves 60%, recycled newspaper 40%, recycled plastics 70%, and recycled glass 40%" (www.recycling-revolution.com/recycling-benefits.html).
Of course, recycling is only one small part of Fredonia's efforts to adopt more environmentally sound practices. Students along with faculty and staff members must all work together to reduce our energy and goods consumption and to reuse materials prior to recycling them. Remember the old adage: Reduce, Reuse, and then Recycle.
What can I recycle?
The campus has partnered with Casella and Abitibi Paper Retriever to offer recycling of paper, plastic (#1-#7), aluminum, tin, glass, cardboard, box board (cereal boxes), books, magazines, clean wet paper towels and much more that individuals use on campus. Please place all materials in the appropriate labeled containers. Additional information on recycling specific items is available by clicking on the links included with specific items:
Paper

All colors and types of office paper, Post-it Notes, junk mail, newspapers, magazines, fliers, phone books, soft cover books, fliers, pamphlets, envelopes and manila folders may be recycled in green or blue totes, desk-side containers and large green or blue bins located throughout the campus. Students, faculty and staff members, and community members can also bring their paper directly to the large bright green and yellow Abitibi Paper Retriever containers, which are located by Fenton Hall and across from the loading dock area at University Commons.

Cardboard

Corrugated cardboard should be flattened and placed

in any green or blue recycling container throughout campus.

Pizza boxes and milk cartons may not be recycled. Please do not place cardboard or hardboard in the Abitibi containers.

Plastics

All plastic containers numbered 1 through 7 may be recycled in any green or blue recycling container throughout campus. Use the small numbered recycling triangle to check if your product can be recycled. Please empty any liquids from the container, and, if possible, rinse it out before recycling. Motor oil, hard plastic, Styrofoam, and most deli containers are not acceptable. Please place these items in the regular trash. Removal of labels and caps is not required.

Aluminum and Tin

Soda and juice cans along with household metals, such as soup cans and coffee cans may be recycled in any green or blue recycling container throughout the campus. Please empty the contents of the container, and if possible, rinse it before recycling. Removal of labels and crushing of containers is not required.

Other Metals

Most metal furniture and equipment can be reused or recycled. Please contact Property Control at 716-673-3216. Hazardous metals such as mercury must be disposed of as Hazardous Waste and cannot be placed in the regular metal recycling bins.

Scrap Metal

Scrap metal is collected on campus from many areas including renovation projects. The metal is recycled through a local company allowing Fredonia to avoid the cost of disposal and to help the environment.

Glass

All clear and colored glass jars and bottles may be recycled in any green or blue recycling container throughout the campus. Please empty beverage bottles and rinse other glass containers such as spaghetti sauce jars and salsa jars. Incandescent light bulbs, mirrors, dishes and drinking glasses may not be recycled on campus.

Compact Fluorescent Light Bulbs (CFL's)

Should be given directly to a member of the custodial staff; do not place them in the regular trash or in a recycling container. For further questions refer to the Custodial Services webpage.
Plastic Grocery Bags

Plastic grocery bags may be recycled at the recycling bins located at University Commons near the book store, or should be returned to the store for proper recycling. The bags cannot be mixed with the on campus recycling.

Special Event Recycling Program

Recycling containers are provided at large campus events including Commencement, Alumni Weekend, Concerts, Department Picnics and many more events. To request special event recycling, contact Facilities Services at 716-673-3452.
Construction and Demolition Materials

Large roll-off style dumpsters are provided at many construction and renovation projects. Many large items are sent off campus for reuse or recycling. Items such as metals and cardboard shipping boxes are recycled using the on campus green recycling containers.
Off-Campus Recycling
Recycling your household materials at home or in your apartment is important as well-especially if we want to strengthen local recycling industries. If you live in an apartment, ask your landlord for a schedule for curbside pick-up recycling or contact the disposal company yourself. You can also take your recyclables to the local transfer station, where additional materials such as colored glass are sometime accepted. Local stores such Tops, Aldi and Wal-Mart also have recycling centers for recycling deposit bottles and plastic bags.
Additional Information
For information about recycling campus office equipment and computers, please contact Property Control at 716-673-3216.

Students wishing to obtain individual recycling containers for their rooms or suite areas may contact their RAs. Staff and Faculty members wishing to obtain a desk-side recycling container (at no cost to their departments), should contact the central storehouse at 716-673-3484.

Fredonia does recycle batteries, motor oil, tires and other materials from campus owned vehicles and equipment. The university does not accept such materials from individual students, employees, or the general public. Please recycle them on your own.
Additional recycling information and resources:
Local Recycling and Reuse Resources and Information