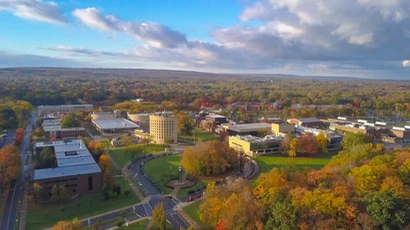 Custodial Services
Custodial Services is responsible for the routine cleaning of campus buildings and residence halls, which includes trash removal, collection of recycling, dusting mopping, waxing vacuuming, shampooing of carpets, cleaning of public areas and restrooms, lamp replacement, window washing and much more. The staff provides snow shoveling at building entrances and ensures the entrances are safe and well maintained. The department also performs routine maintenance and repair of items such as blinds and drapes. Most notable, the unit is responsible for commencement setup at Steele Hall each year.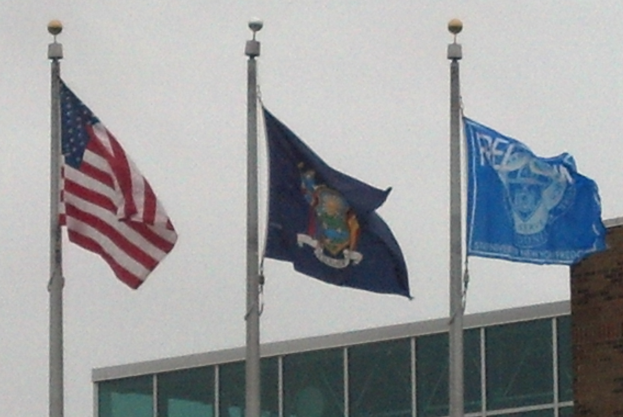 In addition, Custodial Services is responsible for opening and closing most buildings and provides moving services for small projects and office renovations on campus (Moving Tips). Campus flags are maintained by Custodial Services. The flags are raised and lowered when directed by the Governor or the President. The display of flags is governed by Title 4 US Code (flag Code) and New York State Executive Law, Article 19.
Custodial Services strives to provide outstanding customer service to the campus community with continued evaluation of performances, services and equipment used by Custodial Services and meeting regularly with our customers to assess their needs and concerns to provide the highest quality service, which encourages staff to lead by example, take pride in their work and commit in the department mission.
The Custodial Services Office is located at Alumni Hall.  Please feel free to contact us with your comments, questions, and concerns.
---
About Custodial Services
Custodial Services Expectations
Custodial Hours of Operation
Custodial Internal Supply request form Internal use only!
Employee Recognition
Facilities Internal Employment Opportunities
HELP US HELP YOU
Notify your Custodial Staff of spills on carpets immediately
Break down corrugated cardboard boxes
Use walk-off mats to help keep the floors clean and safe
Clean up around your personal plants
Purchase hard rubber wheels for chairs used on uncarpeted floors, plastic wheels ruin hard floors
Do not place items in or on trash receptacles, if you do not want them removed by your custodian
Do not prop open fire doors in hallways and at stairwells
Do not bring pets into the buildings
Do not walk on hard floors that have been freshly waxed
Do not walk on carpets that have been recently extraction cleaned
Do not drag furniture on the floors
Do not use roller blades inside the buildings
Keep all bicycles outside
Residence Halls
Place your personal items on the shelving and/or carts provided in the bathrooms
Do not leave personal items laying in and around the sinks in the bathrooms
Do not leave items in the hallways
Frequently place your trash in the trash rooms
Breakdown cardboard
When using the laundry rooms, clean up when you are done
Do not prop open fire doors including suite room doors, hallway doors and stairwell doors
Vacuum your bedrooms on a regular basis
Do not place decals or adhesive plaques on doors, walls, woodwork or vinyl
Do not bring pets into the buildings
Do not place bicycles in hallways, walkways or student rooms
Do not leave dishes in the sinks
Do not remove furniture from your room
Do not hang items on the wall lights in the suite rooms
Do not fill bathrooms, suite rooms and/or recreation rooms with items which may interfere with cleaning
At the end of the academic year, bring all concrete blocks to the loading dock entrances and remove all trash from your room
Services We Provide
Moves that involve just one or two items to be relocated in the same location or building may be coordinated through the building janitor. Large move requests such as a complete office, classroom or for multiple rooms must be coordinated through the main custodial office (716-673-3122 or fax 716-673-3777) by the department chair or supervisor.
Please give the following details:
Present location
Destination
amount and type of items to be moved
Time frame move must be completed in
Any repairs or renovations taking place in either location
Any items that will be going to or coming from other locations
Several options are available to request maintenance or cleaning:
24-hour access using the on-line Work Request web site
Contact the Building Janitor or cleaner assigned to your area
Call the Customer Service Center at 716-673-3452 (Monday to Friday, 8:00 am – 4:30 pm)
Prior to 8:00 am, after 4:30 pm, on weekends and holidays, contact Heating Services at 716-673-3454 for requests which need immediate attention
The cleaning staff maintains many areas in the buildings. The schedule and frequency of cleaning is based on the type and use of the facilities. Trash is emptied daily from restrooms, lounge areas offices and classrooms. Carpet is vacuumed daily in classrooms and main corridors; twice a week in lounge areas and weekly in offices and Residence Hall public areas and hallways. Tile floors and stairwells are dust mopped daily and wet mopped weekly or as conditions necessitate. All restrooms, bathrooms, shower areas and locker rooms are cleaned and supplies are replenished daily. Lamps in light fixtures are replaced as needed or when requested. These tasks are the minimum frequency that one should expect for cleaning.
Several items we cannot maintain include:
Dust or clean personal items on office desks, tables and cabinets
Clean computers and accessories
Clean office equipment including copiers and fax machines
Care for office plants
Clean phones, vending machines or ATM machines
Remove excess newspapers from displays
Spray for insects
Pick up lab waste including broken glass
Clean with products not approved by the main office
Residence Hall Buildings

Day Shifts

Monday thru Friday

7:00 AM to 3:30 PM Residence Halls
7:00 AM to 3:30 PM Town Houses

Academic Buildings

Day Shifts

Monday thru Friday

6:00 AM to 2:30 PM

Afternoon and Evening Shifts

Monday thru Friday


3:30 PM to 12:00 AM
3:00 PM to 11:30 PM

Weekends during the Academic Year (except during the breaks)

Hours vary based on event schedule - see the weekly Meeting Minutes for more details

Note: Hours are subject to change as conditions, weather, events and staff absences dictate