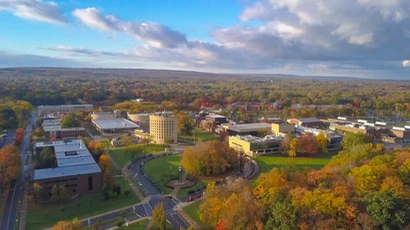 Structural
The Structural Trades Unit consists of Carpentry, Masonry, Roofing, Painting and Lock Shop. The staff use their combined talents to allow the Structural Trades Unit to provide repairs in all areas of the campus including the Residence Halls, Academic/Administrative buildings and several other campus buildings. In addition to performing many repairs throughout the campus, the staff uses their talents to perform many in-house projects each year. Whether it is upgrading classrooms, renovating office areas or replacing concrete sidewalks, the staff is called upon on regular basis to complete these in-house projects.
---
The Carpentry area repairs broken and damaged windows; repairs wall damage; replaces bathroom tile; performs needed repairs to furniture and cabinetry; repairs doors and door hardware. They complete all the requests for interior repairs and renovations, fabrication of custom shelving and similar pieces of furniture, along with routine work order requests to hang pictures, signs and bulletin boards.
Custom Shelving/ Cabinetry Policy - Departments interested in custom built shelving units or cabinetry are required to purchase the necessary materials for the project. In addition for larger more complex cabinetry, the departments must pay for the labor cost. Please contact the Office of Facilities Services for further details on this process.
Masonry includes numerous concrete projects and repairs in all areas of the campus. These projects include installation of new sidewalks; removal and replacement of existing sidewalks and steps; repairs to brick and masonry walls and floor replacements. The staff installs masonry door frames, repairs stair nozings and installs concrete light pole bases.
Expertise in the area of roofing enables the investigation and identification of roof leaks, with many repairs performed in-house. Support and supervision is provided on capital projects for roof repairs, replacements and new installations. Semi-annual inspections are performed on all roofs throughout the campus. The existing conditions are reviewed, roof drain strainers are cleaned and leaves and debris are removed from the rooftops. This proactive approach helps extend the life cycle of the roofs. Projects performed include the replacement of roof flashings and covering the seams on the roof of Fenton Hall and Reed Library. These low cost projects will extend the life of the roof and allow the college to delay replacement of the roofs for several years.
The Lock Shop services over 5,000 campus doors. This includes all hardware, locking mechanisms, door closers and associated parts. Safes vaults, cabinets and various other items containing locking mechanisms are also serviced. The staff is called upon to open locks when no keys exist or when the locks are inoperable. This area also services and maintains the hardware side of the card access system on campus that integrates with the Fredcard and authorizes or denies building entry. In addition, the Lock Shop assists in the specification and replacement of doors and hardware. Here, keys are made for students as well as faculty and staff.
Detailed records are maintained by the Lock Shop of key assignments. The Lock Shop will issue all keys to the individual who is requesting such keys. A key will be made only after approval by the Vice Presidents, Deans, Directors or Chairpersons. Individuals transferring to different locations or buildings must return their old keys to the Lock Shop. New keys will be issued for the new location or building. Employees separating from employment must turn in their assigned keys to the Lock Shop prior to leaving.
The security and safety of the campus needs your assistance. Faculty, staff and students entering a locked building are responsible for securing all doors they use. Keys are assigned to individuals and should not be shared with other people. The duplication of keys by non-campus personnel is prohibited and violates campus policy. All keys are property of The State University of New York at Fredonia and unauthorized duplication is prohibited. The Lock Shop upon receipt of the appropriate approval will provide additional keys. Report lost or stolen keys to the Lock Shop (ext. 3452) immediately. A fee may be assessed for replacement of lost keys.
Fire Safety is a high priority for the staff. Repairs and replacements of fire doors are completed as soon as a problem is brought to their attention. Emergency exit doors should not be secured in any way that prevents safe egress by building occupants during an emergency. Doors in corridors, hallways and stairwells must never be propped open for extended lengths of time, except during times of maintenance or if an approved automatic release device is installed and connected to the fire alarm system. Fire doors and most importantly, stairwell doors, provide safety for building occupants should an emergency arise. Propping open these doors diminishes the safety measures and could result in injury and loss of property.
Click here to download a Name and ISO reporting form
Painting is provided for all Academic/Administrative buildings and Residence Halls including painting and refinishing doors and window frames; power washing outside areas; removing graffiti; making special stenciled signage; refinishing tabletops and chairs; and painting offices and classrooms throughout the campus.