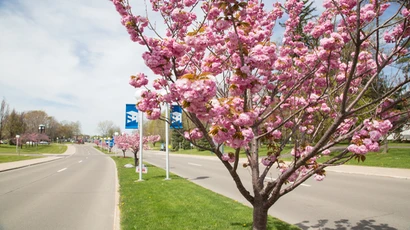 Student Food Pantry
Food insecurity is common at colleges and universities across the country potentially impacting the educational success of many students. It is hard to concentrate when you are hungry or worrying about where your next meal is going to come from. For this reason, we have created the Fredonia Campus Food Pantry.
Food Pantry Hours and Locations (Academic Year):
Tuesdays 11am - 1pm - at FREDDY's Locker in the Williams Center near the Blue Lounge
Friday 8am-4pm - Student Health Center Main Desk in Jewett Hall. You will need your Fredonia ID at the time of your visit.
If you are unable to get to either of the above food pantries, please contact us by filling out this online form, and we will arrange a date and time that is best for you.
---
Community Food Pantries:
Trinity Episcopal Church, 11 Day Street, Fredonia, 716-679-7901. Free monthly College Kitchen meals for university students throughout the academic year. Visit https://trinitychurchwny.org/ for specific dates/times.

Westfield Food Pantry, 101 East Main Street, Westfield , Phone: 716-326-3243. Open Tuesday from 1-2:30pm, and Wednesday-Friday, 9am-3pm. They also provide meals.

Brocton Portland Food Pantry, 7063 West Main Road, Portland, Phone: 716-326-2492. Open Tuesday and Thursday from 1-4pm, and Wednesday from 4:30-6:30pm.

Cassadaga Food Pantry, 25 Maple Ave, Cassadaga, Phone: 716-595-8718. Open Thursday 8am-noon, other days by appointment/emergency need.

Salvation Army, 704 Central Ave, Dunkirk, Phone: 716-366-3701. Delivery only, Monday-Friday. Call to schedule delivery.

St. Elizabeth Ann Seton, 366 Washington Ave, Dunkirk, Phone: 716-366-1750. Open Wednesdays from 3-7pm.

Chautauqua County Rural Ministries, 319 Washington Ave, Dunkirk, Phone: 716-366-2230. Open Monday-Friday from 9am-5pm. Food pantry and hot meals with meals served on weekends.

Neighbor to Neighbor Food Pantry, 9495 Prospect Road, Forestville, Phone: 716-257-6081. Open Tuesday from 9am-5pm and other days by appointment.

Forestville Food Pantry, 3 Park Street, Forestville, Phone: 716-965-2655. Open Thursday from 10am-4pm.

Ripley Food Pantry, 14 North State Street, Ripley, Phone: 716-736-4386. Open Tuesday from 2-4pm and Saturday 10am to noon.

Fredonia Presbyterian Church , 219 Central Ave, Fredonia, Phone: 716-679-1501. Open on the third Saturday of every month from 10am-noon.
---
Resources for Assistance:
SNAP (Supplemental Nutrition Assistance Program - SNAP offers nutrition assistance to millions of eligible, low-income individuals and families and provides economic benefits to communities. SNAP is the largest program in the domestic hunger safety net. The Food and Nutrition Service works with State agencies, nutrition educators, and neighborhood and faith-based organizations to ensure that those eligible for nutrition assistance can make informed decisions about applying for the program and can access benefits. FNS also works with State partners and the retail community to improve program administration and ensure program integrity.
NOEP (Nutrition Outreach and Education Program - The Nutrition Outreach and Education Program (NOEP) offers free and confidential services to connect hungry New Yorkers with nutrition assistance programs such as the Supplemental Nutrition Assistance Program (SNAP). SNAP is our nation's first line of defense against hunger, stretching the monthly food budgets of all who meet program guidelines. NOEP is available in many counties across the state and throughout all boroughs of New York City.
Hunger Solutions of New York - Hunger Solutions New York works one-on-one with those who struggle to keep food on the table. We fund community-based organizations to provide education, support and application assistance through the Nutrition Outreach and Education Program, SNAP Help Long Island and WIC Help NY. These programs connect New Yorkers to federally funded nutrition assistance programs.
---
How to donate to the Campus Food Pantry:
Food donations are accepted at either the Campus Life Office or the Student Health Center. Monetary tax deductible donations are accepted through the Fredonia College Foundation specific to the "Health Center Food Pantry Fund".
Here are some ideas for donations:
Canned foods with pull top openings, ie: soups, beans, vegetables
Boxed foods, ie: rice, macaroni and cheese, cereal​, granola bars
Individual Packet, ie: oatmeal, chips, crackers, nuts, ramen noodles
​Fruit cups​
Pasta and sauce
Deodorant
Feminine hygiene products
Toothpaste and brushes
Toilet paper
Individual care, ie: facial and body wash, shampoo and conditioner