Mission Statement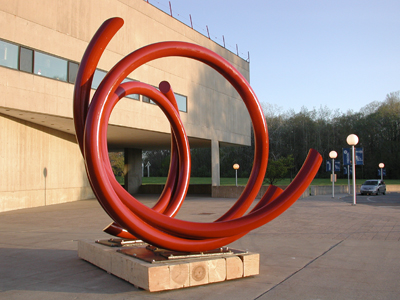 Popeye by John Clement. Image by Marv Bjurlin.
Mission Statement
The mission of the Department of Visual Arts and New Media is to provide a balanced, comprehensive undergraduate education within the complex world of artistic disciplines. Our goal is to advance studio practice as well as theoretical and historical studies through the development of creative, practical and conceptual skills. This encourages student understanding of cultural, philosophical, and historical settings for contemporary art.
Department Philosophy
The Department of Visual Arts and New Media offers students an opportunity to experience a disciplined program in art within the context of a liberal arts education. Students are challenged to gain knowledge and expertise in visual expression and historical context whether their goal is a professional career, advanced study in the arts, or simply a greater understanding of art and its cultural impact. The curriculum balances contemporary and traditional technologies, issues and practices through a dynamic mix of studios, lectures, and seminars.
Students begin with introductory studies emphasizing visual literacy and basic technical ability with a variety of tools, methods and materials. Critical thinking and conceptual problem solving are stressed as students gain expertise in creative and communicative expression through written, two- dimensional, three-dimensional and time-based forms. Philosophical, theoretical and historical perspectives are considered and investigated throughout the program. Mastery and understanding of the creative process through inquiry, development, evaluation and presentation allows students to establish a confident methodology as they progress through a carefully planned sequence of courses.
Students learn to address societal, cultural and individual messages and to consider the implications of aesthetic decisions. Dynamic leadership is provided by the faculty, who are active professionals with diverse backgrounds. The faculty are practicing artists and scholars immersed in projects that enhance their individual fields and invigorate their classroom environments. They carefully guide students to seek depth within their individual disciplines and breadth in their understanding of the creative world.
Whether the goal is a career or advanced study in the visual arts or simply a greater understanding of art and technology's cultural impact, the curriculum includes a dynamic mix of studios, lectures, and seminars. Our graduates in the Department of Visual Arts and New Media possess a unique set of hybrid skills that provide a critical edge for leadership positions in the competitive and evolving marketplace. Many Visual Arts and New Media graduates have successful careers in corporate and public settings as art directors, working artists and designers, teachers, creative freelancers and owners of pottery studios, photo studios and design firms. Others work as photographer's assistants, web designers, gallery directors and curators, and in the special effects industry. Visual Arts and New Media students have also continued their education in graduate programs around the country.