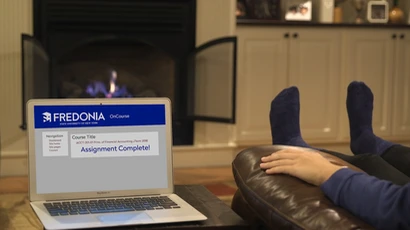 J-Term Registration
Registration
J-Term 2023
Fredonia students eligible to register for Spring Semester 2023 are encouraged to register and pay online via Your Connection. Payment of tuition and fees SHOULD be made upon successful online registration to avoid being dropped from classes. The last day for J-Term web registration is December 2. After that, students may complete a J-Term Registration Form and email, fax, or mail it to Extended Learning or visit the Registrar's Office on the first floor of Reed Library. 
Visiting students (students from other institutions) must first fill out the J-Term Registration Form, email, fax, or mail it to Extended Learning with documentation of college coursework (current transcript or advisor's or registrar's signature), and then make full payment. Please make note of any course prerequisites when reviewing the Summer Sessions schedule under Course Information. You must provide evidence of having completed them. To view course equivalents, please visit Fredonia's Course Equivalencies page. Once the form is processed, students will be sent a confirmation of their registration.
Students not currently enrolled in a college program must submit an Application for Admission to Continuing Education Credit Study and should contact Extended Learning well in advance of registration.
J-Term course loads are generally limited to 9 credit hours. To be considered for exceptions, students must obtain prior approval in writing from the Director of Extended Learning.
Please Note: As of the first day of any J-Term course, students who wish to add the course must first obtain the instructor's permission via email (and copy Extended Learning) or via hard copy Course Drops and Adds slip.